It sure sounds like Agatha put a spell over Marvel Studios, because a new spin-off featuring our favorite evil witch is now in the works. That's right, Agatha's story isn't done just yet, and Kathryn Hahn will be gracing our screens once again.
While most details are still under lock and key, we can't help but get excited over this news and dig into every bit of info out there. Curious about what's been revealed about the new series? We've got you covered!
Here's everything we know about the upcoming Agatha Harkness WandaVision spin-off.
Wait, are we really getting an Agatha Harkness spin-off?!
It shouldn't be too surprising considering how obsessed the world was with Agatha Harkness, but Marvel seems to be making all of our witchy dreams come true. According to Variety, the show is currently in development and set to air on Disney+.
Kathryn Hahn would obviously come back as Agatha, right?
While everything is still in the early stages, Variety notes that Kathryn will indeed be back for this new series. However, the rest of the cast is still up in the air. But we'll keep an eye out for any other interesting casting news to report back here.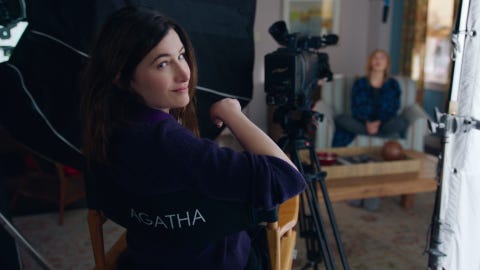 What will the spin-off show be about?
Details about the series haven't been confirmed yet, but it's being described as "a dark comedy." But one good thing is that WandaVision head writer Jac Schaeffer will be back for this new project as a writer and executive producer. Considering how much we all loved WandaVision, it's safe to say that we'll probably love this show too.
Is there an official WandaVision spin-off release date yet?
Unfortunately, we're all going to have to wait a bit longer for a release date. But looking at Marvel's upcoming slate, it's probably a safe bet that the series will come out around 2023 unless something is moved around.
Source: Read Full Article