Power Book III: Raising Kanan ended its first season with Kanan's (Mekai Curtis) mother Raq (Patina Miller) eliminating her competition and getting Kanan to do her dirty work. In just one night she framed rival dealer Unique (Joey Bada$$) and tasked Kanan to eliminate Detective Malcolm Howard (Omar Epps). However, even her brothers Marvin (London Brown) and Lou Lou (Malcolm Mays) aren't exactly on board with her plan. Raq has seemingly reached a new level of viciousness and determination.
When it came to portraying such a compelling role, Miller says her own mother inspired her.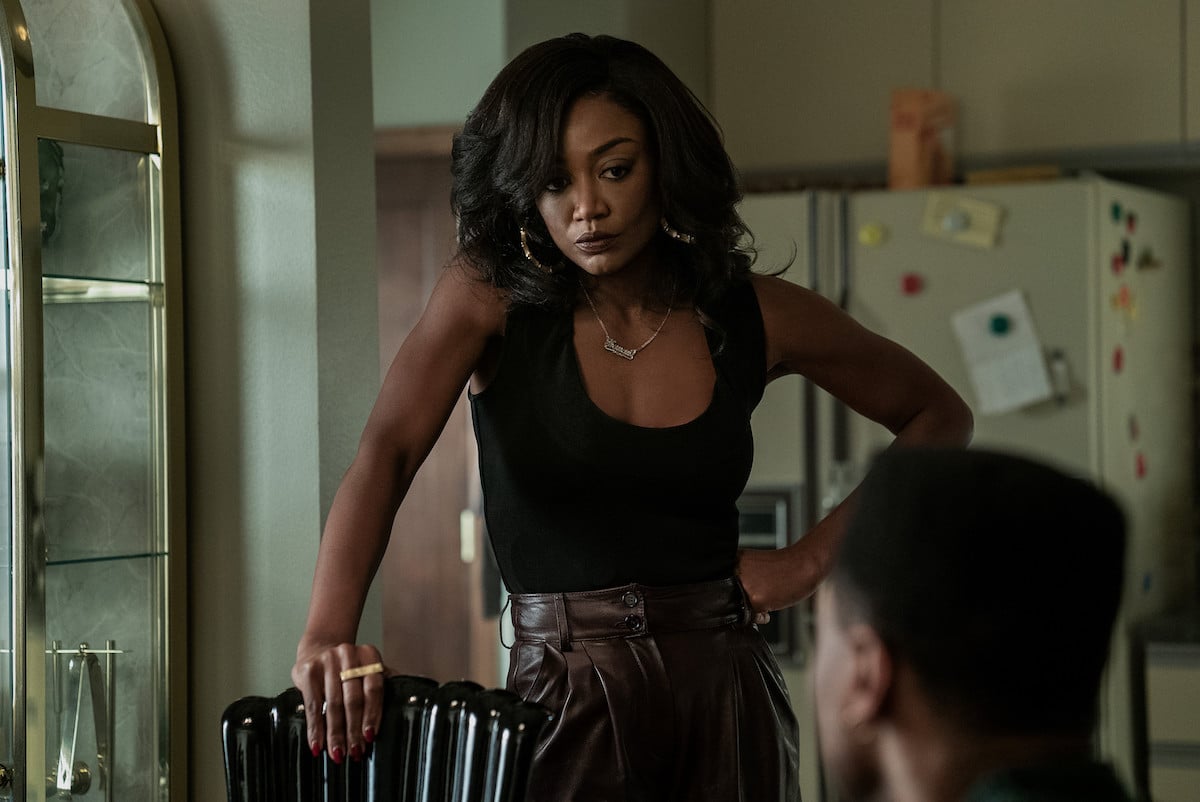 Inside Raq's rise to the top on 'Power Book III: Raising Kanan'
From the other Power Universe series and shows like The Wire and Snowfall, it's clear that the drug game is male-dominated. However, in Raising Kanan, Raq is king. From the pilot episode, we learned that she ran her own drug organization, much to the annoyance of sexist rival dealers like Unique. However, it wasn't always like that.
As a teen, Raq was in a fake relationship with the man Kanan knew as his father, Def Con Stark. It turns out that their relationship was a front because Def Con could not be open with his sexuality. Therefore, he paid Raq to keep up appearances. During Def Con's time in jail, Raq fell for another man who turned out to be an undercover cop, Malcolm Howard. Their romance resulted in Kanan's birth. However, Raq never forgave Malcolm for lying to her and preying on her.
Though she understood the drug game, she didn't get involved until 1986 following the death of her boyfriend, High Post. Raq eventually took over the family's organization when her older brother Marvin was arrested.
Patina Miller says her mother inspired her portrayal of Raq
Though Raq's story may seem farfetched to some, Miller says she saw her own mother's story in Raq's. "I just started thinking about my own life as far as my inspiration, thinking about the women in my life, my mom, who was a young mother, a single mom, she had me at 15," she told Deadline via Express. "So I came with some sort of experience of being the child of a young mother … I grew up in the south, as a young girl wanting to dream and wanting to do this thing. So I just took a lot of my influences from my own personal life and all the women the strong women that I know and I put them into her."
Miller has absolutely nailed the role.
Will Raq die in 'Power Book III: Raising Kanan'?
At the end of the first season, it appeared that Raq went off the deep end, enlisting Kanan to kill Malcolm. As we know, Kanan has no idea about his true parentage. However, it's likely that he will find out soon. Some fans are even convinced that in the end, he will kill his own mother. Curtis has also confirmed a fracture between the mother and son.
"I think the relationship now in some ways is already fractured, especially after hearing that she ordered the hit on D-Wiz (Nile Bullock)," Curtis told Entertainment Weekly. "And I feel like even though Kanan says he understands why she did it, he still doesn't take the fact that she said she was going to stop lying to him and that she went this long without letting him know. Aside from other things, losing one of his closest friends, and now there being an all-out war behind it, he's kind of just been in a blind fit of rage. So to have that thrown at him in such a heated moment strains the relationship."
Source: Read Full Article