Olsen previously produced "Top Chef" there
The Emmys may not be the wildest awards show in town (here's looking at you, VMAs), but when scripts are thrown out and they've got a golden lady in hand, TV stars have been known to get a little shocking with a cringe-worthy rant or the bit that went a bit too far. With the 2019 show airing on Sunday, TheWrap looks back at 15 of the most talked-about moments in the 71-year history of the Emmys.
Getty
1. Oscars director pops the question
During his acceptance speech for Outstanding Directing of a Variety Special for "The Oscars" at the 2018 Emmys, Glenn Weiss proposed to his girlfriend Jan Svendsen, who was in the audience.
"Do you know why I don't like to call you my girlfriend?" the director said. "Because I want to call you my wife." The crowd inside the Microsoft Theater immediately started cheering, and a stunned Svendsen headed to the stage. "This is the ring that my dad put on my mom's finger 67 years ago," he continued. "And to my sisters and brothers, I didn't swipe it. Dad knows I have it, OK? I want to put this ring that my mom wore on your finger in front of all these people and in front of my mom and your parents watching from above. Will you marry me?" Svendsen said "Yes" — and the proposal will go down in Emmys history as the first to broadcast live on air. Congrats!
NBC
2. Let Sterling, talk!
During 2017's Emmys, Sterling K. Brown gave a powerful — albeit brief — speech when he won Outstanding Lead Actor in a Drama Series for "This Is Us." Producers cut the NBC star off not long after he started talking, a move that got them a ton of heat, as winner Nicole Kidman went on and on during her acceptance speech for her role on "Big Little Lies." Brown took it in stride, but joked with Stephen Colbert afterward, "Not everybody can be pretty Australian white women who have won Oscars in the past."
Getty
3. Things get Spicey
Sean Spicer showed up at the Emmys to make a callback joke to his insistence that President Donald Trump had the "largest audience ever" at his inauguration by insisting the 69th Annual Emmy Awards had the most people in attendance ever — period. And it seemed awkward for everyone in the audience — period.
Getty
4. Patty Duke's (kind of) acceptance speech
Patty Duke's speech — or lack thereof — at the 1970 awards show was one of the most bizarre incidents in the history of the Emmys. The actress came on stage, but didn't make eye contact with the presenter and mumbled inaudibly for a little while. Years later, Duke would open up about her struggles with addiction and mental illness and help shed light on the weird turn of events.
20th Century Fox
5. Blame Burnett
Jimmy Kimmel used his platform as the host of the 2016 Emmys to call out reality TV mega-producer Mark Burnett for the part he played in helping former "Celebrity Apprentice" host Donald Trump rise to fame and cinch that year's presidential nomination. While Trump had yet to win at that point, Kimmel promised if he did they'd be throwing Burnett over whatever wall POTUS built. Promises promises, Jimmy.
Getty
6. Sofia Vergara gets put on a pedestal
In a bit that was meant to poke fun at sexism, Sofia Vergara stood on a rotating platform during the 2014 Emmys, while TV Academy boss Bruce Rosenblum talked about diversity saying, "What truly matters is that we never forget that our success is based on always giving the viewer something compelling to watch." Then Vergara touched her butt. The moment was criticized for making light of a rampant problem in the industry, though the "Modern Family" actress stood by it.
Getty
7. Alan Alda gets physical
Before wardrobe malfunctions on the red carpet and concerns about celebs letting f-bombs fly on air, the Emmys were tame. So tame that when Alan Alda won Outstanding Writing for a Comedy Series for "M*A*S*H" during the Emmys' 31st year (his first win for writing), the spontaneous cartwheel he did startled the audience. For real, a cartwheel. Hey, it was 1979.
20th Century Fox
8. Jon Hamm doesn't give a damn
Jon Hamm was nominated for a billion Emmys (exaggeration) before finally winning for his role as Don Draper on "Mad Men" at the 2015 Emmys. When the former AMC star's name was called, he was so blown over from the excitement he decided to climb onto the stage instead of using the stairs. Hamm joked he was worried there had been a mistake. Eh, the only mistake was messing up that tux, Jon.
Getty
9. Helen Mirren is a potty mouth
Great dame! Helen Mirren won for playing the titular role in 2001's "Elizabeth I" and she let loose when she was handed her gold. Mirren said it was "a great triumph not falling ass over tits as I came up those stairs" — except, when the noblewoman said it, it wasn't bleeped because the show's producers were too slow for Helen.
Getty
10. Andy Samberg lets you borrow his HBO login
While taking over hosting duties for the 67th Annual Primetime Emmys, Andy Samberg was more than hospitable by giving out his real HBO login info. Seriously. After all, HBO chief Richard Plepler said he was cool with people sharing their accounts. So Andy shared it with everyone. And if you tried, it actually worked for about a day.
Fox
11. Kirstie Alley overshares
Kirstie Alley's 1991 win for Best Lead Actress in a Comedy Series was followed up with an acceptance speech about how her then-husband Parker Stevenson was "the man who has given me the big one for the last eight years." Uh, OK. The dirty joke was especially awkward since a young Macaulay Culkin was the presenter.
Getty
12. Charlie Sheen actually keeps it together
Seriously, the biggest shock at the 63rd Annual Primetime Emmys in 2011 was that Charlie Sheen kept his cool when asked to present the award for Outstanding Lead Actor in a Comedy Series. This was, after all, not long after Sheen was killed off "Two and a Half Men" and didn't take kindly to getting the ax from CBS and Chuck Lorre. But he kept his composure, directing comments to his former co-stars: "From the bottom of my heart, I wish you nothing but the best for this upcoming season." Everyone was shook — in a good way.
Getty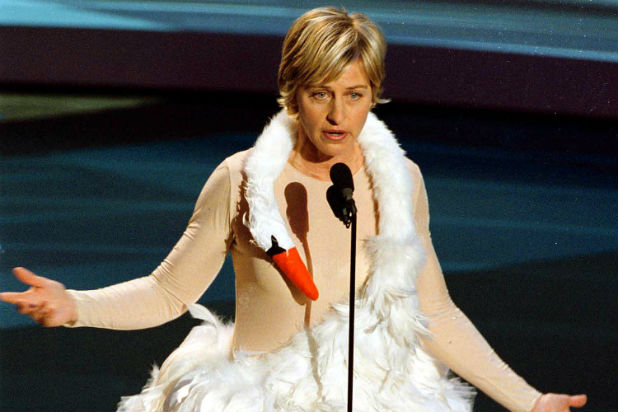 13. Ellen DeGeneres takes on 9/11
The 2001 Emmys were pushed back due to the terrorist attacks that September — the month the awards show usually takes place. But when it finally aired, host Ellen Degeneres didn't shy away from addressing 9/11 immediately. After a televised speech from Walter Cronkite opened the show, Degeneres' monologue poked fun at increased security, the chances the Emmys could be canceled mid-show and thanked all the viewers at home — including the stars who were afraid to come to the show. Her speech was praised for not making light of the events that shook the nation, but helping the country move forward.
Getty
14. Heidi takes a tumble, thanks to Tom
This is why we rehearse, people! "Dancing with the Stars" host Tom Bergeron dropped Heidi Klum while they were co-hosting the 2008 awards (along with some other reality TV series leads) during a sketch that clearly did not get enough attention before the live show. Klum got a nasty bruise from the slip but showed it off with pride afterward.
Getty
15. Bryan hearts Julia
Bryan Cranston reignited his brief onscreen romance with "Seinfeld" alum Julia Louis-Dreyfus at the 2014 Emmys, when he planted a kiss on the actress while presenting her with the Outstanding Lead Actress in a Comedy honor. It's not the first surprise kiss in Emmys history and it probably won't be the last, but it is considered a fan favorite.
Getty
TheWrap rounds up the awards show's biggest shockers — so far
The Emmys may not be the wildest awards show in town (here's looking at you, VMAs), but when scripts are thrown out and they've got a golden lady in hand, TV stars have been known to get a little shocking with a cringe-worthy rant or the bit that went a bit too far. With the 2019 show airing on Sunday, TheWrap looks back at 15 of the most talked-about moments in the 71-year history of the Emmys.
Source: Read Full Article