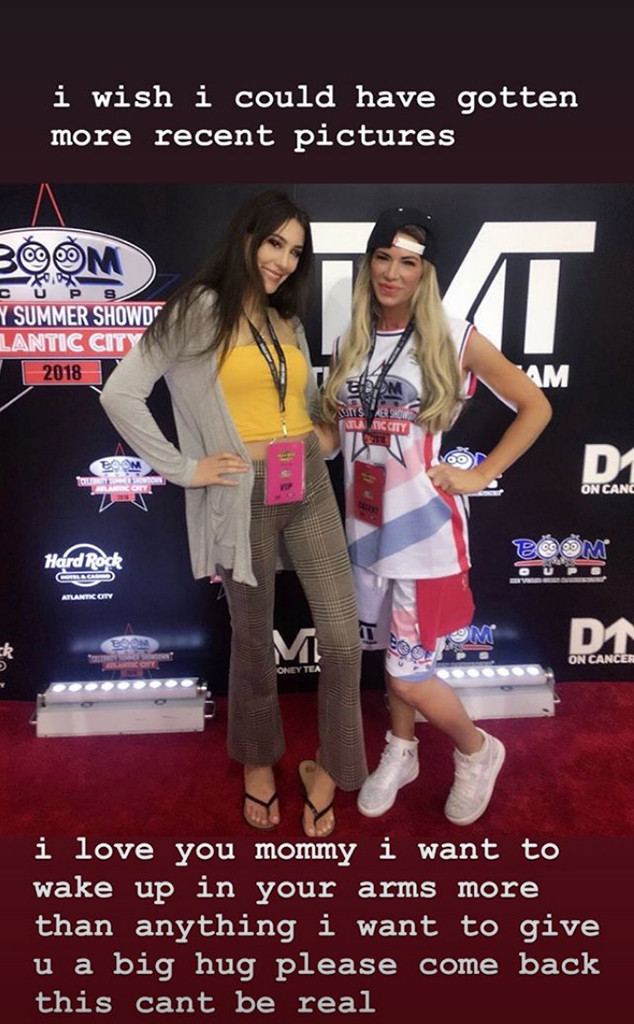 Instagram / Alex Massaro
Former WWE star Ashley Massaro's daughter Alexa Massaro is expressing her grief online as she mourns the death of her mother.
The wrestler, who was also a Survivor alum, model and DJ on her native Long Island, NY, was pronounced dead in a hospital at age 39 after police were called to her home on Thursday. Her death was ruled to be "noncriminal," police in Suffolk County, NY told Newsday. Alexa, 18, was her only child.
On Thursday night, her daughter posted throwback photos of her and her mother on her Instagram Story, writing, "I wish i could have gotten more recent pictures. I love you mommy i want to wake up in your arms more than anything i want to give u a big hug please come back this cant be real…please god this can't be it."
In a statement shared with E! News, WWE had said, "We are saddened to learn of the tragic death of former WWE Superstar Ashley Massaro. She performed in WWE from 2005-2008 and was beloved by her fellow Superstars and fans around the world. WWE offers its condolences to Ashley's family and friends."
Instagram / Alex Massaro
Ashley had won the WWE Diva Search back in 2005. She later became a valet for the WWE team champs Paul London and Brian Kendrick.
A year before leaving WWE, she competed on Survivor: China. She was voted off the island after six days of competition.
Also in 2007, Ashley posed for a Playboy cover and pictorial. Last summer, she became a DJ for the Long Island radio station 94.3 The Shark.
"On behalf of the entire Shark family, we are beyond sad to announce the passing of our punk rocker, family member, and true sister, Ashley Massaro," read a post on the station's Facebook page. "Ashley joined the Shark family a year ago without ego, demanding to learn radio from the ground up and never once said 'yeah I know.' She helped everyone and never shied away from charity work, always making sure people were smiling. She was all heart and no ego. We're asking you to respect her families privacy during these devastating times, and keep her in your hearts and thoughts."
Source: Read Full Article