Meghan Markle and Prince Harry just had their baby and stepped out for a totally different kind of first photoshoot, blessing the world with the first pictures of their newest little nug.
As you probably know, the royal family loves their traditions, which means that before Meghan Markle did this photoshoot, Kate Middleton did three separate Lindo Wing photoshoots after she had her little royal kiddos. Here's how those first appearances compare.
The place
It's still kind of a mystery where Meghan actually gave birth. The interview Harry gave after the birth of the baby was outside their home, Frogmore Cottage, so it was assumed she gave birth there, but then reports came out that she actually did give birth in a hospital. A source told the Daily Mail, "She was taken to hospital on Sunday by Harry and their Scotland Yard security team."
That doesn't really matter here, though, because Meghan opted out of the traditional Lindo Wing photoshoot anyways, doing a photoshoot with Harry and baby in St. George's Chapel two days after the birth.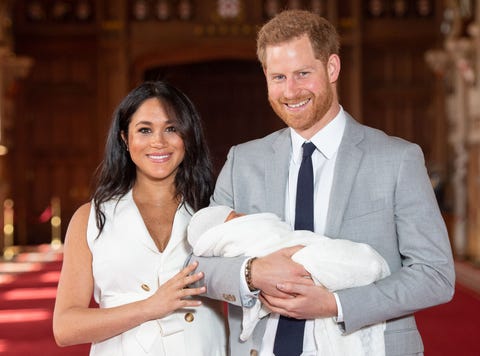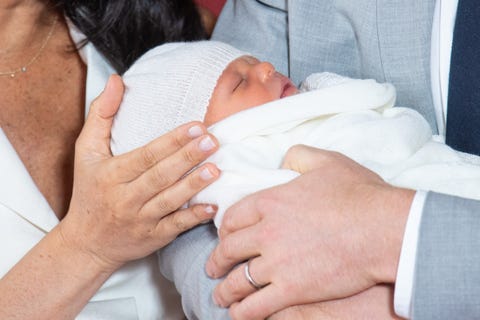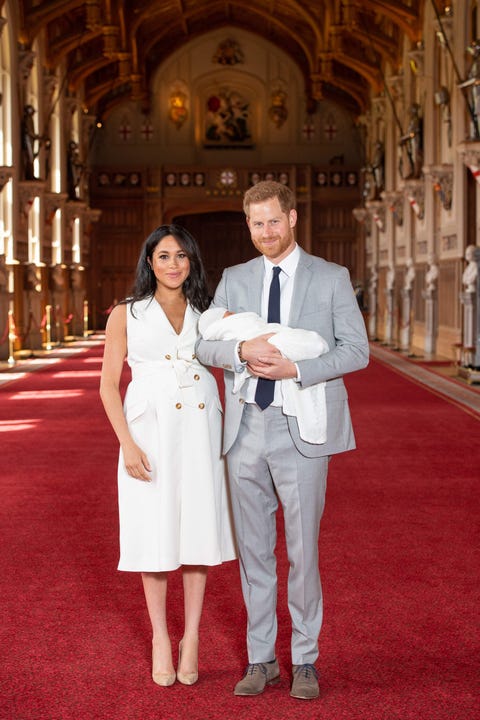 Kate gave birth to all three of her children at the Lindo Wing in London, so that's where she did her photoshoot.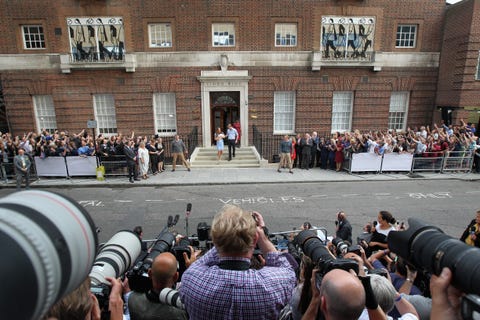 Here's a fun fact! According to The Telegraph, the most basic maternity package at that hospital starts at £8,000 ($10,500), so Kate gave birth in as much luxury as one can manage while pushing a human into the world.
Who held the baby
Not sure how intentional this choice was, but in all of Kate's post-bb photoshoots, she held the baby, but Prince Harry is holding bb Sussex.
The timing
Kate and Will did their photoshoots with all their kids right when the left the hospital, so it happened essentially hours after Kate gave birth.
Meghan, however, didn't love the idea of that (can you blame her?) so she did this shoot about two days after the birth of their son.
The amount of press
So, um, this is what Kate and Will stepped out to after the birth of all their children. Feels like a lot, right?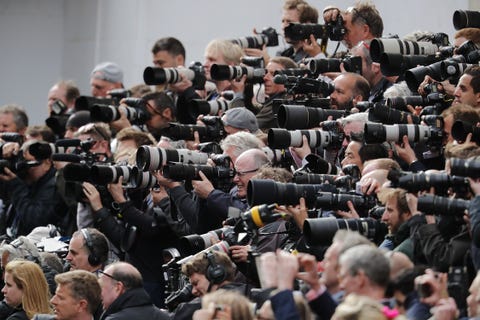 It was originally reported that Meghan and Harry opted for a single photographer, a single camera, and one reporter for their photoshoot. But a royals account just tweeted this:
At the photocall today:
Reporter (1)-
Alan Jones (UK Press Association)
Photographer (3)-
Dominic Lipinski (UK Press Association)
Private Photographer
Royal press officer photographer
Camera person (3)-
CBS (USA)
UK Press Association
?
Either way, there were definitely less people there than at the Lindo Wing.
The mom and dad's outfits
Meghan and Harry's outfits for their pictures were definitely more formal than Kate and Will's. Harry wore a suit and Meghan wore this Givenchy blazer style dress with heels.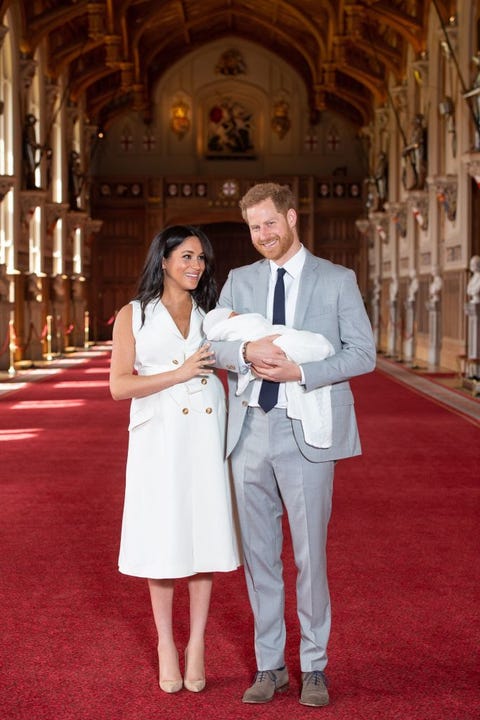 Kate, for her first turn at the post-birth appearance wore a blue and white polka dotJenny Packham dress with espadrille wedges. William kept it simple in a blue and white striped shirt with blue chinos and loafers.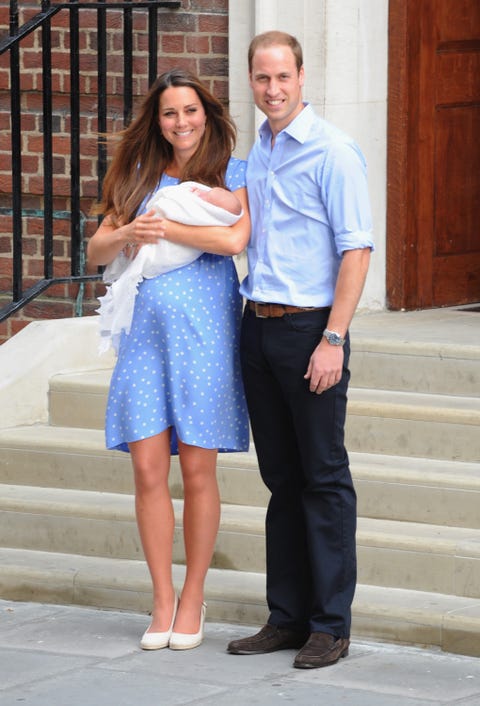 The baby's outfit
Prince George, when he was born, did his appearance in a plain white swaddling blanket from G.H.Hurt & Son. Kate wrapped Princess Charlotte and Prince Louis in basically the same thing.
The company also gave Prince William a blanket when he was a baby, People reported in 2015.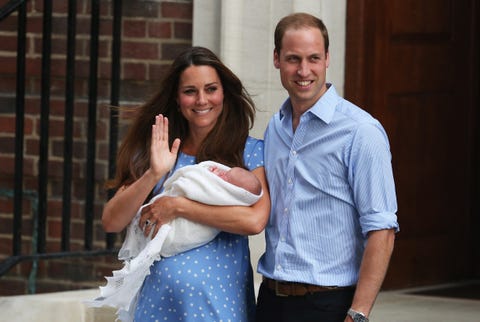 Baby Sussex's blanket looks a little bit different than the ones used on the other royal babies. Still cute, though!!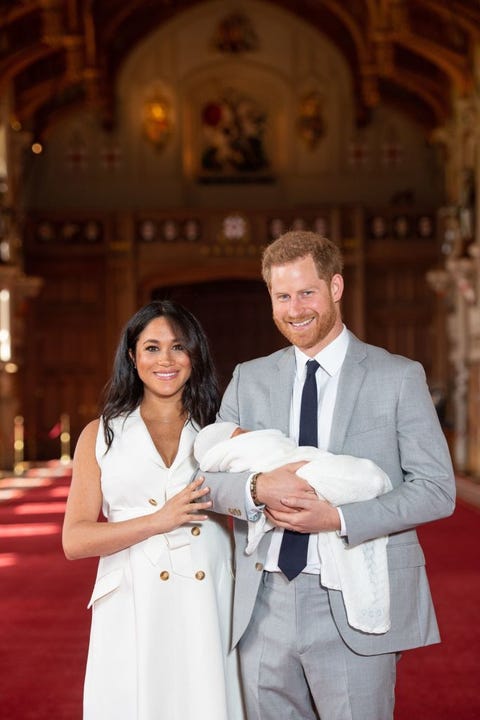 Follow Emma on Instagram.
Source: Read Full Article