In the 2000s, E!'s reality TV show The Girls Next Door showcased the glamorous lives of Hugh Hefner's many girlfriends who lived at the Playboy mansion. However, in the past few years, some of these women have opened up about the dark sides of being involved with Hefner.
The Playboy mogul's widow, Crystal Hefner, recently confirmed a claim that Hefner had "naked pictures" of women to allegedly use as "revenge porn."
Holly Madison alleges that Hugh Hefner had 'all kinds of naked pictures' of women
One of Hefner's most famous ex-girlfriends is Holly Madison, who was known as his "number one girlfriend" for five seasons of The Girls Next Door. Madison recently appeared in the docu-series Secrets of Playboy, where she revealed behind-the-scenes stories of being Hefner's girlfriend.
"His friends were always so supportive and speaking so highly of him. But that's the only side of him they ever saw," Madison said. "They had no idea what was going on behind closed doors and how the women were treated."
Madison said that she had thoughts about leaving the mansion, but was "afraid" to do so because of the potential "revenge porn" that would come out.
"Something that was always lingering in the back of my mind, I think since the very beginning, was that if I left there was just this mountain of revenge porn just waiting to come out," she alleged. "When you would go out with Hef, he's taking all kinds of naked pictures of these women when we're wasted out of our minds. And he would print out like eight copies for him and all the women, you pass them around. It was just gross."
Crystal Hefner confirms Holly Madison's claim
Crystal joined The Girls Next Door after Madison left the mansion. He was married to Hefner from 2012 until his death in 2017.
On Jan. 25, she confirmed Madison's claim that Hefner kept "thousands" of photos of women. She wrote on Twitter, "I found thousands of those disposable camera photos you are talking about @hollymadison. I immediately ripped them up and destroyed every single one of them for you and the countless other women in them. They're gone."
Madison replied to Hefner and wrote, "Thank you."
What are Holly Madison and Crystal Hefner up to now?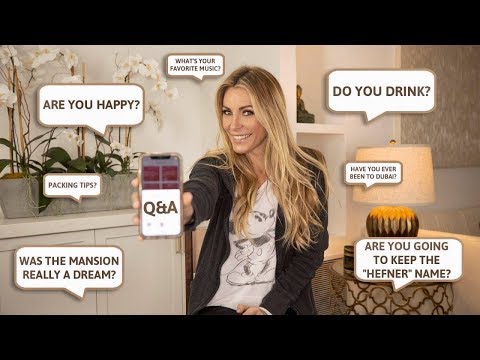 After leaving the Playboy brand, Madison worked in Last Vegas for a few years; she starred in the burlesque show Peepshow at Planet Hollywood. Her life and career in Vegas was also documented on the short-lived reality series Holly's World.
In 2015, Madison released the memoir Down the Rabbit Hole: Curious Adventures and Cautionary Tales of a Former Playboy Bunny, which shared many shocking details about her life in the Playboy mansion. A year later, she released the book The Vegas Diaries: Romance, Rolling the Dice and the Road to Reinvention, which gave readers an inside look into how she established a brand in Sin City.
Meanwhile, Crystal's post-Playboy years have been a bit less private than Madison. She continues working for the Hugh M. Hefner Foundation, but she has also been spending a lot of time traveling.
Earlier this year, Crystal shared on Instagram that she had "removed everything fake" from her body and would no longer post "scantily clad" photos. She also wrote, "Now I can confidently and 100% proudly say, modesty is what empowers me these days, and because it feels so much better internally, it will probably be this way for the rest of my life."
Source: Read Full Article