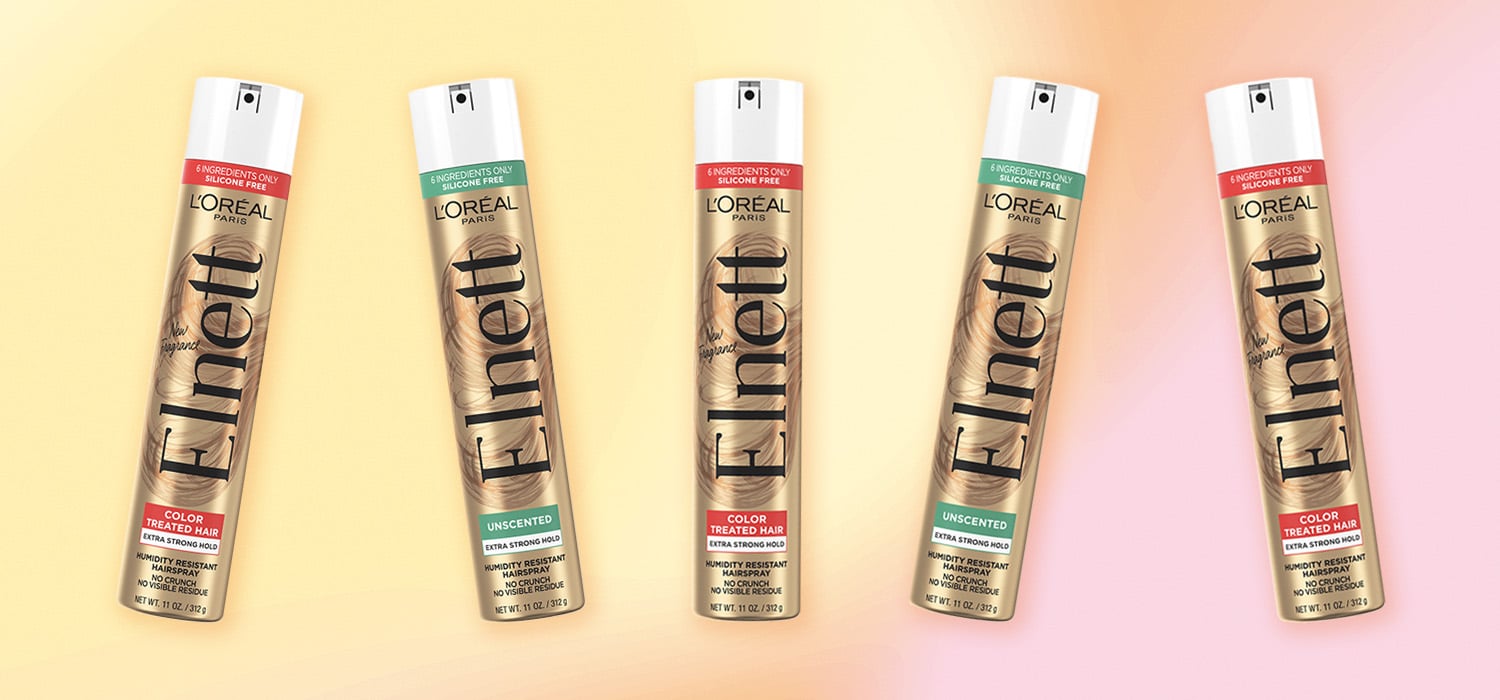 For years I steered clear of hairspray because stiff and crunchy curls ruin my mood more than parking tickets and sore shoes combined. I may be dramatic, but I easily consider them to be up there with the worst of beauty woes and lots of hairsprays are guilty of causing this. A good hairspray is hard to come by . . . unless you know where to look, and I speak from experience. L'Oréal Paris Elnett hairspray launched in 1960 and was the first commercially sold hairspray in drugstores.* Today, the slender gold canister is a staple in many hair routines, loved by celebrity hairstylists, "normal people," and even award-winning actress, Kate Winslet, who swears by it.
In a world where hairspray can sometimes leave you with sticky or stiff hair and crunchy curls — this formula sets your style while leaving your hair enveloped in a soft, satin veil. For years, Elnett hairspray has been known for its extra strong hold, keeping your style locked in place, while being able to absorb into the hair with the stroke of a brush, and that is exactly why it's so loved.
With a 1960 launch, that puts this hairspray at 63 years old, making the formula well-deserving of a little makeover, or dare we say . . . a facelift of sorts. L'Oréal Paris has given the product an upgrade and the Elnett hairspray that many of us know and love now boasts a clean formula with a fresh new scent. Even better, it now has fewer ingredients but continues to offer the same performance that garnered its loyal following in the first place.
What's New With Elnett Hairspray?
The renewed, gold standard formula has taken on a clean, less-is-more approach. As for what the ingredients are in L'Oréal Paris Elnett hairspray, the upgraded formula only has six to accompany a new fresh scent of citrus, sandalwood, and berries (it's seriously good), signifying that this isn't your grandma's hairspray. The lightweight formula is free of silicone, which can weigh down hair, and also includes vitamin B5, which helps to strengthen hair, per the National Center for Biotechnology Information.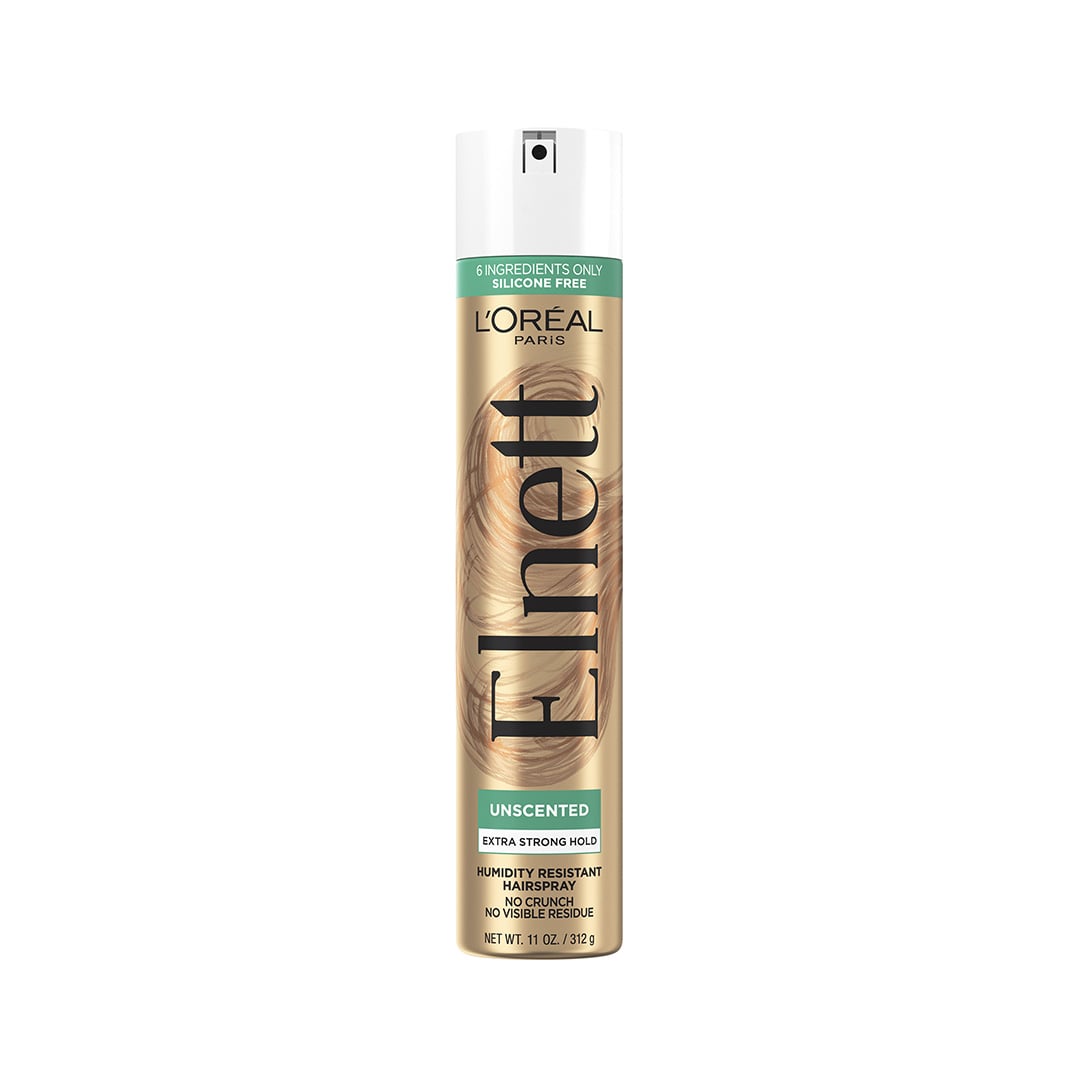 The formula still includes its standout qualities: a lightweight, strong hold that absorbs with the stroke of a brush but lasts all day long, the promise of no stickiness, crunchy curls, or white residue, and the humidity-proof finish that keeps your style frizz-free and safe from the elements.
The spritz applicator can make or break a hairspray since harsh mist usually leads to crunch — and a bad hair day. Because of this, I'm always wary of trying a new one because if it makes my fine hair crunchy, tangled, and sticky, washing it is the only way to fix that. That said, my favorite aspect of this hairspray is the ultra-fine mist applicator because it allows me to coat each strand of hair with a thin, even layer of product, never saturating it or making it sticky.
As for the formula, the satin finish leaves hair noticeably shiny and soft to the touch (read: you can run your fingers through your hair!). Elnett hairspray is formulated for all hair types and textures, so think of it as the secret weapon you want to have on hand for all styles, whether you're sporting the Pamela Anderson messy bun that's all over social media or the ultra-trendy voluminous blowout that suits every occasion. It's kind of like makeup setting spray for your hair — it locks your style in place and keeps it looking good for longer periods of time.
Which Elnett Hairspray Is the Best?
Elnett hairspray comes in three varieties, the L'Oréal Paris Elnett Satin Extra Strong Hold Hair Spray – Unscented ($15), the L'Oréal Paris Elnett Satin Extra Strong Hold Hairspray – Color Treated Hair ($15), which boosts a fruity-fresh scent with berries, citrus, and sandalwood, and the mini L'Oréal Paris Elnett Satin Extra Strong Hold Hairspray – Travel Size Spray ($7). As for which one you should choose, it's really up to your preference and your hair type.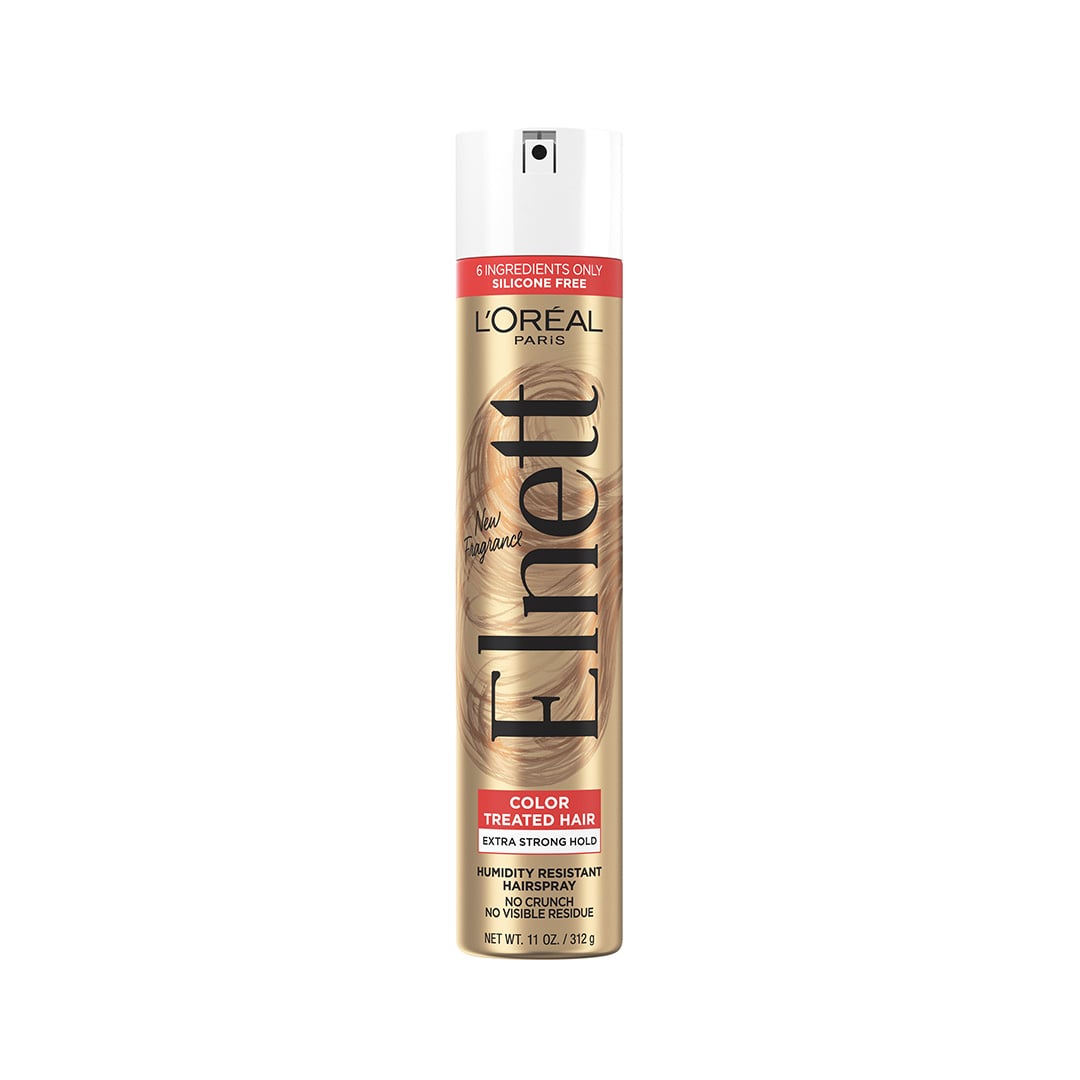 If you have a sensitive nose, the unscented version is probably best for you. If you have color-treated hair, the L'Oréal Paris Elnett Satin Extra Strong Hold Hairspray – Color Treated Hair, can help boost the shine and vibrancy of your color. As someone that switches their hair color every few months and considers smelling good a personality trait, the decision was practically made for me — I went for the version with the UV filter for color-treated hair.
My Final Thoughts
My hair has always struggled with holding a curl — I'm talking hair that falls flat within the hour (it's unbelievably frustrating) — but this hairspray does what most can't and fixes that. Much to my approval, it doesn't make my hair look stiff or crunchy, or like it's begging for a hairbrush to run through it to break up the curls. It maintains my style while keeping my hair soft and non-sticky so I can easily run my fingers through it.
This hairspray doesn't complicate my hair routine and that's what I think I love most about it. I've tried luxury formulas with triple the price, only to be left with greasy-looking hair and sticky, painful-to-brush-through tangles. Not to mention this hairspray is about the same price as my post-pilates smoothie, (and one canister lasts what feels like forever) earning it a constant spot on my top shelf, in my shopping cart, and in my good hair day regimen.
*Cosmetics Technology, L'Oréal Paris selects Ardagh's aluminum can for new haircare product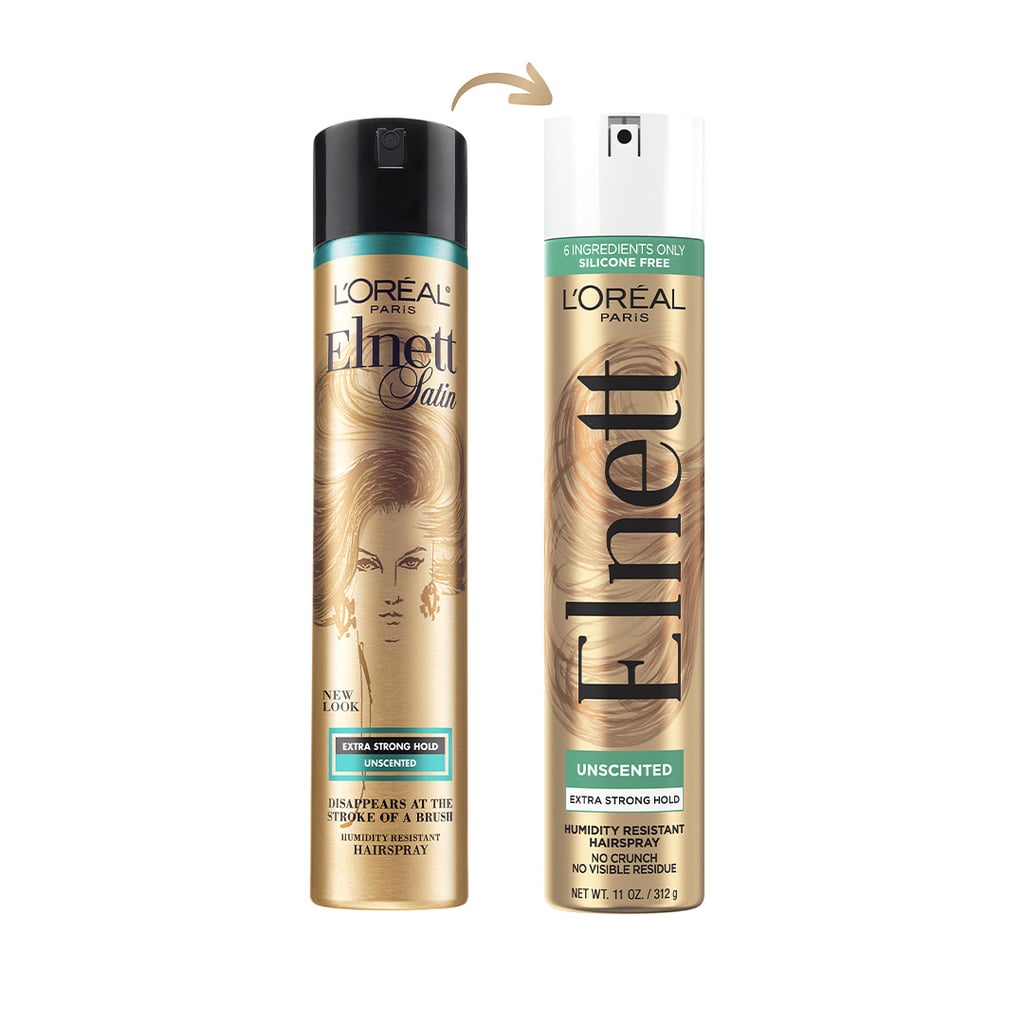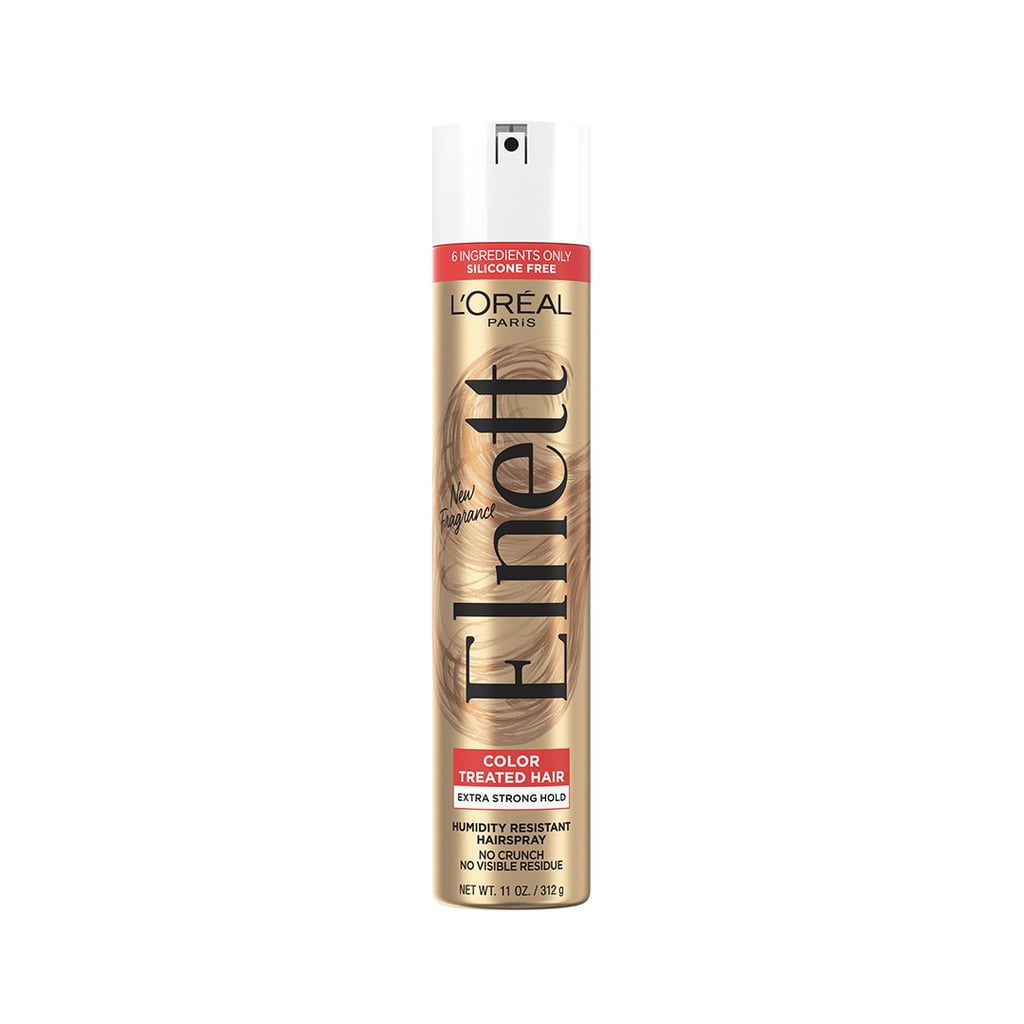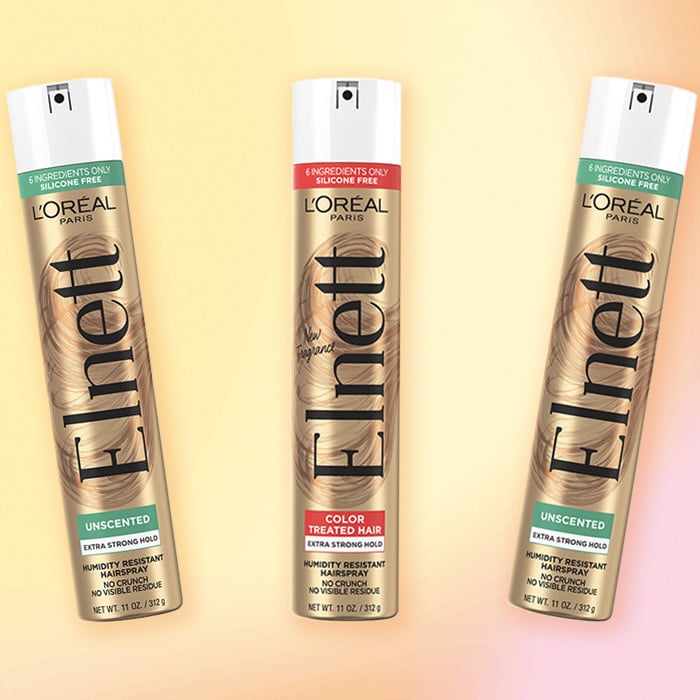 Source: Read Full Article