Summary
Day three of the RNC gets under way as deadly violence rocks Wisconsin following the police shooting of a black man Jacob Blake. NBA players have boycotted games forcing the league to postpone playoffs.
Vice-President Mike Pence is expected to speak about US President Donald Trump's reputation for law and order.
Democrats, watchdogs assail ethics violations in use of White House and political appointees as performers in day two of the convention.
First Lady Melania Trump offered her "deepest sympathy…to everyone who has lost a loved one," to coronavirus in the US, where the toll has nearly reached 180,000.
The Joe Biden campaign dismissed the RNC day 2 proceedings as "alternate reality" and  a "delusion".
Racial tension reignite
Today's convention takes place against the backdrop of yet another wave of race riots in America. Last month, I spent some time in Minneapolis to see how the city was faring in the wake of George Floyd's death. You can check out my feature here.
Three months after that tragedy, the police shooting of black man Jacob Blake in the battleground state of Wisconsin has once again ignited divisions in an already fractured nation.
Both presidential candidates hit Twitter today to share their concerns. Trump announced that he'd be sending in federal officers and the national guard in a bid to "restore LAW and ORDER."
Joe Biden, meanwhile, who we've barely seen since the Democratic convention ended last week, finally made a statement today, calling for an end to violence.
"Protesting brutality is a right and absolutely necessary, but burning down communities is not protest. It's needless violence," Biden said in a video posted to his campaign's social media accounts.
"The wisest words that I've heard spoken so far have come from Julia Jackson, Jacob's mother. She looked at the damage done in her community and she said 'this doesn't reflect my son or my family."
US coronavirus deaths near 180,000: CDC
Democrats criticised the lack of discussion about the coronavirus pandemic raging through the US population by Donald Trump and Republicans during the RNC.
When White House economic adviser Larry Kudlow mentioned it in a video message he used the past tense, writes US Correspondent Matt Knott.
On Wednesday, the Centres for Disease Control and Prevention said the number of deaths due to the coronavirus had risen by 1142 to 177,759 and also reported 5,752,653 cases, an increase of 37,086 cases from its previous count.
Unofficial tallies, such as by the Bing-operated Covid-19 tracker, puts the figure at 181,791.
RNC 'dark and dystopian', says Biden campaign
In an appearance on Fox News, a Biden campaign spokesman described the speakers in day two of the RNC as projecting a "dark and dystopian view of the world" while offering "not a lot of solutions."
More women for Trump
Hot on the heels of Melania Trump's pitch to women voters, you can also expect to see other ladies in Trump's orbit make a similar case for the President's re-election.
Among them: the Second Lady Karen Pence; Trump's daughter-in-law Lara Trump; and the president's longtime adviser, Kellyanne Conway, who is stepping down at the end of the month.
Kellyanne ConwayCredit:AP
Other speakers tonight include:
* Tennessee Senator Marsha Blackburn
*South Dakota Governor Kristi Noem
*North Carolina Republican nominee Madison Cawthorn
*Texas representative Dan Crensha
* Utah Republican nominee Burgess Owens
* New York Congresswoman Elise Stefanik
* New York representative Lee Zeldin
* Former acting director of national intelligence Richard Grenel
*Civil rights activist Clarence Henderson
* Former Lt. Gen. Keith Kellogg
* National Association of Police Organizations president Michael McHale
* Sister Dede Byrne
* Scott Dane, executive director of the Associated Contract Loggers and Truckers of Minnesota.
* Iowa Senator Joni Ernst
Day Three of the RNC
Hi everyone, and welcome our live blog for Day Three of the Republican National Convention.
I'm currently in the GOP stronghold of Texas, where Hurricane Laura is set to barrel in from the Gulf of Mexico, so I'll aim to keep you updated with any major developments over the next few days – but for now, it's all about the RNC….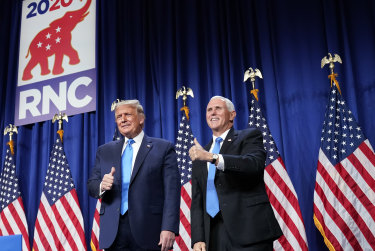 President Donald Trump and Vice President Mike PenceCredit:AP
For those who missed out yesterday, it was somewhat less bombastic convention than the opening night, capped off by a well-received speech by Melania Trump.
The First Lady expressed her sympathy for COVID-19, sought to humanise her husband, and deliberately avoided attacking her opponents. Those who missed Day Two can catch up with our live blog here.
Tonight's headliner is Vice President Mike Pence, the man who'll go head-to-head with Kamala Harris in the election debates in a few weeks' time. He will formally accept his nomination as Donald Trump's running mate with a keynote address in Fort McHenry in Baltimore, based on today's theme: Land of Heroes.
Make sure you've got "US military", "law and order" and "suburban women" on your RNC bingo cards….
Most Viewed in World
Source: Read Full Article