For our free coronavirus pandemic coverage, learn more here.
London: Nations across Europe are moving to reimpose tougher measures to stem a new wave of COVID-19 infections spurred by the highly transmissible omicron variant, triggering calls for protests from Paris to Barcelona.
As case numbers escalated, alarmed ministers in France, and Austria tightened travel restrictions. Paris cancelled its New Year's Eve fireworks. Denmark closed theatres, concert halls, amusement parks and museums. Ireland imposed an 8pm curfew on pubs and bars and limited attendance at indoor and outdoor events.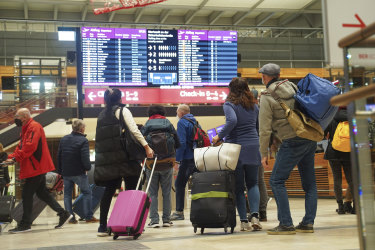 Travellers stand in front of an information board at BER Airport in Berlin, Germany, on Saturday.Credit:
In the UK, new reported Omicron cases tripled in a day, prompting the government to be considering a two-week ban on people in England gathering indoors.
London Mayor Sadiq Khan declared a "major incident" on Saturday to help the capital's hospitals cope with a surge in COVID-19 cases caused by the fast-spreading variant.
Cases in the UK jumped sharply to almost 25,000 while the total number of reported deaths among people with it so far rose to seven, according to British health authorities.
Hospital admissions and health worker absences are rising, Khan said, "so I've taken the decision, in consultation with our partners, to declare a major incident today".
"This is a statement of how serious things are," he said.
The UK government has already reimposed a requirement for masks to be worn indoors and ordered people to show proof of vaccination or a recent negative coronavirus test when going to night clubs and large events. Now scientists are warning that the government needs to go further to prevent hospitals from being overwhelmed.
Irish Prime Minister Micheál Martin captured the sense of the continent in an address to the nation, saying the new restrictions were needed to protect lives and livelihoods from the resurgent virus.
"None of this is easy," Martin said on Friday night. "We are all exhausted with COVID and the restrictions it requires. The twists and turns, the disappointments and the frustrations take a heavy toll on everyone. But it is the reality that we are dealing with."
Other nations may go further still. Dutch government ministers were meeting on Saturday to discuss advice from a panel of experts who are recommending a toughening of the partial lockdown that is already in place and has led to a recent decline in infections.
Some stores opened earlier than usual on Saturday and shoppers flocked into city centre shopping areas, fearing it could be their last chance to shop before Christmas.
Britain and other nations are also accelerating the pace of booster shots after early data showed that two doses of vaccine were less effective against the Omicron variant.
In France, the government announced that it will start giving the vaccine to children in the 5 to 11 age group beginning on Wednesday.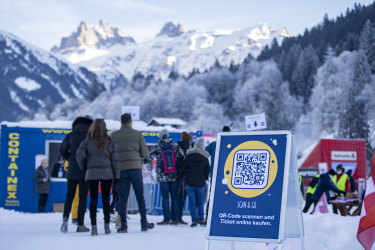 COVID-19 certificate and entry checks are seen at the Ski Jumping World Cup in Engelberg, Switzerland, on Saturday.Credit:
Omicron is now the dominant coronavirus variant in London and efforts were being stepped up to reach people who haven't yet been vaccinated or boosted.
The US is also being hit hard by the virus. Coronavirus cases in New York reached a record high on Friday as the Omicron variant fuelled a wave of infections and forced Broadway theatres and the Rockettes to cancel holiday shows.
The 21,027 reported cases were the city's highest daily count during the pandemic, according to data analysed by The Washington Post, although testing was less widely available in the early days.
Broadway shows including "Hamilton" and "Tina," about the life of Tina Turner, cancelled performances.
The rising coronavirus numbers are a reminder "that the pandemic is not over yet," said New York Democratic Governor Kathy Hochul, who this week reinstated a requirement for masks indoors.
AP and Reuters
Most Viewed in World
From our partners
Source: Read Full Article