"Succession," HBO's Emmy Award-winning satire about the machinations of a cutthroat media dynasty, boasts the kind of ensemble cast that most other prestige dramas can only dream of. From Brian Cox's ruthless patriarch and Matthew McFadyen's weaselly son-in-law to Kieran Culkin's snarky neurotic and Jeremy Strong's troubled heir apparent, the Shakespearean saga is stacked with actors who have perfectly inhabited their roles from the very first episode. But for many fans, the true MVP is Nicholas Braun.
Yes, his performance as the socially awkward but deceptively cunning Greg Hirsch has provided much of the comic relief in the first two seasons. And with a much-anticipated third on the way, Braun will no doubt have plenty more opportunities to steal the show.
Of course, there's far more to Nicholas Braun's story than playing Cousin Greg on a hit HBO show. From sartorial choices to social skills, here's a look at the talented star's untold truth.
Nicholas Braun is from a showbiz family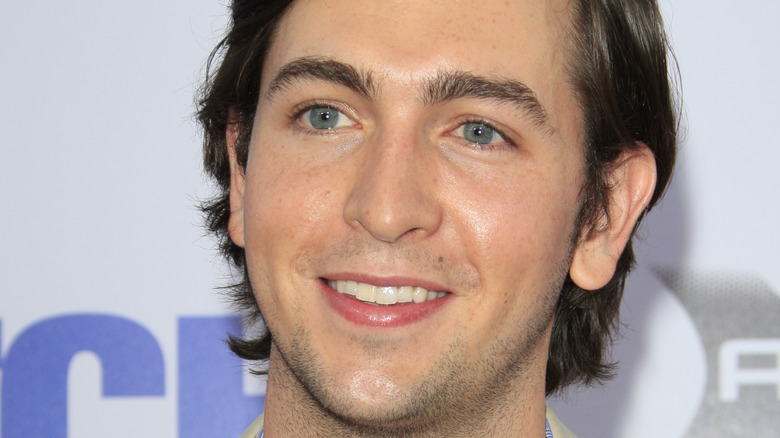 Nicholas Braun isn't the only member of his family with at least one foot in the entertainment industry. His brother Christopher Deyo Braun is the founder of funk-rock outfit Hibbity Dibbity, as noted by SFGate, who recorded his solo debut in 2018, while half-brother Guillaume Rumiel Braun is a actor whose credits include biopic "Pasolini" and the movie "Nicholas on Holiday." But it's Nicholas' father who's had the most interesting career. 
Craig Braun made his name back in the 1960s designing some of the most iconic album covers of the era including The Velvet Underground and Nico's eponymous LP and The Rolling Stones' "Sticky Fingers," according to The New York Times. But proving that it's never too late to reinvent yourself, Craig decided to chase his acting dreams in the 1990s. The multi-talented star went on to land big screen roles in "Great Expectations," "Flawless," and "Swordfish" and small screen parts in "Third Watch," "ER," and "Cold Case." 
Nicholas told Town & Country in 2019 that he and his pop would often support each other during their early thespian days: "My dad got an illegal account [to look at casting calls online]. And so, we would both go through it every day and send out little postcards to casting directors hoping to get auditions." Calling it a "fun morning activity," he said he enjoyed helping his dad find projects he'd excel in.
The Succession star has a music side gig
One of the most unexpected viral hits to emerge during the early stages of the COVID-19 pandemic was a goofy pop-punk throwback about antibodies performed by the actor behind "Succession" MVP Cousin Greg. Yes, in July 2020, Nicholas Braun uploaded a coronavirus-themed track presumably inspired by his love of turn-of-the-century acts like Sum 41, Blink-182, and Papa Roach. He even got the latter's producer Colin Brittain on board, too (via Rolling Stone Australia).
Braun also invited his fans to share their own versions of the song, and pretty soon everyone from "Mad Men" alum Kiernan Shipka to hitmaker Mark Ronson were getting in on the act. He explained to Billboard, "I was hoping that people would think, 'Oh, Nick looks like he's losing his mind and coming up with weird stuff.' But I didn't expect it to be the thing it was. I was kind of throwing it out there in a way to gauge where people were at."
Of course, this wasn't the first time that Braun had shown off his musical talent. The actor had been making music with his brother Christopher Deyo Braun for years beforehand. And he told The A.V. Club that he intends to follow up "Antibodies (Do You Have The)" with an R&B sound inspired by the likes of Daniel Caesar and James Blake, adding, "I've always wanted to make music. It's been a dream of my whole life. I mean, I've been singing as long as I can remember."
Nicholas Braun was a Disney regular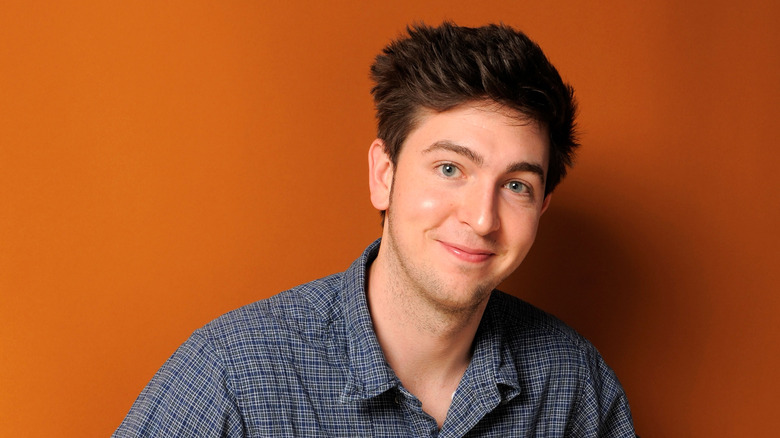 "Succession" favorite Cousin Greg, of course, is, by no means, Nicholas Braun's first notable acting role. The star previously had a recurring stint in the short-lived sitcom "10 Things I Hate About You" and appeared on the big screen in the likes of "The Perks of Being a Wallflower," "Poltergeist," and "How to Be Single." He even enjoyed leading man status in horror "Freaks of Nature" and comedy "Good Kids."
But some fans will probably best remember Braun for his spell as a Disney regular. In fact, he made his cinematic debut in 2005's "Sky High," playing a superhero who possessed the ability to glow in the dark (via GQ). Three years later, he was cast as a leather-jacketed bad boy in Disney Channel original "Minutemen," while, in 2009, he appeared alongside Selena Gomez and Demi Lovato as an aspiring documentarian in "Princess Protection Program." Braun's time with the Mouse House concluded as serial promposer Lloyd in the theatrically released teen movie "Prom."
In a 2021 chat with BuzzFeed, Braun recalled the moment he first learned he was going to appear in a Disney production. "Oh, my gosh. I screamed and yelled — I was with two friends in Pennsylvania when I got the call, and I felt the most excitement," he shared. "I still feel that way, though, when I get a part; I think, 'Wow, I cannot believe I won this part.'"
He turned down the chance to become a big teen star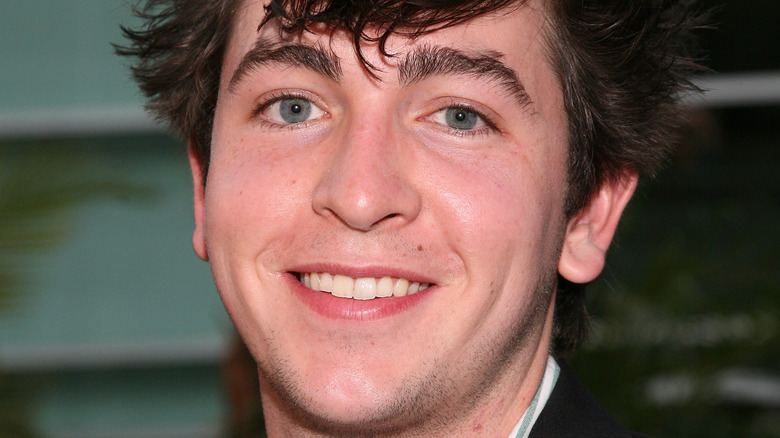 Nicholas Braun sure seemed to have a wise head on his 13-year-old shoulders. While most teens would have given their right arm to take center stage in a Disney Channel sitcom, the future Cousin Greg decided to turn down the Mouse House when they offered him his own show. And two decades later, he explained to GQ why.
"The opportunities to be the lead of a Disney Channel series felt scary to me," Braun said. "It felt like a commitment that might come around to bite me in the a**." The actor spent the majority of his teenage years living a relatively normal life, bagging the odd part in the likes of TV movie "Walter and Henry" and long-running procedural "Law and Order: Special Victims Unit" in between his boarding school studies.
Braun admits that he occasionally wondered whether he did the right thing while growing up but believes he ultimately made the right choice. Though he admitted to thinking it must have been "awesome" to be in movies like "Twilight," he realized that fame like that "dies down" at some point. "I think I've just believed in the slow rise and to make sure that I focus on my work and that I remain an artist and not necessarily go towards the thing that would get me the most fame the most quickly," he explained.
Nicholas Braun shares this similarity with his Succession character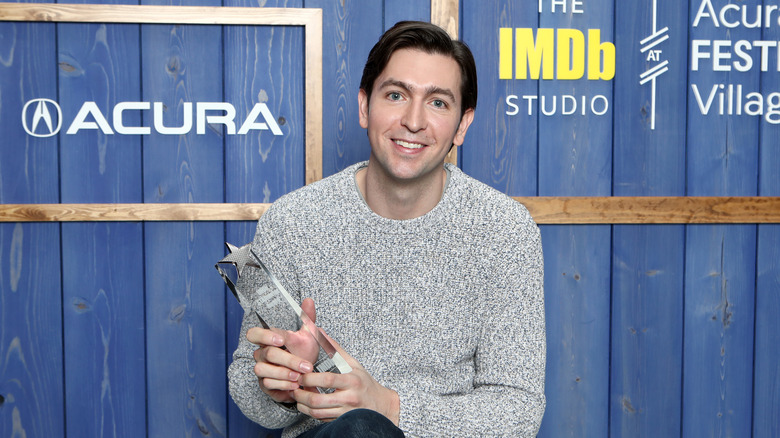 Cousin Greg might be the least objectionable character in the Roy dynasty of "Succession," but you still wouldn't want to admit sharing any characteristics with him. Yet the man who plays the bumbling underling freely confessed to GQ in 2021 that he can relate in some way.
Nicholas Braun told the magazine that he digs deep into the anxious part of his personality to help bring the character to life: "I guess I'm one of those people who is not, like, instantly comfortable with people; it takes me a while to know what version of myself I'm going to be with somebody."
Braun has looked for inspiration elsewhere, too, such as the man who danced like no one was watching at a wedding he attended. The actor also revealed that he prepared for Greg's constant state of awkwardness by gate-crashing conversations with people he didn't know. "When there's any kind of awkward silence, I'm like, 'OK, probably time to go.' But I think Greg doesn't have that voice in his head," he said.
Nicholas Braun became an unlikely style icon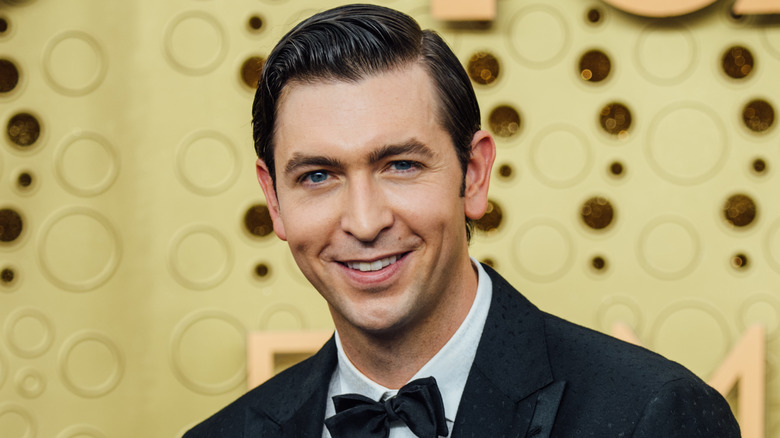 It's always much harder for a male celebrity to make an impression on the red carpet than their female counterparts — particularly at awards shows, when anything other than the standard tuxedo is considered to be a rebellious fashion statement. But Nicholas Braun managed to respect the tradition while still putting his own spin on the familiar look for the 2020 Emmy Awards.
Braun, who was nominated for Outstanding Supporting Actor in a Drama Series for his performance as "Succession" favorite Greg Hirsch, sported a Paul Smith suit for the occasion. The pandemic meant attendees had to show off their sartorial choices at home rather than at the Staples Center host venue, but he accompanied it with some unorthodox footwear: a pair of Crocs.
The actor, who lost out to "The Morning Show" star Billy Crudup in his category, later explained his decision to the Los Angeles Times: "I was like, 'am I really going to wear some Crocs to the Emmys?' But honestly, once I popped them on, it just [felt] very right with this tux." And The Cut was just one of several style bibles who applauded Braun's efforts: "If you think about it, Crocs and Cousin Greg are actually a perfect match. Both have been known to raise eyebrows among the loafer-wearing elite for their apparent goofiness. Both have been cast aside as nothings and nobodies. And yet, time and again, they rise, proving themselves worthy of our affection."
The actor is fascinated with the dating process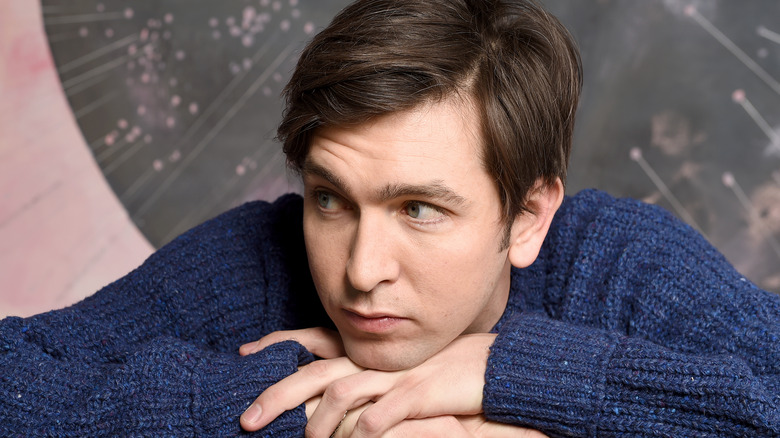 Like many of us during the early stages of the COVID-19 pandemic, Nicholas Braun spent much of his free time bingeing trashy dating shows, most notably Netflix's "Love Is Blind," as he told GQ. But unlike most of us, the "Zola" star also managed to channel his viewing habits into something wholly productive.
Yes, inspired by the exploits of Damian, Giannina, and co., Braun began writing a script for a film about a dating show contestant he dubs a "social horror movie." The actor — who, despite watching them relentlessly, admits he finds reality shows "kind of horrific" — also penned a screenplay for another movie during his unexpected downtime, one based on a long-term relationship.
In a 2021 interview with The Cut, Braun revealed he's always been interested in the "courting process." Referring to his pandemic projects, the actor expanded, "These things become a net for all of my little fascinations. Like, Oh, that was a weird wedding, or hearing people on a first date and watching their body language." But what about his own dating habits? Well, the New Yorker admitted he's not exactly a play-it-cool kinda guy. "I don't feel like I have power or leverage at all," he said in relation to that agonizing post-date uncertainty. "I'm the one trying to get something, get a text back or get a call back or anything."
Nicholas Braun is a social butterfly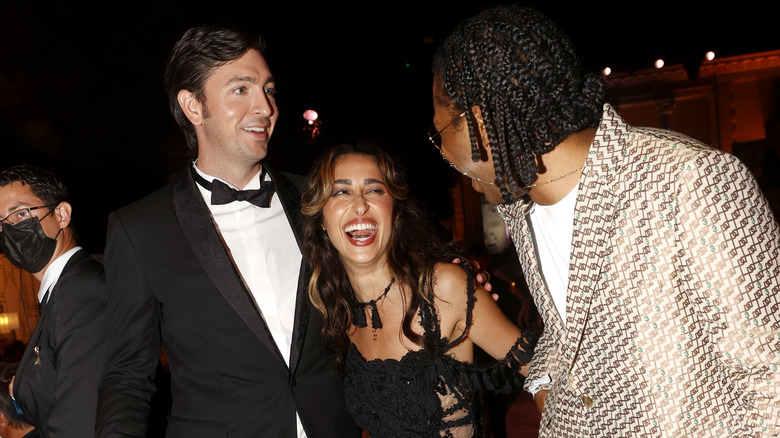 Nicholas Braun may share some personality traits with his "Succession" character, Cousin Greg. But he appears to be a lot more adept in social situations than the most bumbling member of the Roy family. And his on-screen cousin can vouch for that, too.
In a chat with Town & Country, Jeremy Strong — who plays Logan Roy's eldest son and unlikely rapper Kendall — recalled a star-studded party the pair attended in the Hamptons where his castmate worked the room like a pro. "Each time I turned around there was Nick hobnobbing with Hilary, with President Clinton, with Paul McCartney," he said. "He would just walk right up to them and strike up a conversation. I think he told Paul McCartney how much he dug his pants or something and then they ended up chatting away for ages."
And there was one particular celeb that Braun appeared to connect with more than any other: the one and only Robert Downey Jr. Strong added, "He [Braun] had just wandered over to sit down and join Robert, who was smoking a cigar with a friend. And there was Nick, Zelig-like, belonging there already, utterly authentic and at home with other people."
Why Nicholas Braun used to lie about his height at auditions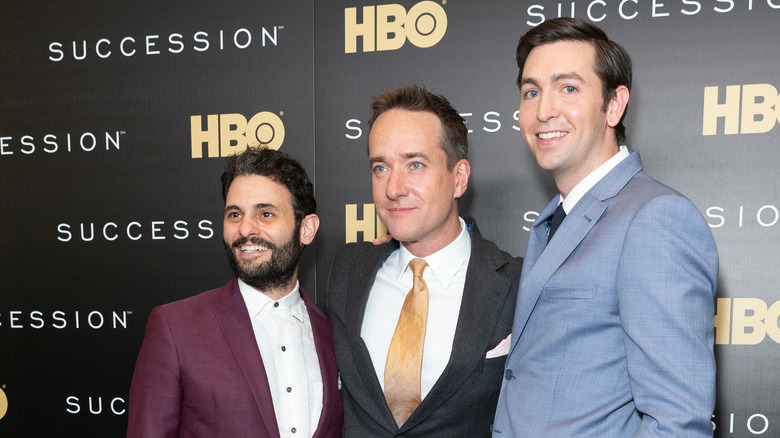 There appears to be some debate online as to just how tall Nicholas Braun really is. You may see the "Succession" star listed as anywhere from 6 feet 4 inches to 6 feet 7 inches, depending on which sites you visit. But there's a reasonable explanation for all the confusion, as the man himself told Insider in 2021.
Braun confirmed, "Six-seven is the real number. I used to make it shorter because most people hear 6'7″ or even 6'6″ and I think are a little spooked by it, like I'm going to be too tall. I'm just talking about in auditions or when I'm going for a part. So I used to sort of make it low, 6'4″, 6'5″. I'm really 6'7″ when I stand."
The "How to Be Single" star revealed that his height has been a barrier to his career ever since he started acting in his pre-teen years. However, he's now at a point where he can embrace what makes him stand out from the rest of the crowd. And in some cases, it can actually be an advantage. He was able to cast himself as Adam Neumann, the founder of WeWork who's 6 feet 5 inches, in a TV drama based on the company's dramatic trajectory that he's also executive producing.
Nicholas Braun still gets starstruck sometimes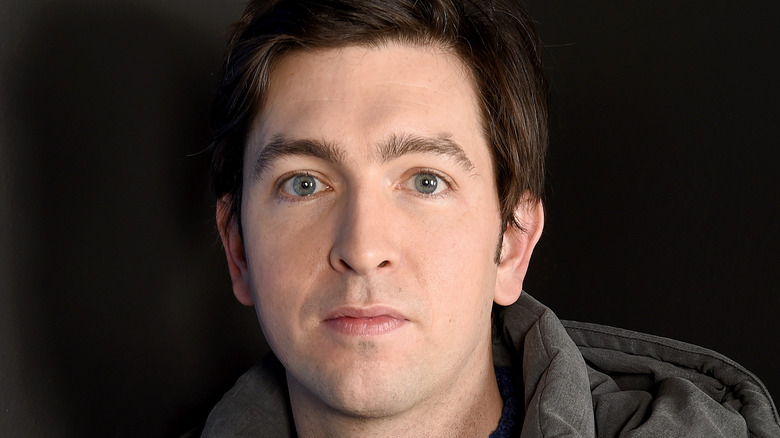 Nicholas Braun may be an Emmy-nominated style icon who's an integral part of the most acclaimed TV drama in recent years. But the actor still finds himself starstruck when in the presence of Hollywood royalty.
Speaking to BuzzFeed in 2021, the "Succession" star revealed that he was left in awe when he bumped into Leonardo DiCaprio at the previous year's Golden Globes. But the New Yorker was apparently much less overwhelmed when he met one of DiCaprio's frequent directors on a flight more than a decade earlier.
In his 2021 chat with GQ, Braun recalled the moment he spotted none other than Quentin Tarantino on the same airplane before spotting the opportunity to introduce his talents: "I was like, 'Quentin? Mr. Tarantino? Hey, I just want to say I'm an actor. I love your films. I hope I get to work with you someday.'" The teen then handed over an ad for his Disney movie "Minutemen" that he'd torn out of a magazine, adding, "He was in the window seat, so I had to lean over a person to give it to him." It seems unlikely that the man behind some of the most violent, expletive-filled films in modern cinema watched a kids sci-fi about a short-distance time machine. Still, you have to admire Braun's chutzpah.
Nicholas Braun had a pandemic romance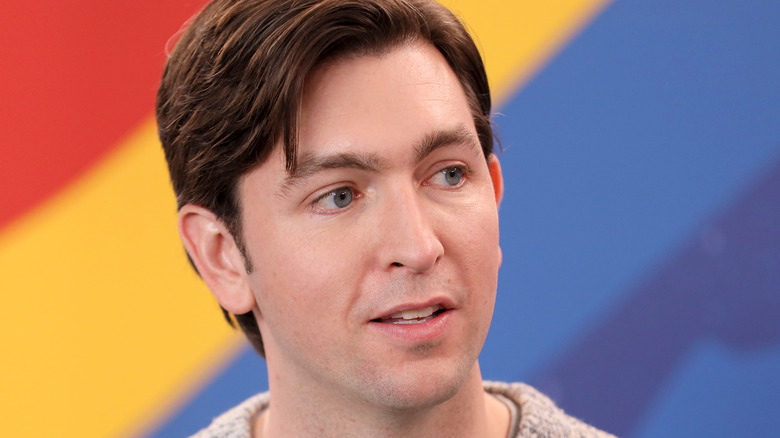 As well as writing two movie scripts and recording the catchiest pop-punk anthem of the COVID-19 era, Nicholas Braun also somehow found the time to pursue a romance while locked down during the pandemic. In fact, it was with one of the women featured in his DIY promo for viral hit "Antibodies (Do You Have The)."
Speaking to Bustle in 2020, Braun recalled how strange his first socially distanced date with the mystery lady was, noting he hadn't seen her face in person until the end of their date. "It's interesting going on dates with bandanas on, with masks on, and [realizing] all the normal stuff where you might sit close to each other at a restaurant, you might put your arm around them or something, that all of that is gone until date three, four, until you feel like OK, I can get close to this person, and they can get close to me."
Sadly, Braun won't be telling his future grandkids that he met their grandmother in the early stages of the biggest global health crisis in 100 years. Asked by GQ in 2021 whether he was still with the lady in question, the actor replied, "We're not together, just because, you know, she lives in LA. I wasn't sure when I'd ever get to LA again. It was a great pandemic romance."
He made a bid for a Kardashian in 2021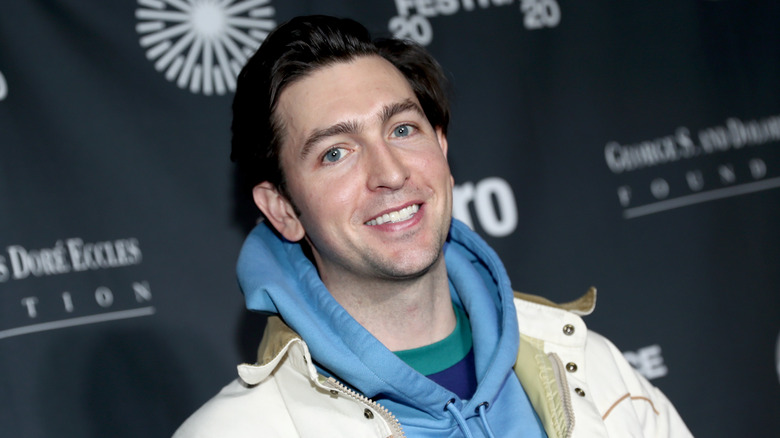 After his pandemic romance fizzled out, Nicholas Braun decided to put himself out there in the most public way possible. By directly asking Kim Kardashian out for a date in an Instagram video!
The unlikely proposition began when, after hearing of the socialite's impending divorce to Kanye West, the "Succession" star uploaded a clip to express his sadness: "It hurts to think about how they're feeling, and how she's feeling. I mean, I'm wondering, at this point, like, where do they even go from here?" But he wasn't too sad to wonder whether Kardashian would be interested in a rebound with one particular guy. "One who could, you know, make you laugh a little bit or make you feel small because he's so tall. Or, just a guy who's … talking about her on the internet," he said. "Like, a guy who makes a video like this and he's just sort of, like, trying to find a way to just talk to her because he doesn't know anybody who knows her."
Sadly, Braun's audacious approach failed to reap any rewards. With a brave face, the actor later revealed in another Instagram video that he'd heard nothing back from the reality TV star. "We're busy. Both of us. I'm busy and she's got SKIMS, and I've got to go to the bank tomorrow."
Nicholas Braun is BFFs with McLovin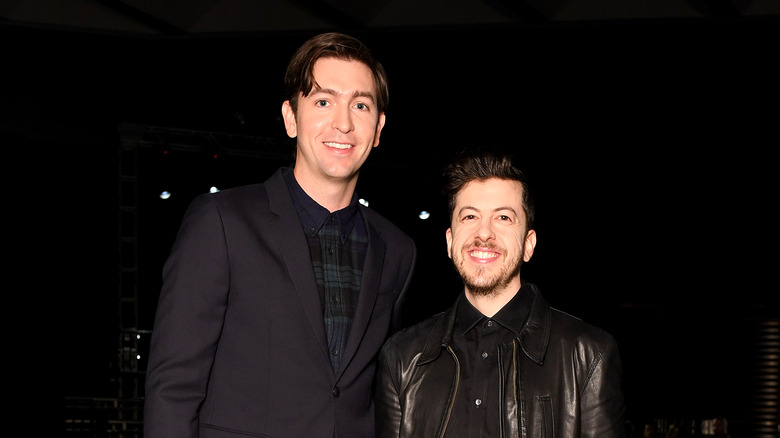 Nicholas Braun, by his own admission, might not be particularly lucky with the ladies. But he can always take solace in the fact he appears to have one of Tinseltown's most solid bromances. Yes, the "Succession" star is best buds with McLovin from "Superbad," aka Christopher Mintz-Plasse.
The actors first connected while shooting big-screen comedy "Get a Job" in 2012, with Braun telling Hollywood.com at the time, "[Mintz-Plasse] and I basically, the first day we started working on this, fell in love. We realized we wanted to just do every job together." Soon after, the pair signed up for a CBS sitcom, the aptly-titled "Friend Me," which unfortunately did not find success. But that wasn't the end of their budding friendship.
In fact, Braun and Mintz-Plasse even spent time living together in 2020 while the former was waiting for the third season of "Succession" to restart production. So what did they get up to during their lockdown? Well, they binged their way through Netflix dating shows, enjoyed jamming sessions, and built Lego, as he told GQ. Y'know, the usual. The mischievous Mintz-Plasse also played the wingman in Braun's unsuccessful attempt to woo Kim Kardashian (via Page Six).
Nicholas Braun is a method actor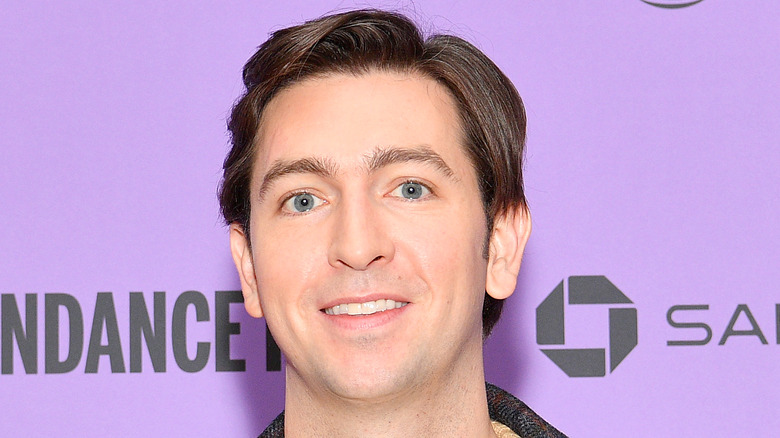 Turns out that Jeremy Strong isn't the only method actor in the "Succession" cast. During a conversation with "Moonlight" composer Nicholas Britell for "The A24 Podcast" in 2020, Nicholas Braun revealed he revels in getting as close to his on-screen characters as possible.
He explained that he'd rather not don a wig if he could instead grow his hair long instead. "Grow the real facial hair or make my body really feel the way that that character's body feels because you can't — the voice of somebody is not altered by just changing it two seconds before," he said. "It's like you have to live in the body and live in the clothes and the posture and all those things contribute to the thing that shows up on screen."
And his performance as slacker Derrek in "Zola" gave Braun plenty of opportunities to embrace his method side. The actor took up cigarettes in real life to better inhabit his chain-smoking character. "It helps my voice because it dries my voice out," he shared. Braun has even camped out an Insane Clown Posse festival for a role, but he insists he doesn't ever go to extremes: "You can't stop life from happening and certain things from happening. Or you can't, like, not talk to your family for three months because your character doesn't talk to their family. I don't go that far with it."
Source: Read Full Article