The Netflix gods keep blessing us with Stranger Things 4 content while we wait for the premiere date to arrive. Netflix released a new character poster featuring Eleven (Millie Bobby Brown) at the forefront. On Apr. 28, they posted an adorable video of Brown and Noah Schnapp, who plays Will Byers in the series. However, it appears Netflix wiped the interview clean from their accounts a few hours later. Thankfully, we've got you covered with what Brown and Schnapp discussed.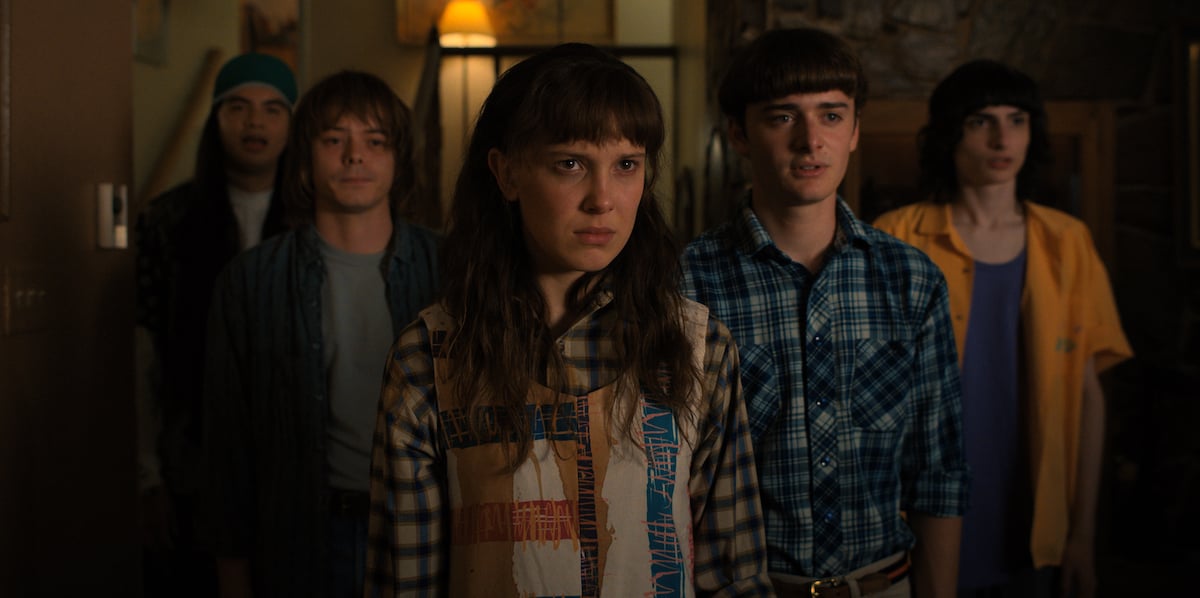 Millie Bobby Brown says Eleven is 'severely bullied' in 'Stranger Things 4'
Brown's character, Eleven, hasn't had the easiest time in the series. She spent the first years of her life in a secret government lab while evil doctors experimented on her. Then, she defended her friends from the Demogorgon before getting stuck in the Upside Down. Last season, she lost her adoptive dad, Chief Jim Hopper (David Harbour,) when he and Will's mom, Joyce (Winona Ryder,) closed the gate to the Upside Down.
However, as she finally gets a crack at everyday life for a teenager in Stranger Things 4, she's the prime target of some new bullies named Angela and Jake. After the "Welcome to California" teaser, rumors swirled that Eleven got revenge on Angela during her time at a roller rink for bullying her. Now, it appears those weren't just rumors after all.
In the video posted on Youtube, Brown says, "El, this season, had a pretty big character arc. She's been through a lot. She was pretty severely bullied when we find her."
"Which was really sad," Schnapp interjects.
"We find El and Will that are living together in California, and they look out for each other," Brown continues.
Millie Bobby Brown and Noah Schnapp discussed what it was like working together in 'Stranger Things 4'
As the catalyst that set off the events in Stranger Things Season 1, Will didn't get much screen time. In the following seasons, he and Eleven had very little interaction. However, that appears to change in Stranger Things 4. 
Brown clearly adores working with Schnapp. When joking around about who's the best out of the cast, the two laugh about it being both of them. "We're united," says Brown. "We're best friends, and I think it's the best when you get to work with your best friend."
Schnapp chimes in, "It's awesome. I always love working with Millie, and this season I've gotten to work with her probably the most out of any other season. We've had discussions together this season. It was just such a blast actually getting to act off of her. She's incredible, and I had the best time with her."
Millie Bobby Brown and Noah Schnapp's favorite moments from the upcoming season
Stranger Things 4 broadens the horizons when it comes to settings in the series. Up until season 4, everything took place in Hawkins, Indiana. However, the upcoming season includes Lenora Hills, California, and Russia.
Schnapp tells the cameras, "Me and Millie had a week where it was just us filming in the school, and it was definitely one of my favorite weeks."
When asked about their favorite scenes to film for Stranger Things 4, Brown and Schnapp had a few answers.
Schnapp explained, "I think this season was very split up by the locations we've filmed in, and I think my favorite locations were either at the school or, honestly, this week at the roller rink has been a blast."
A pivotal scene in Stranger Things 4 involves Eleven getting bullied at a roller rink. Although, we aren't sure what sets off the mean girls or why they target Eleven. Thankfully, we're less than a month away from Stranger Things 4. Part 1 drops on May 27, 2022, exclusively on Netflix.
Source: Read Full Article