Lucifer fans itching for hints about season 6 can find some in the TV show's new trailer and others on social media. And there are so many questions. Will Luci leave Los Angeles for good? What's going on with Michael?
Tom Ellis has some viewers sleuthing and pitching fan theories, and showrunners Ildy Modrovich and Joe Henderson are excited about the final installment. All three appeared at Comic-Con @Home and discussed special moments from season 5 along with some interesting spoilers for season 6.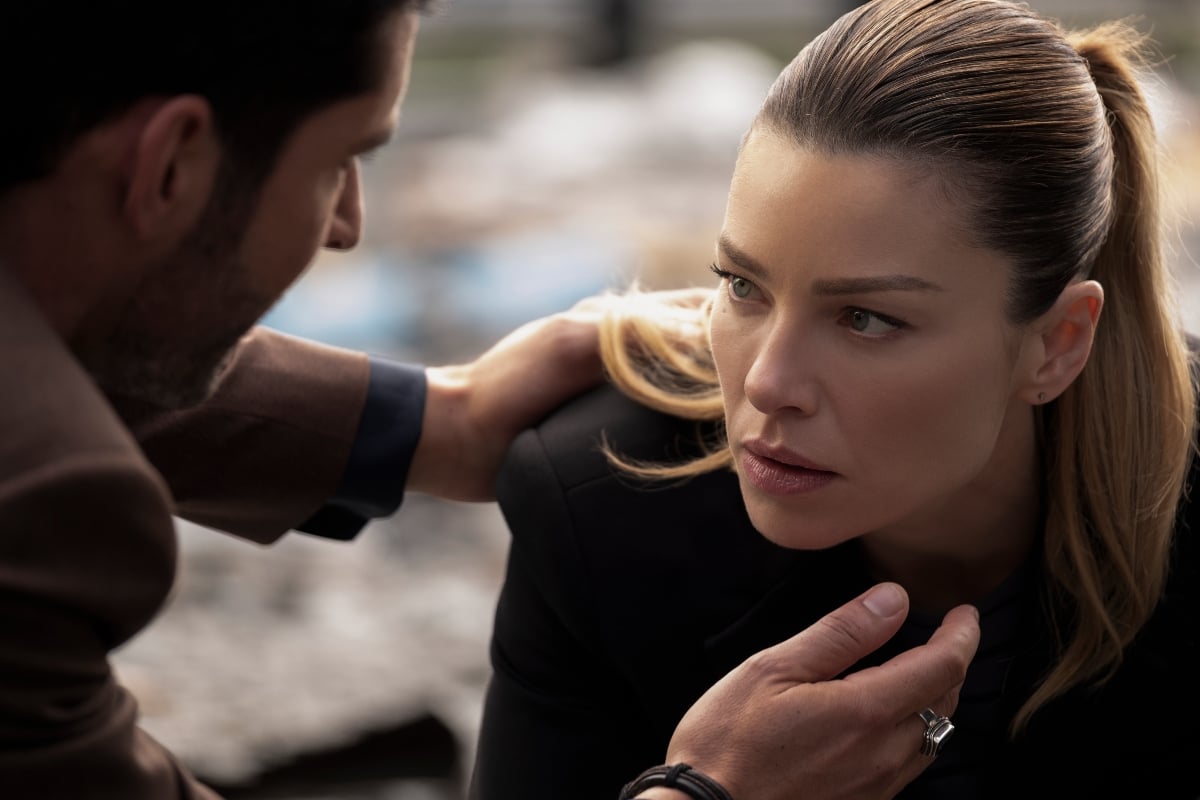 What's up Chloe and Lilith's ring
Toward the end of episode 16 in season 5, Lucifer flies Chloe to heaven to save her. It's a miracle he doesn't dissolve into ash, but he realizes Lilith's immortality ring kept him alive. Chloe wants to stay, but Lucifer's own epiphany about love helps her to remember life on Earth. In a final, selfless gesture, he slips the ring on Chloe's finger so she can be resurrected. And Lucifer self-actualizes as the ultimate celestial being: God.
Some fans wondered if the ring signified Deckerstar's engagement. According to Modrovich, Ellis, and Henderson, Lucifer's gesture was very symbolic and metaphorical. He thought he was about to die and wanted to ensure Chloe felt his love. "It's not an official engagement, but it's an emotional one," Henderson told Comic-Con @Home panel host Luke Cook.
Their intention was to show Lucifer's sacrifice and how much Chloe means to him. But they cleared up another idea about Chloe and Lilith's ring. Will the detective die if she removes it? No, she'll be just fine. "We can reveal it has a certain amount of power. The power was used to bring her back, now it just looks awesome on her hand," said Henderson.
Amenadiel gets a new job
Remember when Dan laughed off Amenadiel's ambition to become a cop? He hurt his angel bestie's feelings, but later changed his mind. Well, Amenadiel plans to pursue his dream in season 6 and will join the Los Angeles Police Department.
Per Modrovich, he's joining the force but won't be a detective just yet. So, look out for Amenadiel in his new surroundings, and maybe he'll make Dad proud by earning his own office.
Where's Michael?
After kicking off a war among his siblings and killing Chloe, Lucifer exacted his own form of punishment on Michael. According to Ellis, "Michael's spending time in time out." For those who wonder where that is, he's in H-E-L-L.
Easter egg: A familiar character is returning
Fans may have already spotted the cop in the season 6 trailer as a callback to season 1. He's the same one who pulled Luci over in the first episode. However, he won't be the only recognizable character coming back in the final season.
Modrovich, Ellis, and Henderson teased a few Easter eggs by revealing that a guest star from a favorite episode will pop up again in season 6. But there will also be at least one important new face. Team Lucifer recalled digging through their archives for possible Easter eggs and discovered someone. "We found one character who we've talked about but have never seen," said Henderson.
Who could that be? Abel? Adam? What about the angel Castiel who loves to sing? It would be hilarious if Supernatural's Misha Collins shows up to play an angel in the same way Rob Benedict played a bad guy. Check out Lucifer Season 6 on Netflix on Sept. 10.
Source: Read Full Article