This season of The Bachelorette is going to be a little different, and by that I mean Clare Crawley was replaced by Tayshia Adams (potentially as part of a SECRET PLAN) after just a couple weeks. So…what happened to Clare's guys? Welp, turns out most of them stayed on for Tayshia's season, including Dallas-based Aeronautical Engineer Ivan Hall. Thanks to some juicy Reality Steve reports [to be clear: spoilers! are! below!] we know Ivan gets pretty far on Tayshia's half of the season, so let's get to know him better, shall we? (We shall.)
He (Probably) Makes It to Tayshia's Final Four
According to Reality Steve, Ivan is almost certainly in Tayshia's final four—along with Ben Smith, Zac Clark, and Brendan Morais. To quote the Spoiler King himself, "I think those are her four based on what sources gave to me, timing of when I received it, and where it came from."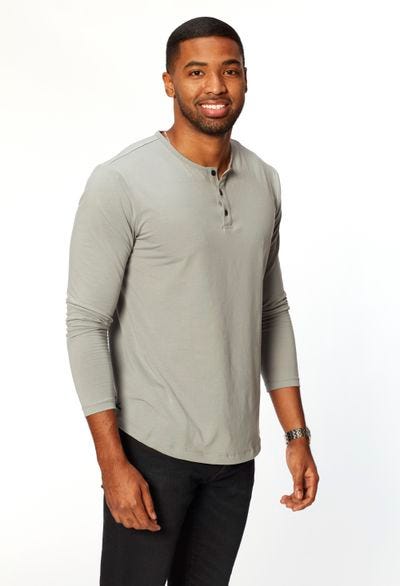 Oh, and Reality Steve also indicated that Ivan is one of Tayshia's two front-runners—meaning he might have won the entire season.
He's Super Close to His Family
Ivan's ABC profile says he has "a loving and supportive family and a seriously cool job building jets for the U.S. military." We also know he was born in Chicago, grew up in Texas, and apparently is "very close with his mom and says he talks to her every day." Love that!
Pssst: Reality Steve also sleuthed his social so…here ya go:
Ivan Hall, 28, Dallas, TX (https://t.co/Wb5R1DIXl3) pic.twitter.com/CW6r7B2TpB
He's Over Being a Bachelor
According to whatever poor soul had the task of writing up all 31 of ABC's Bachelorette cast bios, Ivan enjoyed the single life in his mid 20s but now that he's 28, "his single bachelor days are behind him and it's time to settle down."
He's Turned on By "Spirited Debate"
Apparently, "intelligence is a huge aphrodisiac to Ivan, and nothing turns him on more than getting into a spirited debate with the woman he loves." Honestly, I, too, love a spirited debate—unless it has the word "presidential" in front of it, of course.
That's all we know about Ivan so far, but rest assured we'll be keeping this updated with the latest Bachelor Nation sleuthing efforts.
Source: Read Full Article