Grey's Anatomy fans were devastated to hear that actor Sara Ramirez, who played Dr. Callie Torres, would not return after Season 12. Although they didn't explain their departure, Ramirez has always been open to someday returning to the medical drama. So, is the actor still open to playing Callie Torres once again?
Sara Ramirez talks about a possible return to 'Grey's Anatomy'
Sara Ramirez recently sat down with Glamour to discuss their role in the Sex and the City reboot, titled And Just Like That … In the HBO series, they play Che Diaz, a comedian and podcast host that also happens to be the show's first nonbinary character. 
In 2020, the former Grey's Anatomy star came out as non-binary on social media. When asked about a possible return to the medical drama, Ramirez said they would "absolutely" be open to reprising their role as Callie Torres.
"If the stars align in a way that makes it make sense, absolutely," they explained. "I love my Grey's Anatomy family. I'm so proud of them for introducing trans characters and nonbinary characters. It's a beautiful universe that they've created over there, and I'm so grateful that I got to be a part of it."
At the moment, Grey's Anatomy creator Shonda Rhimes has not confirmed Ramirez's return to the medical drama. So, for now, a possible return remains up in the air. But, it would be so awesome to see Callie Torres return to Grey Sloan Memorial Hospital once again! Now that fans know there is a slight possibility that the talented orthopedic surgeon could return to Seattle, they should keep an eye out for any future updates.
Why did Sara Ramirez leave the medical drama?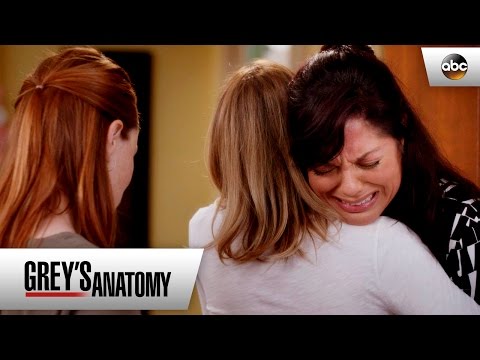 In the Grey's Anatomy Season 12 finale, Callie Torres officially left Grey Sloan Memorial Hospital to move to New York. After the custody battle with Arizona (Jessica Capshaw), Callie moved to the Big Apple with her then-girlfriend Penny (Samantha Sloyan). After the finale premiered on ABC, Sarah Ramirez released a public statement about their departure.
Per Variety, Sara Ramirez shared they wanted to take some "time off" from playing Callie. "I'm deeply grateful to have spent the last 10 years with my family at Grey's Anatomy and ABC, but for now, I'm taking some welcome time off," they said in the Twitter statement. "Shonda's been so incredible to work for, and we will definitely continue our conversations! I send my love to Ellen [Pompeo], the rest of the cast and crew, and I look forward to always being a part of the Shondaland family!"
Ramirez's departure from the show surprised Grey's Anatomy creator Shonda Rhimes. According to Variety, Rhimes learned about her exit a few days prior. In a statement, she said, "Dr. Callie Torres came into our lives dancing it out in her underwear almost a decade ago, and I could not be happier or more proud of her journey. Sara Ramirez's performance inspired me as well as millions of fans each week. We wish her the best on her well-deserved time off. I will miss Callie tremendously, but I am excited for what the future holds for Sara. She will always have a home at Shondaland."
What has the 'Grey's Anatomy' star done since leaving the show?
Since leaving the show in 2016, Ramirez has remained booked and busy. According to CinemaBlend, they starred as a series regular on the CBS drama series Madam Secretary. From 2017 to 2019, Ramirez played Kat Sandoval, a strategic policy adviser to Secretary of State Elizabeth McCord (Téa Leoni). 
Now, fans can catch Ramirez playing a recurring role on the Sex and the City spinoff series, titled And Just Like That … The first two episodes of the spinoff series premiered on HBO Max on Dec. 9, 2021. Following the debut, new episodes will air every Thursday on the platform.
Source: Read Full Article