Okay, so imagine this: One day, you're plotting your moves to take over a certain part of the entertainment industry while also choosing a stage name for yourself. Luckily, everything works out as planned years later because you've scored a lucrative gig, people recognize you in the streets, and your name appears in lights. But the problem is, whenever you see your name illuminated on a marquee, it makes you cringe because you regret the name you've chosen for yourself.
It happens to celebrities more than one may think, as many of them wish they had gone with another name entirely. Some of the regret has to do with choosing a name for themselves in a matter of minutes. Others, meanwhile, gave their name some real thought but still regretted it years later. And it doesn't just happen to individual celebrities; it's a problem that bands run into as well, despite their name being associated with big-time success. Of course, a person or band can simply change their name but they may associate that with starting all over again, and who wants to do that after working so hard? So for this one, we chose some of the famous people who've talked about regretting their name and why they chose that name in the first place.
Thandiwe Newton had to deal with a different spelling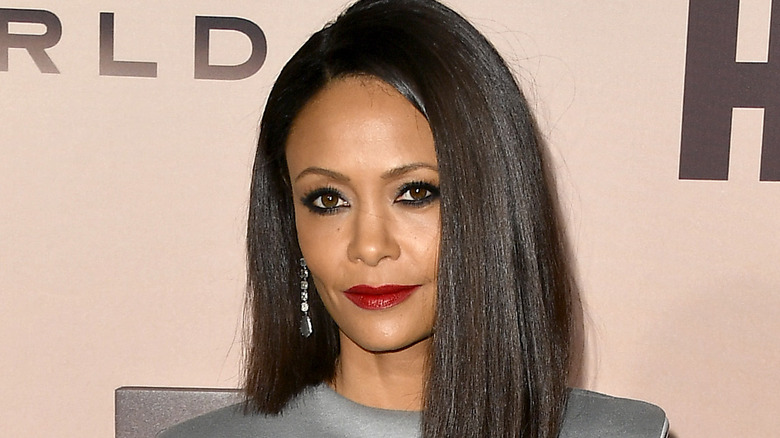 There are many in Hollywood who've anglicized their name in order to get work, like actor Sir Ben Kinglsey, who was born Krishna Pandit Bhanji. "As soon as I changed my name, I got the jobs," he told Radio Times in 2016. "I had one audition as Krishna Bhanji and they said, 'Beautiful audition but we don't quite know how to place you in our forthcoming season.' I changed my name, crossed the road, and they said when can you start?" Another person whose name was changed is Thandiwe Newton but unlike Kingsley, she didn't consent to it. In fact, it wasn't even her idea.
The actor spoke about it in May of 2021 during an interview with Vogue and said when she made her film debut in 1991's "Flirting," the spelling of her first name was changed from "Thandiwe," the actual spelling, to "Thandie." She then decided to keep it, which she regretted. But as of the Vogue interview, Newton said that all of her films going forward will be credited under the real spelling of her name and that her name shouldn't have been altered in the first place. "That's my name. It's always been my name. I'm taking back what's mine," said Newton. And rightfully so.
Nicki Minaj didn't want to change her name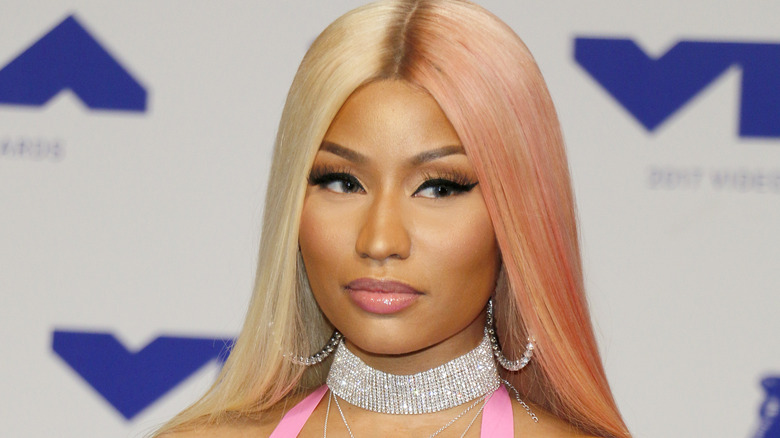 When all is said and done, Nicki Minaj's name will probably go down in history. Mainly, because she was one of the first female rappers to be successful after there was a long drought of women not being in the hip-hop spotlight. But if Minaj had it her way, her real name Onika Tanya Maraj would go down in history, not her rap moniker. That's because, during a 2010 interview with Trinidad and Tobago Newsday, the rapper said she didn't care for the name "Minaj," while also explaining its origin. "I was always called Nicki at home so I was known as Nicki Maraj but my first producer did not like Maraj and thought Minaj sounded better," she stated. "I still hate the name and I was going to go back to Maraj on the album but people told me no because my fans like it."
Minaj also spoke to The Guardian in 2017 about her stage name and gave a bit more detail about the disagreement that she had with her producer about it. During that interview, she said they argued at the same time she was about to sign a production deal and fought "tooth and nail" to keep her real name but gave in. However, the New York-raised artist also said that Nicki "Minaj" is far different from who she really is and she uses that reasoning to justify the name switch. "I feel it's like one big theatre piece," she noted.
Lady Antebellum took a stand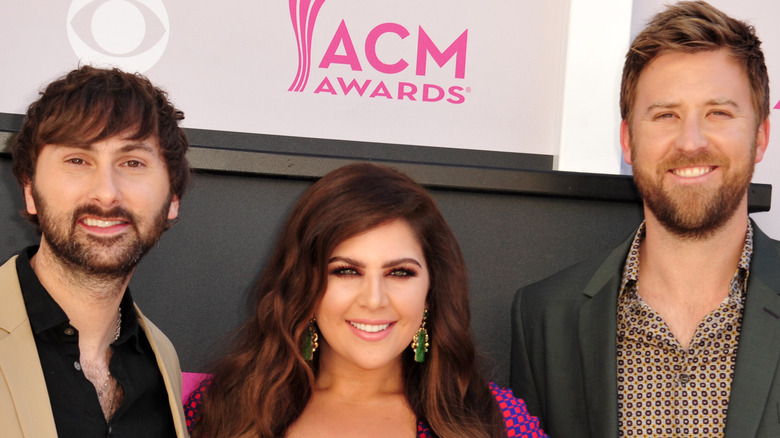 It seems that a bigger and far deeper conversation about race started to take place on March 26, 2020. Because one day prior, a Black man named George Floyd was killed by a White Minneapolis police officer after the officer kneeled on his neck for nearly 10 minutes.  Since that tragic incident, many in the United States began re-examining their position on race to make sure they weren't unintentionally doing anything that would be considered insensitive or flat-out racist. The country group Lady Antebellum was among the people who said the national conversation on race had an impact on them because they changed their band name to Lady A.
In the Merriam-Webster dictionary, the word "Antebellum" means "Existing before a war," and many associate the term with pre-Civil war days when slavery was still legal in the United States. And that's an association band members Hillary Scott, Charles Kelley, and Dave Haywood wanted nothing to do with, which they said in a statement. "We are regretful and embarrassed to say that we did not take into account the associations that weigh down this word referring to the period of history before The Civil War, which includes slavery," the band wrote on Instagram on June 11, 2020. In that same statement, the group said they got their name from the "southern antebellum" style home where they took their first photos. And since the name change, many have praised Lady A, which probably makes its members feel better about the band and possibly themselves. 
Dave Grohl just wanted people to hear his music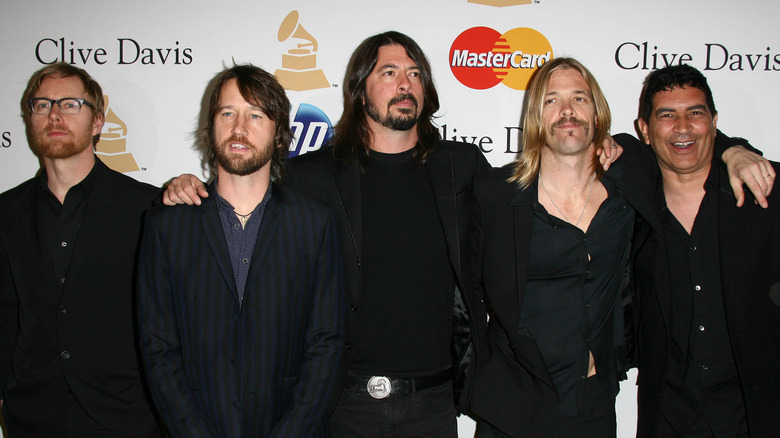 When Nirvana's Kurt Cobain died by suicide in April 1994, the band's drummer Dave Grohl said it took him several months to start playing music again. It's something that he told 60 minutes' Anderson Cooper in 2015 while explaining how he came up with his band name, Foo Fighters. As Grohl explained, he began recording his own songs after returning to music and was a one-man band at that time. And because Nirvana was such a huge act in the '90s, Grohl said that he didn't want people saying things like, "Oh, that's the guy from Nirvana."
According to Air & Space, the word was made popular in World War II when a pilot used it to describe "eight to 10 bright orange lights" that he saw "Flying through the air at high speed." Grohl told Anderson that he regretted using that name for the music he was making after Cobain died, especially because he didn't think the Foo Fighters idea would turn into much. "Had I imagined that it would last more than a month-and-a-half, I might've named it something else," Grohl admitted. "It's the dumbest band name ever." He also told Clash magazine in 2010 that he wanted people to think his songs were made by a group, not just him. "I figured that Foo Fighters might lead people to believe that it was more than just one guy. Silly, huh?" said Grohl. Not really, Dave, because it makes sense to us.
If you or anyone you know is having suicidal thoughts, please call the National Suicide Prevention Lifeline​ at​ 1-800-273-TALK (8255)​.
Anne Hathaway can't stand her real name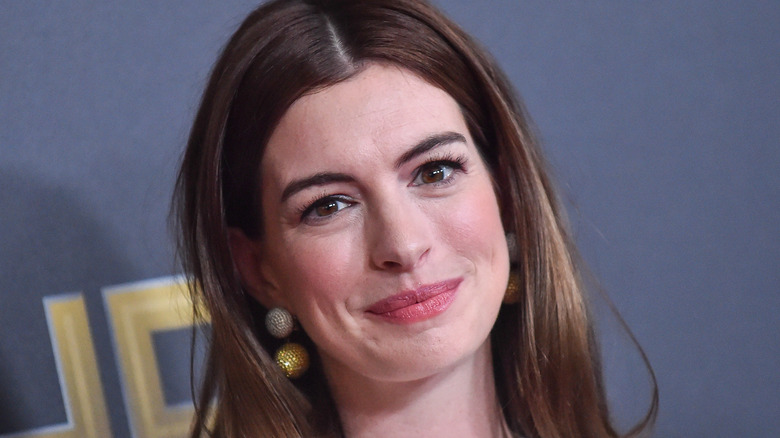 Anne Hathaway may have a name that's associated with successful films like "The Princess Diaries" movies, "The Devil Wears Prada," and "Les Miserables," which got her an Oscar award for best-supporting-actress. But Hathaway would rather have those movies associated with another name because she doesn't like her own, which she admitted in January of 2021 on "The Tonight Show Starring Jimmy Fallon." According to Hathaway, when she was a teenage actor, she gave someone her birth name, not believing it would be the official stage name she'd be using for the rest of her career.
"When I was 14 years old, I did a commercial, and I had to get my SAG (Screen Actors Guild) card, and they asked me, 'What do you want your name to be?'" she explained. "And I was like, 'Well, it should be my name. My name's Anne Hathaway.' So that seemed like the right choice. But it never occurred to me that for the rest of my life, people will call me Anne." Hathaway then said that her mother is the only person who calls her Anne but only when she's mad at her. So that makes the actor feel like she's in big trouble whenever someone uses that name in public. Plus, Hathaway said those in her personal life call her "Annie" and she wished others would either call her that or something else. Just not Anne.
Bow Wow took it back to his birth certificate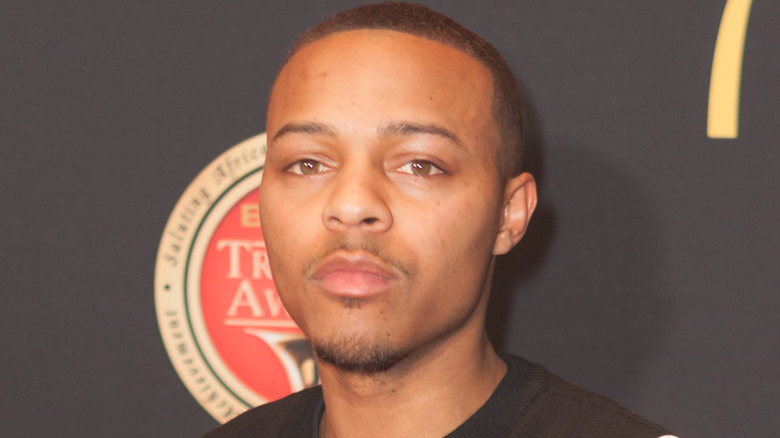 Here's the thing about being a child entertainer: Oftentimes, that person doesn't want to do it anymore after outgrowing their cute image. But in Bow Wow's case, he outgrew his name, which he addressed on Instagram in 2014. "ANNOUNCEMENT: After BET awards I will no longer go by Bow Wow! I'm going by my real name Shad Moss," he wrote in the caption. "We made a lot of history as Bow Wow. Now it's time for the next chapter and challenge. Bow Wow does not fit who I am today. Ima father, businessman, TV host, actor, and rapper! Time for Mr. Moss to take over."
But despite the rapper wanting to use his real name in entertainment, it doesn't seem that people ever stopped using Bow Wow, whether it's journalists, radio people, or show promoters. Proof of the latter came in 2018 when Bow toured with his former So So Def labelmates. And 2014 wasn't the only time the rapper changed his name, he also made the switch from Lil Bow to Bow Wow in 2002 at 15 years old. "I changed my name because I'm getting older now and it's too many Lil's," he said at that time, according to MTV. "All these Lil' rappers. I'm just kind of getting real irritated by it … I'm Bow Wow. Besides, I'm growing up, I'm not little anymore."
Hoobastank felt regretful 20 years later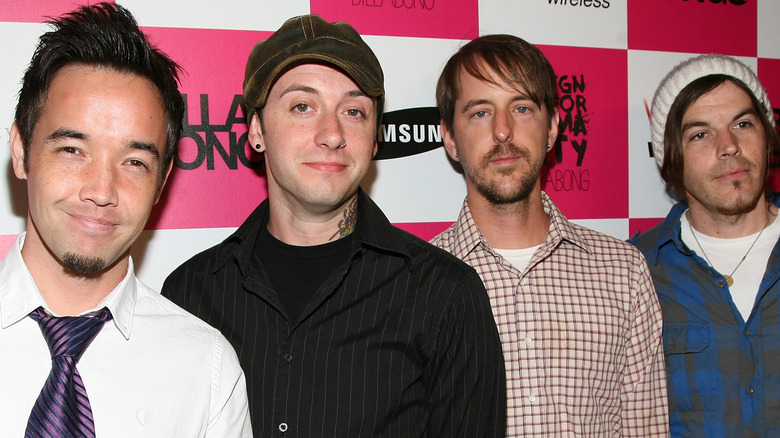 Twenty years is a long time in a person's life and often he or she becomes almost a completely different person after that amount of time passes. Take the ages between 20 to 40, for example. At 20 years old, many are eager to party it up with the best of them, maybe leaving their house at 10:00 p.m. and returning at sunup. But by the time 40 hits, a wild night may consist of going for that second glass of wine in front of the television.
It also appears that 20 years was just the right amount of time for Hoobastank's Doug Robb to realize that he regrets the band name that he chose. Because in January of 2021, he posted a video of himself mouthing the words to Hoobastank's 2004 hit single "The Reason" to explain why he went with the strange name. "I'm not a perfect person," he lip-synched. And along with the video, Robb wrote, "Realizing 20 years later that you named your band Hoobastank." 
So, where did the name come from? Germany, to be specific and it all had to do with a mispronunciation. "Doug's brother happens to be the vice president of BMW Motorcycles in Germany, "said Hoobastank drummer Chris Hesse during a 2003 interview with The Post-Star. "Outside of where he lives is this street, Hooba Street. Before Doug could pronounce the name, he called it Hoobastank, and his brother still teases him about it."
Martin Sheen didn't want his son to have the same regret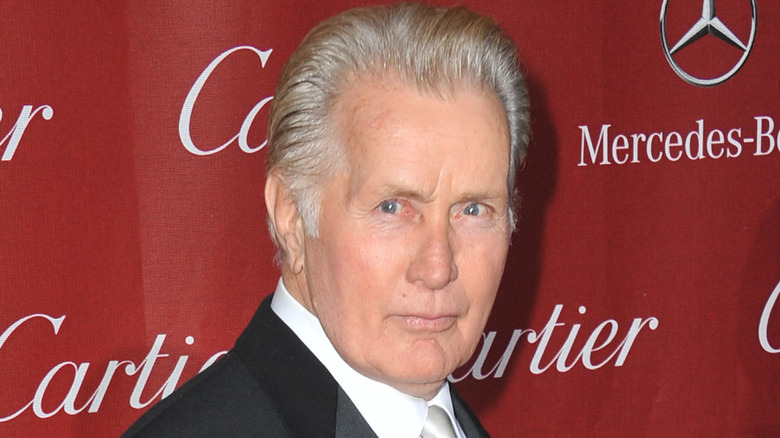 There have been some folks in entertainment who've chosen a snazzier, Latin-sounding name for themselves to help them make it, like Lana Del Rey, whose real name is Elizabeth Grant. But there are more people in the industry who've changed their real name of Hispanic origin to something more American-sounding to appease casting agents. For example, actress Rita Hayworth was born Margarita Carmen Cansino, Raquel Welch's real name is Jo-Raquel Tejada, and Anthony Quinn's birth name is Antonio Rodolfo Quinn-Oaxaca.
Martin Sheen, who was born Ramón Antonio Gerardo Estévez, is another person who changed his name to secure roles. It's something he talked about with James Lipton on "Inside the Actors Studio" in 2003. "It's still Estevez, officially. I never changed it. I never will. It's on my driver's license and passport and everything," said Sheen (via CNN). "In fact, one of my great regrets is that I didn't keep my name as it was given to me." In 2019, Sheen's son Emilio Estevez, who chose to keep his birth name as an actor, said he did so at the advice of his father. "He said, 'Don't make the same mistake I made,'" explained Estevez while on "Talk Stoop."
Yasiin Bey was tired of feeling like a product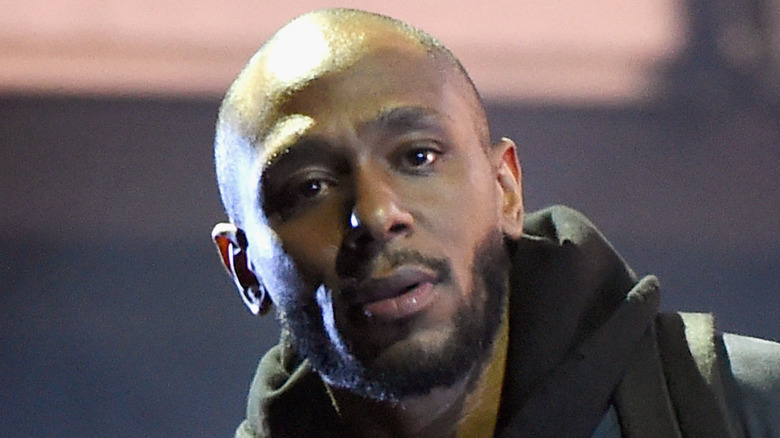 Yasiin Bey, the rapper known formerly as Mos Def, burst onto the rap scene in 1998 after he and rapper Talib Kweli released the album "Mos Def & Talib Kweli Are Black Star." The following year, Bey dropped his highly anticipated solo project "Black on Both Sides." From there, the talented lyricist shot to global fame and not only from music, but he also had a successful acting career. Along the way, however, Bey grew tired of the Mos Def name and what he felt it represented, so he changed it.
"I began to fear that Mos Def was being treated as a product, not a person, so I've been going by Yasiin since '99," he told GQ in 2012. "At first it was just for friends and family but now I'm declaring it openly." And in 2021, Bey spoke with Kweli on his "People's Party Podcast" and talked about the specific moment that he decided to change his name. "I was at the airport once and I was coming out of the terminal, coming out of the gate and somebody was like, 'Mos," said Bey, stretching out the O sound to show the fan's enthusiasm. "There was an energy that they said it with that made me feel like, 'Oh, I'm a thing to that person. They don't know me, they know Mos' … I almost felt like they were shouting out a mascot or something. I was like, 'I don't like that.'"
Mumford & Sons want a do-over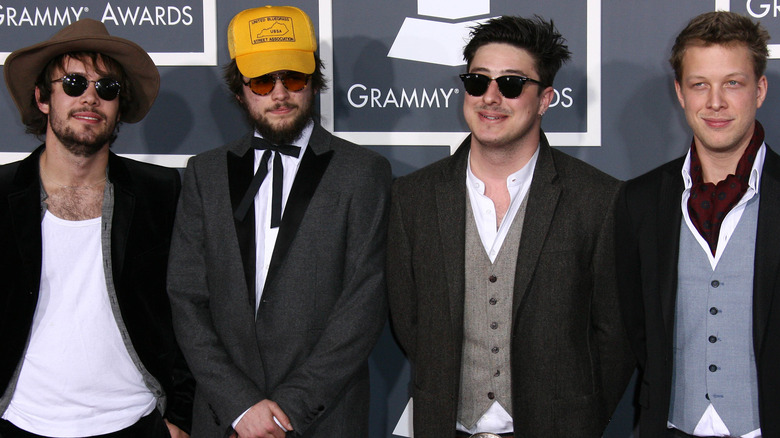 There are some bands just starting out who seem to share the same level of irony when it comes to their future. Because on one hand, they're writing songs and rehearsing to hopefully make it big one day. But at the same time, they're not planning for a long career and are only making decisions for the moment. Take the Smashing Pumpkins, for instance, because their former bassist D'Arcy Wretzky told The Washington Post in 1993 the band's name started as a "joke" and a "bad idea," and they probably didn't expect their name would get so big.
It seems like Marcus Mumford, lead singer of the English rock band Mumford & Sons, also wasn't thinking about the distant future when choosing a band name, something he wishes wasn't the case. "I definitely regret the band name. If I'd known it was going to go this way I would have wanted to call it anything other than my last name," he told NME in 2015. "It's a ball-ache. We thought about changing it but it's a bit late now." 
Mumford also said something similar about a year later on RadioX, calling the band name "rubbish." "I regret our band name," he stated. "You never really think about it when you're in the pub. You've done your first rehearsal, you've written your first song and someone's like: 'You need a band name now.'"
Latto said she meant no offense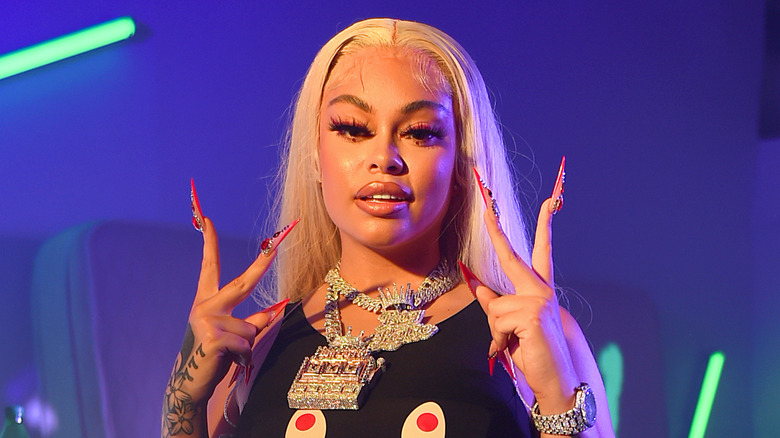 What do you do when you've been working hard to make a name for yourself as an entertainer, you've finally accomplished it, only to have that name cause controversy once it became popular? That's exactly what happened to the Atlanta rapper known formally as Mulatto, who found success after dropping a series of mixtapes and being on Lifetime's "The Rap Game," which she won. Because as her fame grew, so did the talk that her name Mulatto was offensive. The word "mulatto," as Merriam-Webster defines, is "A person of mixed white and Black ancestry." The word is also listed as "usually offensive," and 11 Alive points out it derives from the Spanish word "mula" or "mule," as in donkey. 
Plus, it appeared that some thought the rapper was using the word as some sort of social status symbol, something that she didn't want people to think. So she changed her rap name to Latto in March of 2021. "You might know your intentions, but these are strangers who don't know you, never even met you in person," said Latto on Hot Freestyle. "So you gotta hear each other out, and if you know those aren't your intentions and that's how it's being perceived, it's like why not make a change or alter it?" Latto celebrated the name change when she released her single "The Biggest" in May 2021 and doesn't seem to be worried about it slowing down her career. "New money, new crib, new whip, new name," she rapped.
Jimmy Eat World wishes they took more time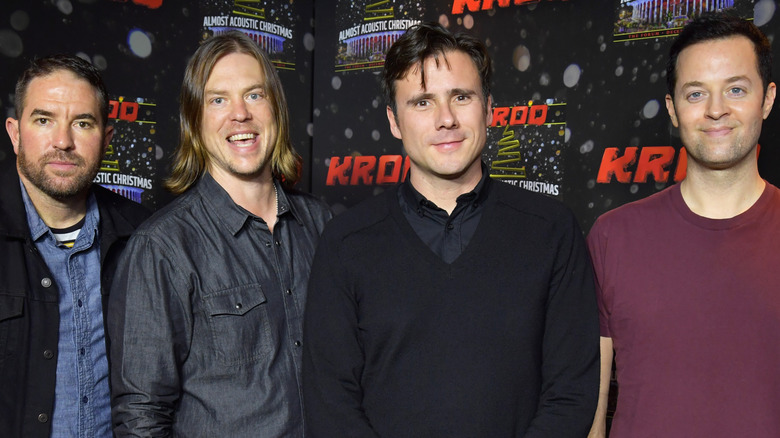 Whenever having to make a quick decision, some might've been told to just go with whatever their heart says. But here's the thing: Hearts don't talk, regardless of what love songs tell you.
Back in 1994, the Arizona rock band Jimmy Eat World seemed to go with their heart when having to make a last-minute decision on a band name. But it's something the band's drummer Zach Lind seems to regret and advised others not to do. "A little history on how we came up with the band name," he tweeted in 2018. "We were rehearsing in my garage …. and Jim [Adkins] told us we got asked to play a party in the storage room of Name Brand Exchange in Mesa on Southern and Val Vista in Feb of 94. So we took a break from the garage and huddled around our kitchen island and decided to play the show but at that time, we hadn't yet sorted out a name." Lind then said they decided on Jimmy Eat World, one of the names members Tom Linton and Rick Burch used in their old band. "We discussed it for less than 5 min," said Lind about the band name. "So moral of the story: Even seemingly small and insignificant decisions can be much bigger than you could imagine. Slow down sometimes and make sure it's right." Great advice, wouldn't you say?
Lil Xan wanted a clean start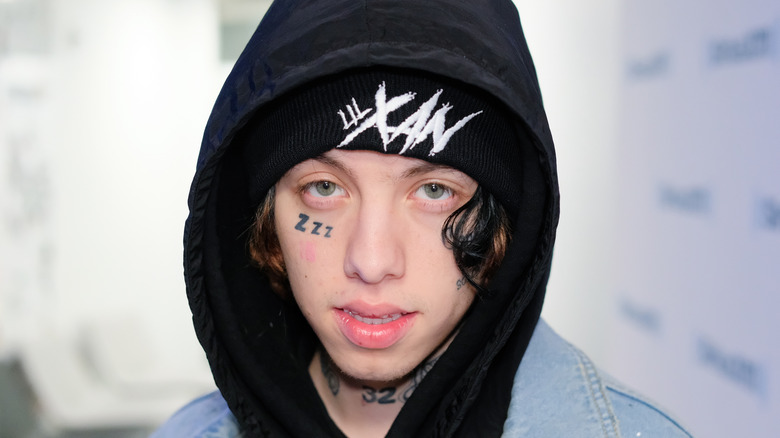 There has been a considerable number of musicians who've battled substance abuse, with some opening up about it and others keeping their struggles a secret. California rapper Lil Xan is among the former group because he's often discussed abusing drugs like Xanax and hydrocodone. And the thing is, it's probably harder for him to stay away from such drugs since his stage name is Xan, short for Xanax, which he talked about to TMZ.
During that interview, Xan also said that he was going to rehab and changing his name once he was out. The "Slingshot" performer explained that he made the decision to get help after rapper Lil Peep died from drug use in 2017 and Mac Miller died of a similar cause nearly one year later. "I just feel like it's time to get better," Xan told TMZ in 2018. "I want to do rehab, so I can get over this last little hump … My goal is to come out of rehab with the name just Diego all caps … No more celebrating, talking good about drugs and all that." 
Since that interview, it seems the rapper has gone by both Lil Xan and Diego, as both names appear on his social media accounts with a slash in the middle. And as of Sept 2020, it appears the name change was helping him stay clean. "I'm so happy to be completely sober, and proud of it," he told TooFab in September of 2020. 
If you or anyone you know is struggling with addiction issues, help is available. Visit the Substance Abuse and Mental Health Services Administration website or contact SAMHSA's National Helpline at 1-800-662-HELP (4357).
Source: Read Full Article