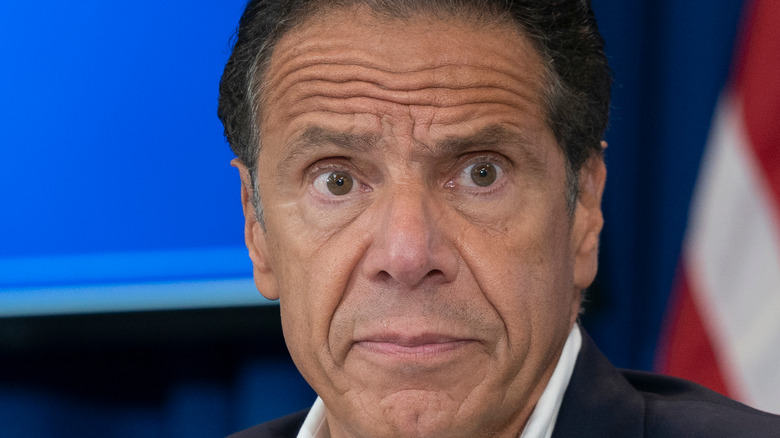 It's been a rough year for Governor of New York Andrew Cuomo's ratings, which isn't good for a politician that many deem to be "image-obsessed" (via the Daily Mail). Things appeared to be hard enough for the Governor when he was in the midst of maintaining leadership amongst the challenges that the COVID-19 pandemic presented — but little did he know that things would only get worse for him. Over the past months, allegations began to surface regarding Cuomo allegedly having sexually harassed and physically groped six different women. He has appeared quite cool-headed regarding the rumors, calling the facts "much different" than what has been reported (via NBC News). But despite his rejection of the allegations, the public wants him to resign, with President Joe Biden even being a strong voice behind this course of action, per CNN.
It can be challenging to watch the fall of a politician who was once considered to be great, especially when those actions came exclusively at the hand of that person — but what's worse is watching how that descent affects that person's family. Many people may not know, but Cuomo actually has three adult-aged daughters, all of whom are forced to attempt to live normal lives despite the actions of their father.
Here's what some of Kerry Kennedy's family had to say about Andrew Cuomo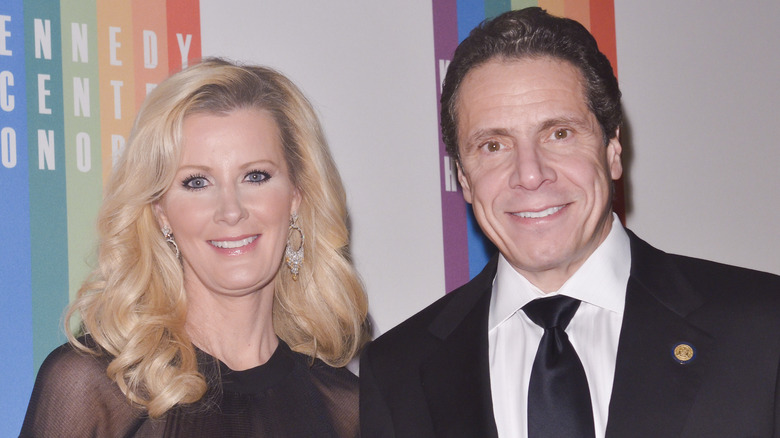 Andrew Cuomo was married to Kerry Kennedy, a well-known human rights activist. Their relationship ultimately failed due to a combination of regular marriage blunders, as well through a sort of "West Side Story" romance that created a union of members from two highly political, opposing families. Kerry is a Kennedy — yes, as in the Kennedys. And according to Vanity Fair, Kerry's family didn't care much for her husband. "Andrew refused to do anything fun, anything without a clear benefit to his career," a family acquaintance would say of him years later. Another source implied that it was nothing short of a challenge to be happy about their relationship, sighing as they said, "You just try to be supportive." The two eventually divorced in 2005 after 15 years of marriage, per The Sun.
Cuomo and Kennedy had three daughters, Michaela, Mariah, and Cara, all of whom have their own distinct careers. Keep reading to learn all about the Cuomo-Kennedy women.
Michaela has become something of an LGBTQ+ icon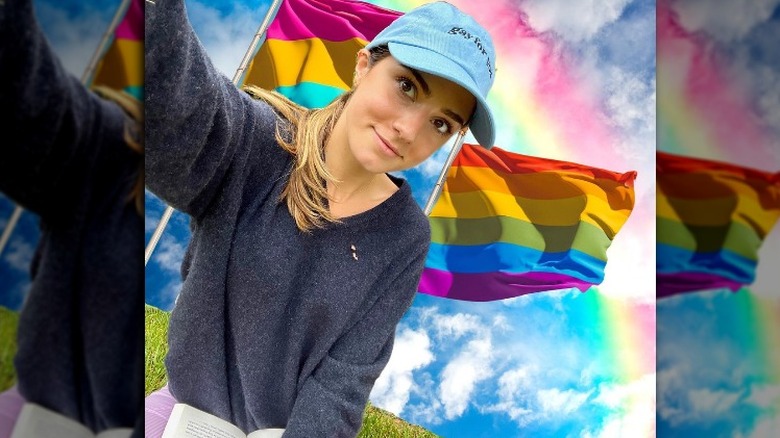 Michaela is the youngest of the three daughters. She appears to have always been quite confident and self-assured, which perhaps explains why as a child, Andrew Cuomo said he was "upstaged by a Kennedy" when Michaela wandered out in front of him during a campaign appearance (via Vanity Fair).
The 23-year-old hasn't opted for a career in politics, despite the political lineages on both her mother and father's sides. According to her LinkedIn, she's currently working as the Chief Marketing Officer for Woke Mystix, a podcast that seeks to "amplify diverse voices in wellness, spirituality, self-care, and astrology."
On Instagram, her bio reads, "doing my best to spread love" and it also shares a link to her Etsy store, "Michaela Loves Me." Per the store's description, "Like all else that's special in this world, from snowflakes to humans, everything produced by Michaela Loves Me is one of a kind. Like family members, the differences among each piece of jewelry, artwork, and utilitarian decor complement each other." Furthermore, in June 2021, Michaela publicly came out as queer on Instagram, per a photo of her standing in front of a pride flag. Of the news, Cuomo told Today, "I love, support and couldn't have more pride in Michaela."
Michaela is demisexual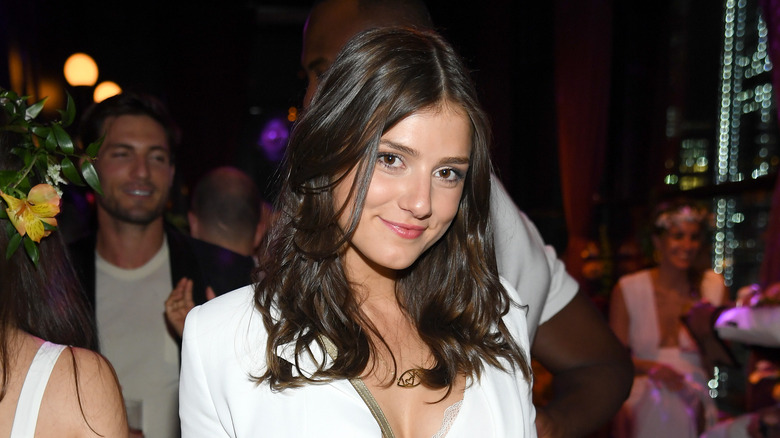 A month later, in July, Michaela decided to elaborate more on her sexual identity, saying that she's actually demisexual. People who are demisexual can be attracted to anyone — men, women, non-binary folks, and everyone in between — but the defining traits of demisexuality is that a person will only feel sexual feelings and a desire to engage in sexual activities with someone with whom they share a deep, emotional bond (via Medical News Today).
During an Instagram Live with activist and author Donato Tramuto, Michaela explained, "When I was in elementary school, I feared that I was lesbian. When I was in middle school, I came out to my family and close friends as bisexual. When I was in high school, I discovered pansexuality and thought, 'That's the flag for me'" (via Today).
Finally, according to Distractify, Michaela wrote an essay in 2019 called, "Institutional Gaslighting; Investigations to Silence the Victim and Protect the Perp," an article she wrote for the Brown Political Review.
Mariah loves being outdoors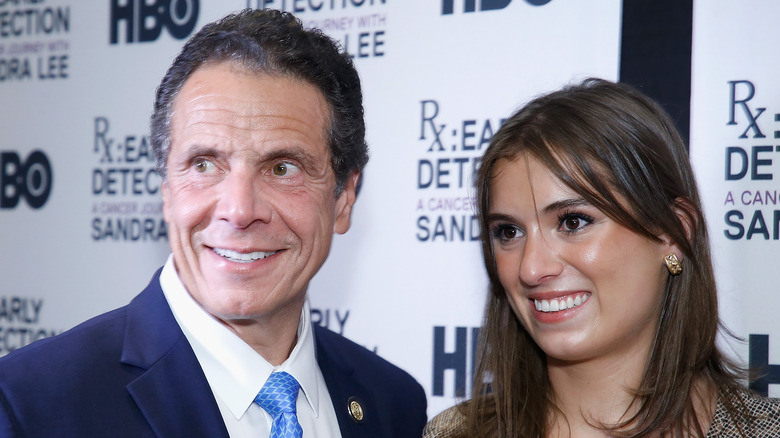 Mariah is 26 years old and is the twin sister of Cara. She attended Brown University, just like Michaela did, and according to LinkedIn, studied history, graduating with honors. She also wrote for Brown publications, specifically the Brown Daily Herald, where she would often get pretty political with her pieces. Per LinkedIn, she works for the global CEO consulting and advisory firm Teneo, where she works as an associate. If you scroll through her Instagram, you can see that Mariah is very much into nature and being outdoors. She posts photos of herself surfing, diving, sailing, hiking, and skiing, amongst many others. She has also posted various photos of herself with some pretty impressive names, including Barack Obama, Sandra Lee, and Chris Martin (via Oprah Daily).
Mariah is currently dating Tellef Lundevall, her blonde haired, blue eyed Norwegian boyfriend with whom she shares many of her favorite outdoor activities. According to the Daily Mail, Mariah met Lundeval at Brown University during her freshman year, where he studied economics and geology. Both the Cuomos and the Kennedys appear to be big fans of her longtime boyfriend.
Cara is heavily involved in human rights and politics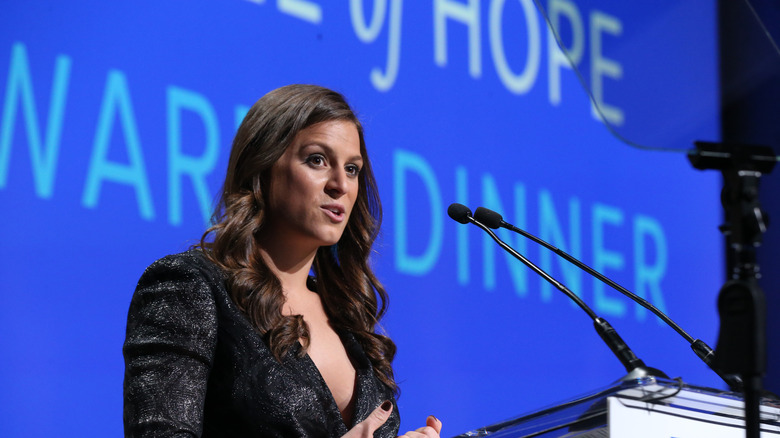 The other half of the Cuomo-Kennedy twin sisters is Cara, who unlike her sisters, did not attend Brown University. She did, however, attend a little Ivy League that you might have heard of, Harvard. She studied government with a focus on Ethnicity Migration and Human Rights, per her LinkedIn profile. Like her two sisters, she wrote for her school's newspaper, the Harvard Human Rights Review, a space that allowed her to put her political driven degree to use. She appears to currently be working as a Partner and Head of Diversity at Inclusion Summits, "a minority owned small business that organizes and hosts invitation only summits focused on alternative investments," per LinkedIn.
Politically and socially motivated, Cara has lived all over the world, from the likes of Rwanda, Malaysia, and Colombia. She has spent much time working with Robert F. Kennedy Human Rights, where she has fought for "LGBTQ rights in Uganda, environmental rights in Ecuador, and protesting the ethnic cleansing of the Rohingya in Bangladesh and Myanmar."
Cara was involved in a romantic scandal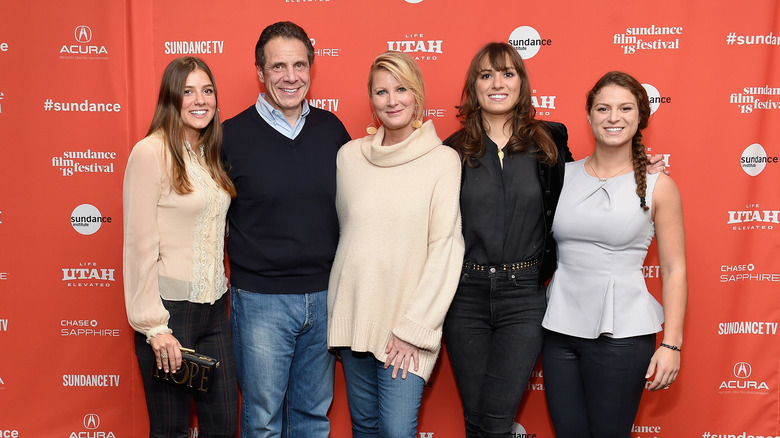 Cara isn't as active on social media as her sisters, and doesn't appear to even have any public social media accounts — but her lack of social media presence hasn't kept her out of the public eye. According to the New York Post, Cara has been romantically linked to state trooper Dane Pfeiffer, who was a member of Andrew Cuomo's security team, which is allegedly how the two met. But the Governor of New York was not happy about this at all, saying he "didn't like what they were doing." Perhaps he believed the way in which they met was inappropriate, or perhaps he disliked Pfeiffer due to the fact that he is 10 years older than Cara. Either way, as a result, Pfeiffer was forced to change his posting, being transferred to a state police station in Plattsburgh, right outside of Canada. But as of 2020, the two appear to still be dating.
Source: Read Full Article