So, the royal baby hasn't made its official arrival into the world yet, and people are…not handling it well. Thanks to Meghan informing fans that she was likely giving birth in April, everyone expected her to, well, give birth in April. And now it's May! MAY! MAYYYYYYYY. Which means everyone has taken a trip to the magical land of Royal Baby Conspiracy Theories, a very extra place full of people who think Meghan's secretly become a mom.
Yeah, not so much—and if you're looking for hard evidence, please turn your attention to the comments section of Kensington Palace's birthday photos of Princess Charlotte. Meghan and Harry went ahead and commented on the pics, making it abundantly clear that it's just the two of them over at Frogmore Cottage with the musing "Harry Birthday Charlotte! Lots of love, H and M xo.
Here is the pic in question….
https://www.instagram.com/p/Bw72MZGlW5P/
Thank you for the lovely messages for Princess Charlotte's fourth birthday! The Duke and Duchess of Cambridge are very pleased to share three new photographs of Princess Charlotte ahead of her fourth birthday. The photographs were taken in April by The Duchess at Kensington Palace and at their home in Norfolk.
A post shared byKensington Palace (@kensingtonroyal) on
And here's Meghan and Harry's comment in all its "JUST THE TWO OF US, AHEM" glory: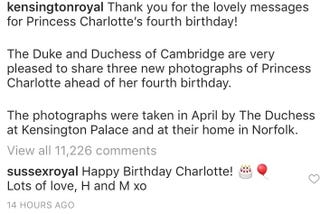 For what it's worth, royal reporter Katie Nicholl got a palace source to confirm that Harry and Meghan still haven't welcomed their little one. Direct quote: "No royal baby yet. It's a waiting game, it's up to Mother Nature."
That said, Meghan's due date was reportedly last Sunday, so it could be any day now. Stay tuned!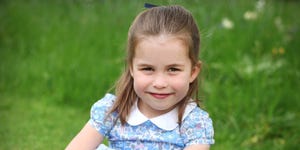 Source: Read Full Article