Kim Kardashian showed up to the 2019 Met Gala looking absolutely incredible in a nude dress by Mugler, literally dripping with crystals that emulated water droplets for an overall vibe that made Kim look like she'd just stepped out of the ocean. Basically it was extremely on point for the evening's Camp theme! Which, FYI, was a reference to Susan Sontag's 1964 essay titled "Notes on 'Camp,'" where she wrote "The essence of Camp is its love of the unnatural: of artifice and exaggeration."
Kim told E! news that this was "the first time in 20 years that Mr. Mugler has designed for the House of Thierry Mugler," and that "he just envisioned me this California girl stepping out of the ocean, on the red carpet, wet, dripping, that is the vibe tonight."
Part of Kim's dress involved a super cinched waist that she explained was the result of a corset, and it drew lots of attention on Twitter—plus a fair amount of body shaming:
Where did Kim Kardashian's internal organs spend the night at Met Gala? Because I can't figure out how anatomically possible it would be to fit them all inside that tiny waist.
I wish @KimKardashian would use her platform to speak on things like body positivity but she keeps making her waist unrealistically narrow and her ass unrealistically big. It's disgusting and gross and why would you even? The shit people with money do
Is Kim Kardashian's waist even real?? 😳 #MetBall2019
Apparently, Kim's personal trainer Melissa Alcantara was one hundred percent not having people saying her client's body is "fake," because she hit up Instagram Stories to defend the reality star.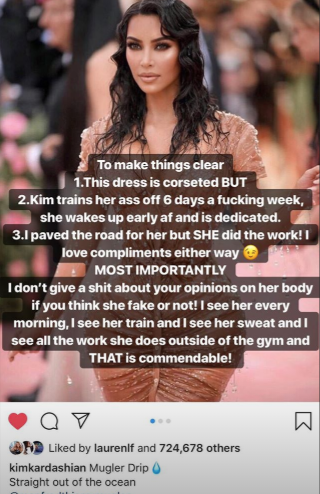 "To make things clear," Melisa wrote, "1. This dress is corseted BUT 2. Kim trains her ass off 6 days a f*cking week, she wakes up early AF and is dedicated.3. I paved the road for her but SHE did the work! MOST IMPORTANTLY I don't give a shit about your opinions on her body, if you think [it's] fake or not! I see her every morning, I see her train and I see her sweat and I see all the work she does outside the gym and THAT is commendable!"
YUP.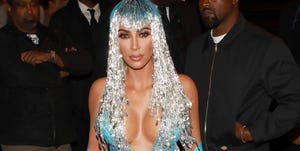 Source: Read Full Article