Baldwin's attorney called it a "terrible miscarriage of justice"
Alec Baldwin will be charged and prosecuted in the fatal shooting death of cinematographer Halyna Hutchins.
Authorities made the announcement over a year after the tragedy took place on the New Mexico set of Western movie "Rust" in October 2021.
After a thorough investigation prosecutors in Santa Fe announced on Thursday they will be charging the actor with involuntary manslaughter. The film's head armorer, Hannah Gutierrez-Reed, will also be charged. Both Baldwin and Gutierrez-Reed face up to five years behind bars if convicted.
The assistant director on the film, Dave Halls, already struck a plea deal in his charge of negligent use of a deadly weapon and has been given a suspended sentence with 6 months probation.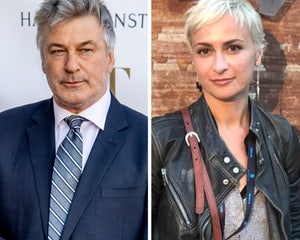 Halyna Hutchins' Husband Speaks Out After Her Death, Says He's Been In Contact with Alec Baldwin
There will be no charges in connection with the shooting of the director of the movie, Joel Souza, who was injured by the same bullet that killed Hutchins.
Brian Panish, the attorney representing the Hutchins family told TMZ: "We want to thank the Santa Fe Sheriff and the District Attorney for concluding their thorough investigation and determining that charges for involuntary manslaughter are warranted for the killing of Halyna Hutchins with conscious disregard for human life."
"Our independent investigation also supports charges are warranted. It is comfort to the family that, in New Mexico, no one is above the law. We support the charges," Panish continued.
Halyna's husband, Matthew Hutchins, has already settled a civil case with Baldwin and is now an EP on "Rust" — which they agreed to finish filming.
While Baldwin's attorney told TMZ: "This decision distorts Halyna Hutchins' tragic death and represents a terrible miscarriage of justice. Mr. Baldwin had no reason to believe there was a live bullet in the gun – or anywhere on the movie set. He relied on the professionals with whom he worked, who assured him the gun did not have live rounds. We will fight these charges, and we will win."
Baldwin, for his part, has repeatedly denied ever pulling the trigger when the gun went off fatally striking Hutchins — something the FBI apparently disagreed with after testing the weapon.
Halyna's death was ruled accidental by the medical examiner.
Source: Read Full Article