Comedians Fortune Feimster and Gina Yashere co-hosted the virtual (and oh so star-studded!) ceremony on Thursday, July 30.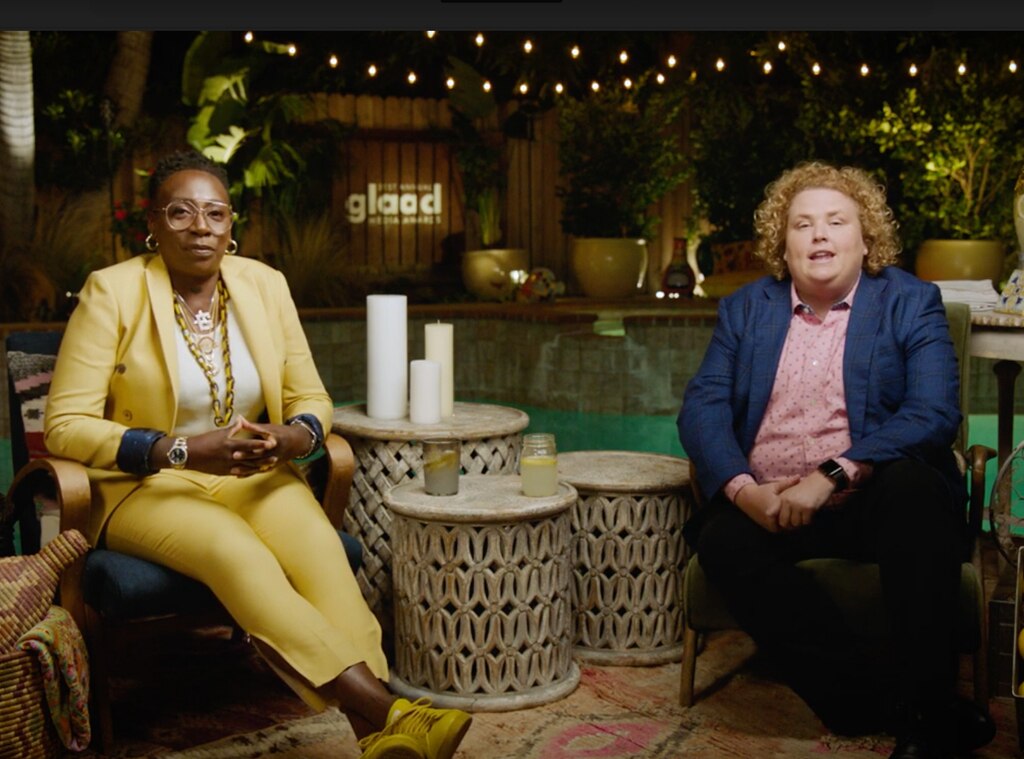 The 2020 GLAAD Media Awards raised a toast to the LGBTQ+ community. 
On Thursday, July 30, comedians Fortune Feimster and Gina Yashere co-hosted the annual ceremony, which aired virtually due to constraints caused by the pandemic. Nevertheless, celebs like Demi Lovato, Gabrielle Union, Cara Delevingne, Lil Nas X, the cast of Pose and so many more were on hand for the celebration of inclusion, acceptance and love. 
Among tonight's big winners were Schitt's Creek, Pose and Booksmart. 
If you missed the GLAAD Awards, don't worry! We've compiled all the star-studded highlights below: 
While accepting the award for Outstanding Music Artist, the rapper shared, "Wow, thank you so much to the GLAAD Awards. Thank you so much to every single person involved in making this happen… I want to wish everyone love right now in these crazy, trying, difficult times with COVID and everything. I'm happy to even be apart of this right now."
"It's never been more important to celebrate the acceleration of acceptance for the LGBTQIA+ community especially trans people of color who face outrageous discrimination and danger," she shared. "To all the trans youth, I want to make sure that you know that you matter."
"I know things are crazy hard right now and you may not have your usual support system around you," Demi continued. "But don't let anyone especially our government fool you into thinking you are anything less than perfect and meant to be."
While reflecting on the Black Lives Matter movement, the Pose star said, "When we saw that video of white police officers killing George Floyd, we exploded. Those images inflamed and emboldened us. So when we protest and post let's continue to change the way folks think about Black lives, especially Black LGBTQ lives by telling our stories on screen. When out, Black, LGBTQ journalists bring headlines to our living rooms we know that Black lives matter, Black trans lives matter. When Black cis gay men are portrayed with nuance and empathy, we relate to their lived experiences. When we tell the stories of trans women of color with compassion and complexity, we recognize their worth, and maybe even less than the violence we face in real life."
The Politician star performed "Honest Man," a song he said he wrote while he was "seeing someone who was in the closet. I was really trying to encourage him to be himself and comfortable with who he was. This song is kind of an anthem for that."
While presenting the award for Outstanding Drama Series, the A-list couple reflected on supporting their transgender daughter. "Our daughter Zaya is leading us on our journey and we're doing all we can to give every one of our kids the ability to live their truth," the NBA star shared. "I didn't always understand how to do that but I want to thank Zaya for teaching me and GLAAD for elevating the images and messages that accelerate acceptance in every family."
"I am proud to play an ally onscreen and I'm even more proud to be an ally in real life," the actress shared. "I am particularly moved when I see parents out there modeling acceptance for their kids. I hope all kids know they are just right exactly as they are. I hope they see their exact rightness reflected in their parents' acceptance and love."
The ladies of Booksmart accepted the award for Outstanding Film, with Beanie sharing, "It meant so much to me as a queer actor to be apart of a movie that embraces a slew of LGBTQ experiences and relationships."
The MSNBC host accepted the award for Outstanding TV Journalism Segment for "One-on-One with Mayor Pete Buttigieg," which aired on her eponymous show. "If you are at all inspired by the progress that you see please vote, organize and run for office," she said. "And if you are enraged by the oppression that you see, then please vote, organize and run for office. And then give me the exclusive interview when you win."
The 2020 GLAAD Awards' co-host brought the laughs with a margarita in hand. 
The Schitt's Creek star was joined virtually by his co-stars to accept the award for Outstanding Comedy Series. "I can't thank you enough," Levy shared. "GLAAD, thank you, not just for honoring us, but for all the work that you do. And thank you to all the other shows in our category for being incredible, and for helping to move the dial when it comes to queer representation on television. I would say that we split this award equally, but this is the last season of our show so I'm just gonna take it because who knows when I'll win another one of these."
"My name is Lena Waithe and I personally never saw myself onscreen, so I had to insert myself into the culture," the Master of None star shared. "In doing that, people would finally realize that there are a lot of stud slash masculine presenting lesbians out there who rock vintage T-shirts, J's and have a great appreciation for Whitney Houston."
The late-night host, who was set to emcee the in-person GLAAD Awards before its cancellation in March, shared her support for the LGBTQ+ community. "Shout out to all the nominees for putting LGBTQ+ content in their pages and working with GLAAD to tell stories about our community in print and online, because representation is everything," Lilly said.
The music icon accepted the award for Outstanding Individual Episode for the "Two Doors Down" episode of her Netflix series, Dolly Parton's Heartstrings. 
The R&B duo closed the show with a performance shot at legendary West Hollywood bar The Abbey.
Trending Stories
Ellen DeGeneres Discusses Workplace Complaints in Letter to Her Staff
Taylor Swift Responds to Accusations of "Stealing" Her folklore Logo
MasterChef Junior's Ben Watkins Diagnosed With Rare Tumor
The 31st Annual GLAAD Media Awards will air on Logo on Monday, August 3 at 8 p.m. EST.
Source: Read Full Article