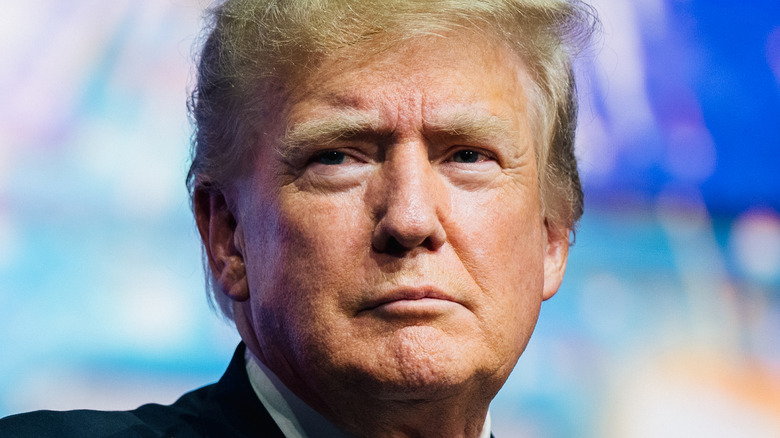 Donald Trump is something of a ring leader to the media circus that's constantly covered his path from real estate mogul to reality television host to one-term president of the United States. His over-the-top antics generate lots of attention, and, as he's long known, make great headlines. "One thing I've learned about the press is that they're always hungry for a good story, and the more sensational the better," he wrote in "The Art of the Deal" (per USA Today). "The point is that if you are a little different, or a little outrageous, or if you do things that are bold or controversial, the press is going to write about you."
With that level of media coverage, both fans and critics might wonder what they possibly don't know about The Donald. We delve into some of the lesser-known facts about Trump, including the classic film character that he reportedly inspired, why he's always reaching for hand sanitizer, and the allegations multiple women have made about him.
A 'Back to the Future' character was based on Donald Trump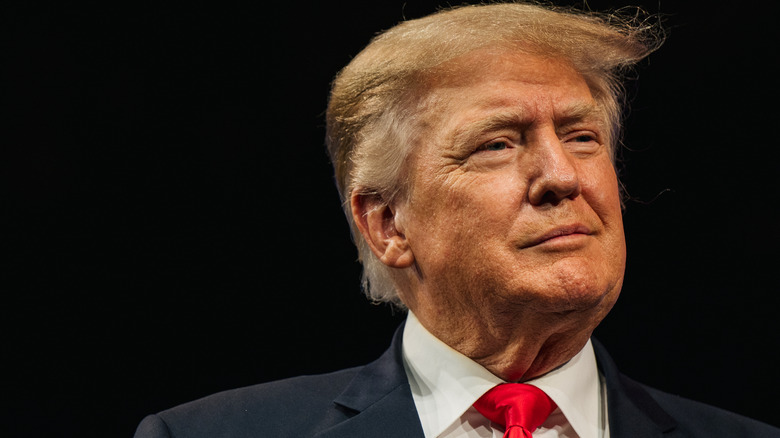 Donald Trump's public persona largely centers on his image as a rich businessman. While Hollywood characterizes that type in plenty of films, the villain in the '80s classic "Back to the Future" was admittedly inspired by Trump himself. In the 1985 sequel, bully Biff Tannen uses time travel to become a rich and powerful casino owner-turned-politician. Now why does that sound familiar? "We thought about it when we made the movie!" screenwriter Bob Gale said (via Daily Beast), adding, "You watch Part II again and there's a scene where Marty confronts Biff in his office and there's a huge portrait of Biff on the wall … there's one moment where Biff kind of stands up and he takes exactly the same pose as the portrait."
The movie takes place in a futuristic 2015, and, while hoverboards, flying cars, and "Jaws 19" didn't come to be, Gale's vision 20 years into the future was somewhat prophetic, including Donald Trump's Biff-like bid for president. "Back to the Future" star Michael J. Fox has more recently drawn the parallels after Trump took office. "Every worst instinct in mankind has been played on [by Trump]," Fox told The Guardian in 2020, adding that the eerie parallels make it feel like, as he said, "Biff is president!"
Donald Trump made this made-up word go viral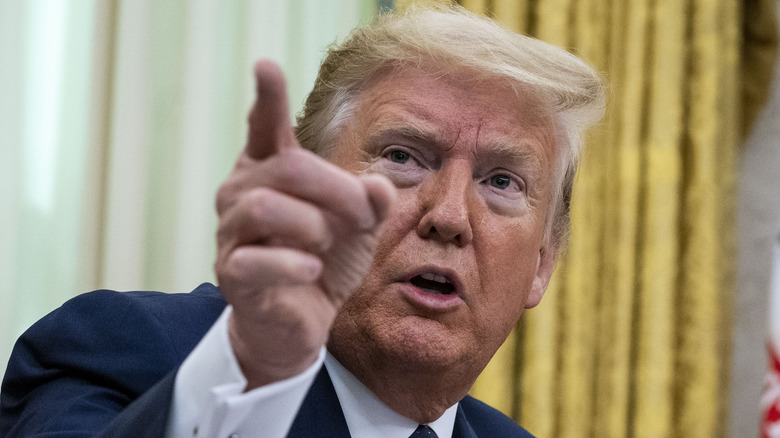 Before he was banned from Twitter and Facebook, Donald Trump's micro-blogging was a constant source of news. His fans loved having a direct line to the president, while journalists puzzled, perhaps excessively so, over the constant stream of tweets and social engagement coming from Trump. While most people quickly got over the strange capitalization and typos coming from his Twitter stream, one particular tweet from Trump in 2017 stopped the internet cold: "Despite the constant negative press covfefe," Trump wrote on May 31, shortly after midnight. And that was it. There was no previous tweet or a follow up to explain the incomplete thought (or what "covfefe" meant). But that didn't stop the memes and an explosion of commentary. Six hours later, Trump finally tweeted (via Wired), "Who can figure out the true meaning of 'covfefe' ??? Enjoy!"
Though it's most likely the term "covfefe" was simply a typo for the word "coverage" and the tweet went out by accident, the Trump administration never gave much of an explanation. "I think the president and a small group of people knew exactly what he meant," then-Press Secretary Sean Spicer told reporters (per The Atlantic).
The New York Times tracked and investigated Donald Trump's tweets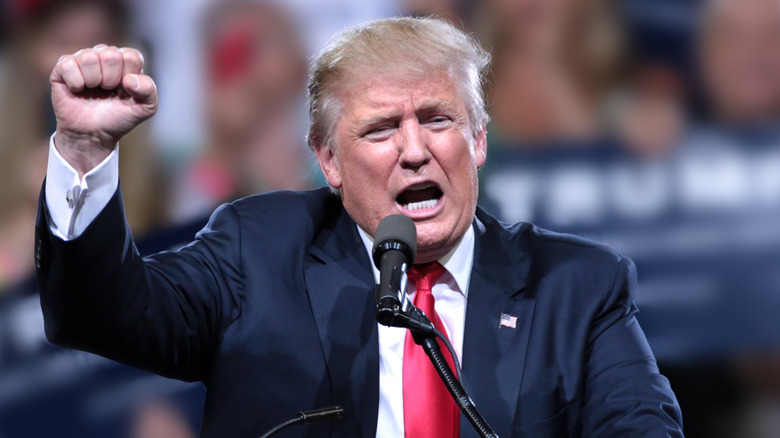 While he was still on Twitter, Donald Trump didn't censor himself on the platform despite being leader of the free world. He constantly astounded his critics while seemingly riling up his supporters who considered his candor the real deal. The Atlantic characterized his tweets as "messy, reactive, often petty, and occasionally cruel." According to Statista, Trump allegedly went from tweeting approximately six times per day in 2017, (when he sent out a total of 3,500 tweets and retweets) to about 35 times a day in 2020 (when he tweeted over 12,000 times).
The New York Times underwent the arduous task of tracking Trump's tweets, analyzing thousands between 2015 and 2021 (the time he announced his candidacy until he was banned from the platform). In all, Trump tweeted about approximately 850 people, entities, and current events (like the Russia investigation) in thousands of tweets. Some got more play than others, like the impeachment trial, Joe Biden, and the media, which Trump called "the enemy of the people" and "corrupt." Weeding through Trump's tweets was no easy task. "After reading like 5,000 of them, you don't feel good," editor Kevin Quealy said, adding that he could track Trump's tweets in thirty-minute intervals before needing a break.
Donald Trump is something of a germaphobe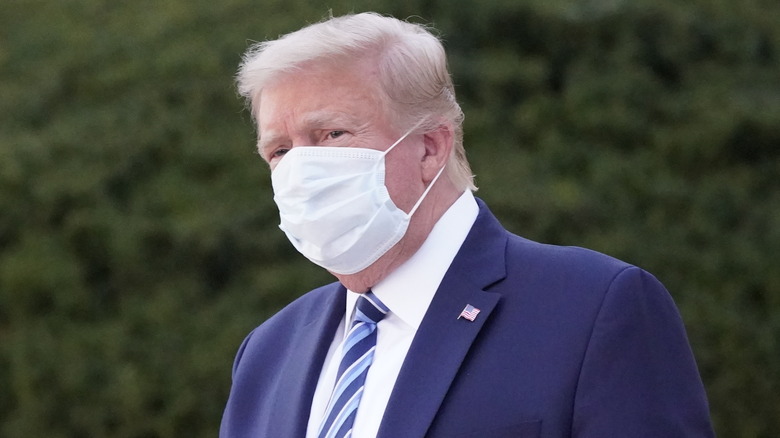 Donald Trump's obsession with hand sanitizer has had a fair amount of coverage over the years. Before we all started dousing ourselves in Purell during the pandemic, Trump was already using it religiously. Politico reported that it was even part of his post-event ritual on the campaign trail. "Give me the stuff," he'd say the moment events concluded, prompting a staff-member to pump sanitizer into his hands. In "The Art of The Deal," Trump called handshakes a "curse" of American society. He wrote (per The Independent), "I happen to be a clean hands freak. I feel much better after I thoroughly wash my hands, which I do as much as possible."
This didn't bode well for his staff, who had to hide any sign of illness or allergies. "If you're the perpetrator of a cough or of a sneeze or any kind of thing that makes you look sick, you get that look," a former Trump campaign official told Politico. "You get the scowl." But Trump has acknowledged his germaphobia may be more than just an issue for sniffly staff members. "I do have germ phobia," Trump told Howard Stern in 1993 (via The Independent), adding, "It could be a psychological problem."
Donald Trump has been nominated for Emmy (and Razzie) awards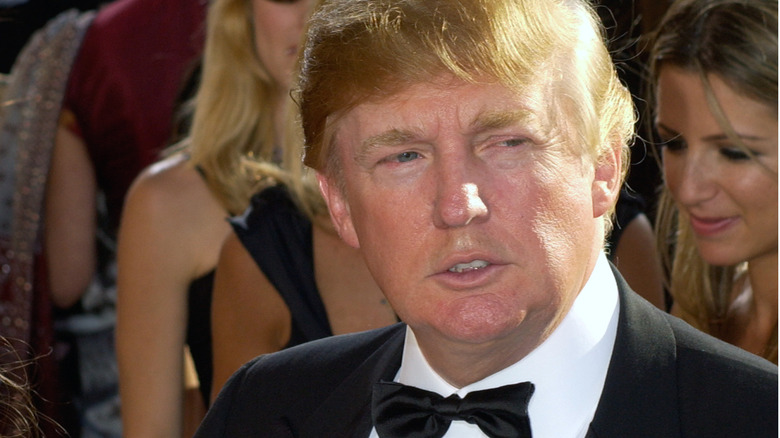 In 2003, Donald Trump was approached by producer Mark Burnett to launch a new kind of reality competition. The production of "The Apprentice" franchise helped elevate Trump to businessman-icon status, and the show was a success, lasting for 15 seasons. During that time, Trump was personally nominated for two Emmy awards, while the series racked up even more nods. But, in the end, the show never won, which famously irked Trump. "I got screwed out of an Emmy," Trump once said on "The Apprentice" (per The Hollywood Reporter). "Everybody thought I was going to win it."
Though he never got his Emmy, Trump did manage to win another type of award. In 2019, Mashable reported that he swept two categories at The Golden Raspberry Awards (or Razzies), a parody award show recognizing the worst films and performances. He beat out the likes of Johnny Depp and Bruce Willis to take home the Worst Actor prize and was also winner of the Worst Screen Combo, the combo being "Donald J. Trump & his self-perpetuating pettiness" as seen in "Death of a Nation" and "Fahrenheit 11/9."
Donald Trump and this president have stars on the Hollywood Walk of Fame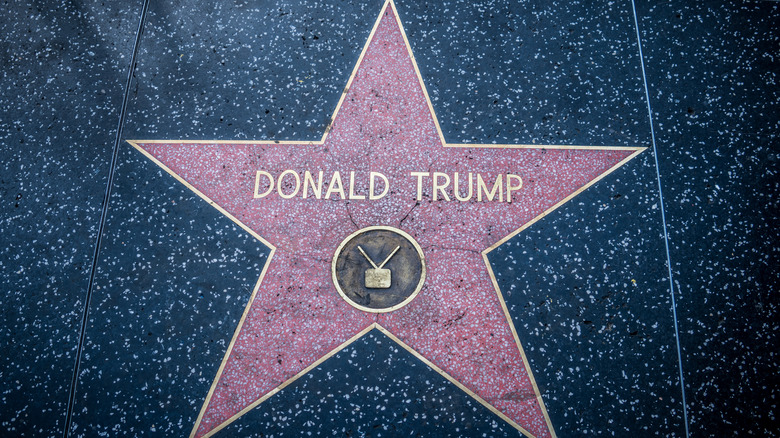 Donald Trump wasn't the first commander-in-chief to serve as an entertainer before entering The White House. America's 40th president, Ronald Reagan, was a film actor prior to being elected governor of California in 1964. His roles in over 50 films like "Knute Rockne All American" and "Kings Row" earned him a star on the Hollywood Walk of Fame in 1960, according to BBC News.
Trump's name was also cemented on Hollywood Boulevard before he became president, but not for his most famous role as host of "The Apprentice" franchise. Per BBC News, Trump received his star in 2007 after hosting the Miss Universe Pageant for over two decades. Since becoming a divisive political figure, however, Trump's star has been vandalized on several occasions, as the Los Angeles Times reported. And, while the stars of Bill Cosby, who was convicted of rape, and Michael Jackson, who was accused of child molestation, have also been vandalized, the mayor of West Hollywood formally requested to remove Trump's star in 2018 (per BBC News).
But that decision is left up to the Hollywood Chamber of Congress, which doesn't plan to dig it up. "Once a star has been added to the Walk, it is considered a part of the historic fabric of the Hollywood Walk of Fame," the Chamber said in a statement. "Because of this, we have never removed a star from the Walk."
A long list of comedians have impersonated Donald Trump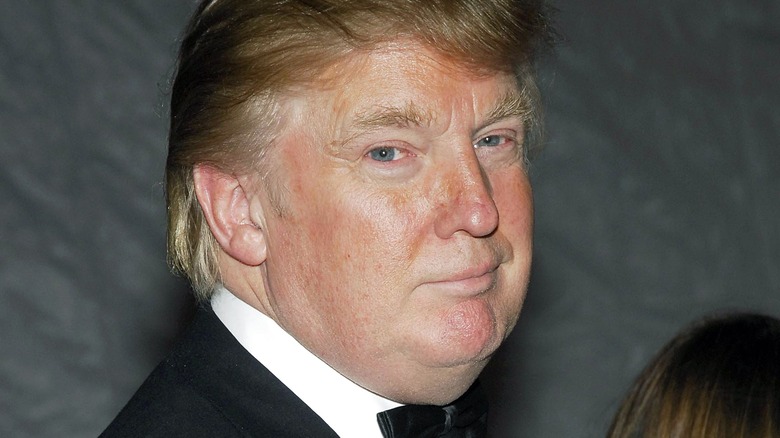 Since he gained notoriety in the '80s with the release of his bestselling book, "The Art of the Deal," Donald Trump has served as an archetype for flashy, New York business gurus, and his fascination with everything gold-plated has, in turn, made him the perfect fodder for comedy.
On "Saturday Night Live," the role of Trump has been a rotating assignment for castmates, starting in 1988 when Phil Hartman played an empty and out-of-touch Trump in the skit "A Trump Christmas." Since then, Darrell Hammond, Jason Sudeikis, Taran Killam, and, most recently, Alec Baldwin all took on the Donald on "SNL" (per The Wrap). And though Trump, himself, has guest-hosted the program, The New York Times reported that he especially turned sour on it after Baldwin made waves portraying him, calling it a "hit job" and a "boring and unfunny show," while also saying that the impression "stinks."
Outside of "SNL," Johnny Depp played Trump in Funny or Die's "Donald Trump's The Art of the Deal: The Movie," which, according to The New York Times, he filmed in just four days.
Other comedians who took on the role of Trump include Anthony Atamanuik in "The President Show," Jeff Rector in "Bad President," (via The Wrap) and Sarah Cooper, who gained viral notoriety on TikTok performing voiceover clips of the then-president, which eventually led to her scoring a Netflix special (via The Washington Post).
Donald Trump filed for corporate bankruptcy numerous times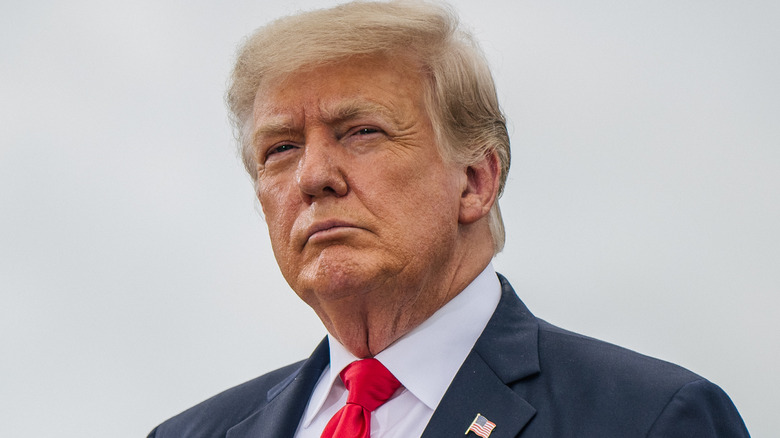 With his tax returns in limbo, no one can really verify Donald Trump's net worth. He's been stumped by the question himself in the past, saying, "My net worth fluctuates, and it goes up and down with markets and with attitudes and with feelings, even my own feelings, but I try" (per Newsweek).
While Trump's business dealings are separate from his personal wealth, there's a lot to be said about the waves of success and failure they've seen. IBT reported that Trump filed for bankruptcy at least four times (in 1991, 1992, 2004, and 2009) based on claims he's made in the past. But when Hillary Clinton noted the number was closer to six during a presidential debate, The Washington Post verified that she was correct: Trump counted three bankruptcies as one. 
Trump had filed for Chapter 11 bankruptcies, which allowed him to keep his businesses operating while negotiating down some of the debt, and many of the entities which he declared bankruptcy for went on to recover and thrive. Trump defended his bankruptcy maneuvers on "ABC World News Tonight" (via CNN), stating, "What I've done is I've used, brilliantly, the laws of the country. And not personally, just corporate. And if you look at people like myself that are at the highest levels of business, they use — many of them have done it, many times."
Multiple women have accused Donald Trump of sexual misconduct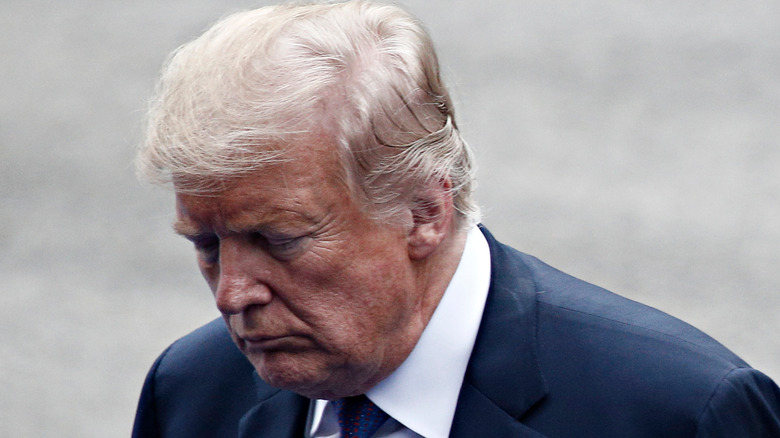 Donald Trump has been accused of misconduct by at least 26 women. With incidents spanning from the 1970s to the 2000s, many came forward in wake of the #MeToo movement, as well as after Trump declared his presidential bid, as Business Insider reported. The accusations range from groping to unwanted kissing to much worse. Trump denies the accusations and brushes them off by saying an accuser, for example, was not "his type." At a rally, he said of Jessica Leeds, a woman who claims he groped her on a flight, "Believe me. She would not be my first choice. That I can tell you" (via NPR).
Though the stories of the women accusing Trump have been vetted by reporters, no hard evidence exists, and he has never been brought to trial for assault. But Trump has been caught on tape discussing tactics he's used without women's consent. In 2016, damning audio was released of Trump on mic before taping an "Access Hollywood" segment. "I just start kissing them," he's heard saying to host Billy Bush. "It's like a magnet. Just kiss. I don't even wait. And when you're a star, they let you do it. You can do anything. Grab them by the p***y." Trump apologized for his words, ABC reported, but said they didn't match up to real-life scenarios. "Certainly I'm not proud of it," he said. "But this is locker room talk."
Donald Trump "thrived" in military school as a teen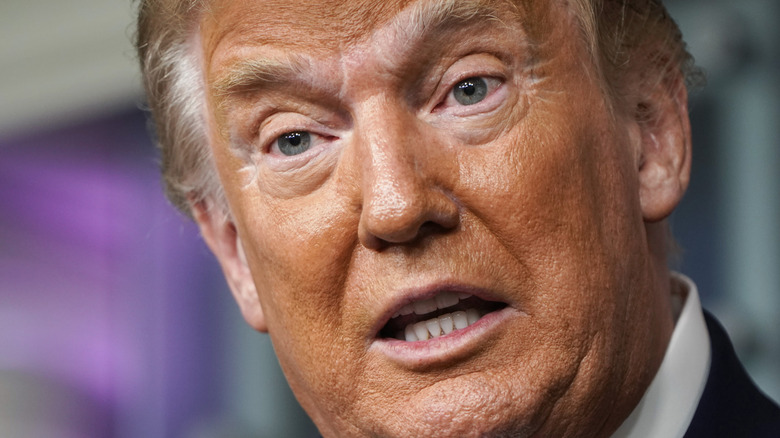 When he was 13, Donald Trump had a track record for getting into trouble at school, so his father, Fred Trump, shipped him off to New York Military Academy to get him in line. Though some of his classmates had differing accounts of his time there, Trump looked back on his schooling fondly. "I did very well under the military system," Trump has said (per The Washington Post). "I became one of the top guys at the whole school."
Driven by the hardline philosophy of his father to win at all costs, Trump seemingly fully embraced his time at the academy, which Frontline characterized as a "five-year lesson in bullying." Students recounted being physically pushed or hit, ridiculed, and hazed regularly, and Trump said it was here that he was slapped in the face as punishment for the first time. Yet, Trump, according to "The Trumps" author Gwenda Blair, "thrived" there. "Other kids didn't like him all that much," she said. "He wasn't that popular because he was so competitive."
Trump believed his time at the school taught him some of the leadership skills his father wanted to instill in him. "You had to learn how to survive, essentially … I learned discipline — how to dish it out and otherwise" (via The Washington Post).
Donald Trump doesn't drink alcohol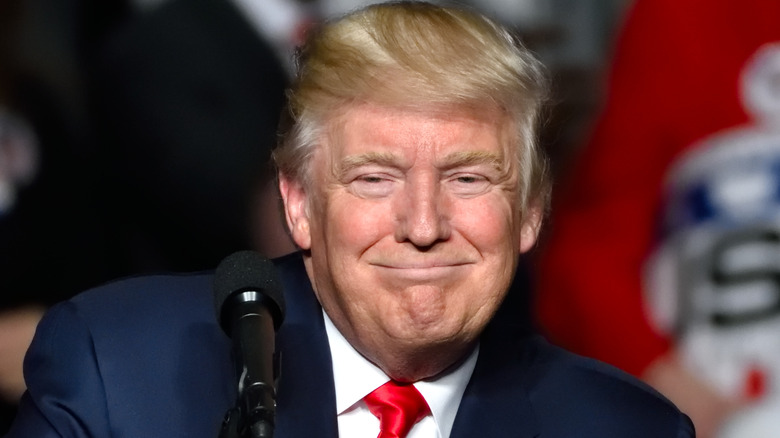 Though Donald Trump was a fixture in the high-end New York City nightlife scene in the '90s, he's vehement that he was always sober. "I'm not a drinker. I can honestly say I never had a beer in my life," Trump said, as reported by Vice. "Whenever they are looking for something good, I say I never had a glass of alcohol."
According to The New York Times, Trump has attributed his preference to stay sober to his brother Fred Trump Jr.'s struggles with alcoholism, which he died from in 1999. And, according to writer Gwenda Blair, he also considers clear-headedness a competitive edge in the business world. "As they're downing scotches, he's downing Diet Cokes," she said. "It's part of his ultracompetitive profile."
But some say they've seen Trump imbibe on occasion. As Vice noted, New York bartender Laraby claimed he served Trump a beer. "He would nurse his beer. Even if they were there for hours, he would have three beers at the most."
Donald Trump has made cameo appearances on many classic movies and TV shows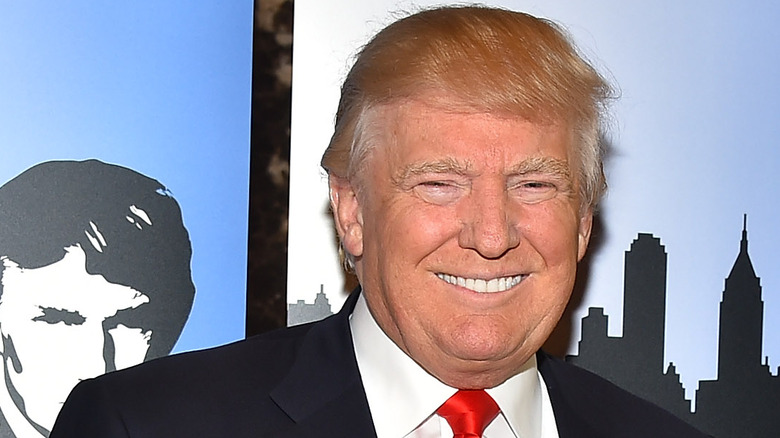 In film, giving Donald Trump a cameo has been an easy shortcut to capture excessively glam New York business in a simple line or two. Per IMDb, he's appeared as himself on many hit television shows, including "The Fresh Prince of Bel-Air," "The Nanny," "Spin City," "Sex and the City," and soap operas like "All My Children" and "Days of Our Lives." He's also had cameos in movies like "Home Alone 2: Lost in New York," "Zoolander," and "Two Weeks Notice." Very few acting credits show Trump playing characters not based on his persona, though he did appear as Waldo's dad in "Little Rascals." He also hosted "Saturday Night Live" twice, in 2004 and 2015, with the latter appearance attracting protest over comments Trump allegedly made on the campaign trail.
Such rhetoric raised the question whether Trump was intentionally cut from Canadian television's airing of "Home Alone 2." Trump's oldest son Donald Trump Jr. weighed in, tweeting "'Pathetic': Canada's CBC under fire when Trump's cameo in 'Home Alone 2' disappears from Christmas broadcast." (However, the network asserted that the cameo was cut ages ago for time purposes, as Entertainment Weekly reported). That particular role even comes with its own story.
Donald Trump once shaved Vince McMahon's head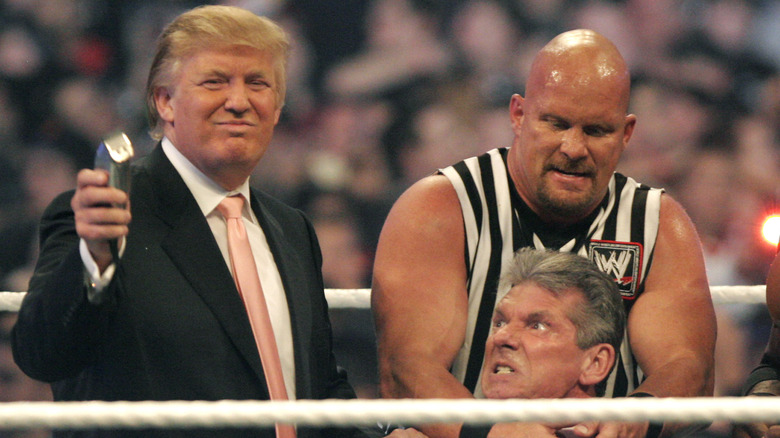 Donald Trump apparently has a thing for wrestling. He has an amiable history with the WWE's owner, Vince McMahon, whose wife Linda McMahon served in the Trump administration. But the most unforgettable moment of their friendship culminated on live television, when Trump shaved McMahon's head in WWE's Battle of the Billionaires.
According to Sports Illustrated, the stunt took place at WrestleMania 23, where Trump and McMahon wagered on a fight between two wrestlers, Bobby Lashley for Trump and Umaga for McMahon, with the winner's prize being to shave the loser's head. Lashley won, and Trump got the clippers.
Not content to pace the sidelines, Trump got into the action during the match in a few choreographed scuffles, including a last-minute one with Stone Cold Steve Austin. Austin recalled (per TalkSport) McMahon convincing Trump to perform his signature move, the stunner. "Donald Trump's right hand guy all of a sudden goes, 'Oh no, no, no, no you don't need to do that. There's a million reasons why you shouldn't do that. And here's why.'" However, after asking McMahon whether the move would "help the show," Trump went ahead after getting the green light.
The WrestleMania event went down as the most lucrative at the time, with reportedly "the [highest-grossing] pay-per-view revenue."
Donald Trump is the only president to be impeached twice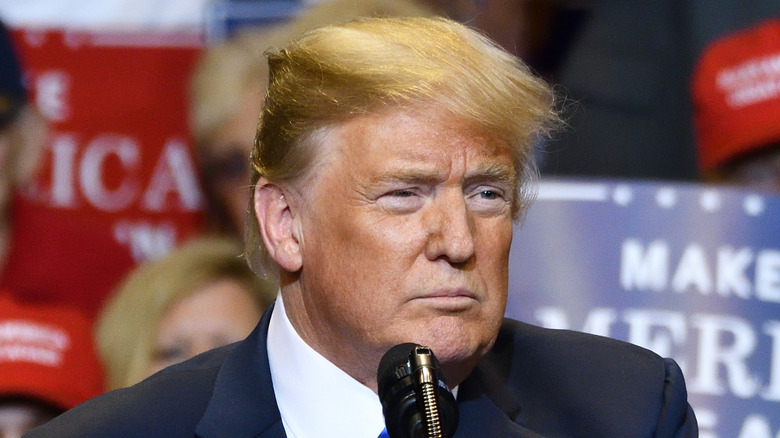 One thing separates Donald Trump from his predecessors: He was the first and only U.S. president to be impeached twice. Per The New York Times, Trump was first impeached in 2019 after a lengthy investigation into his interactions with the president of Ukraine. During a call, Trump allegedly suggested he would withhold aid while pressuring the Ukrainian president to announce an inquest into presidential hopeful Joe Biden. Trump was charged with obstruction and abuse of power, but the Senate ultimately did not vote to remove him from office.
Vox reported that Trump's second impeachment trial was quicker than the first, following Trump's involvement in the January 6 attack on the capitol which arose over the 2020 election results. The House's bipartisan vote charged Trump with incitement of insurrection, while the Senate again declined to remove him from office. Prior to Trump, only two presidents — Andrew Jackson and Bill Clinton — had been impeached, and, in both cases, each was impeached once.
Source: Read Full Article