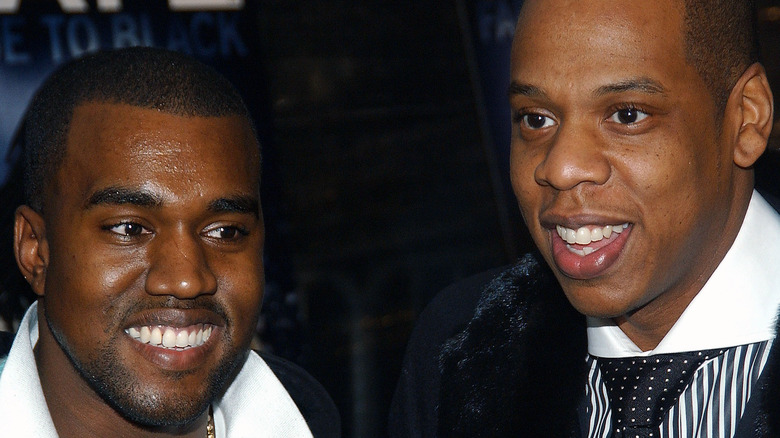 Two of the biggest names in the hip-hop game, Kanye West and Jay-Z, have had a rocky relationship over the years. Despite being born seven years apart and growing up in Chicago — and then China (via Cheat Sheet) — and New York City respectively (via Biography), the two rappers worked together pretty closely when Kanye was still a producer and hadn't yet moved into making music himself.
It was a mutually beneficial relationship, Ye helping Hov keep his career hitting those huge heights and in return getting a whole load of experience, but like all good things, their brotherly partnership seemed to come to an end during the 2010s (via High Snobiety). At a time when both men settled down with their equally-famous wives — Kim Kardashian and Beyoncé — and started families, their relationship with each other started to deteriorate (via Cosmopolitan). However, they might just be pals again. There have been plenty of ups and downs over the years, but here's the truth about Kanye and Jay-Z's feud.
They stayed friends as Kanye's rap career took off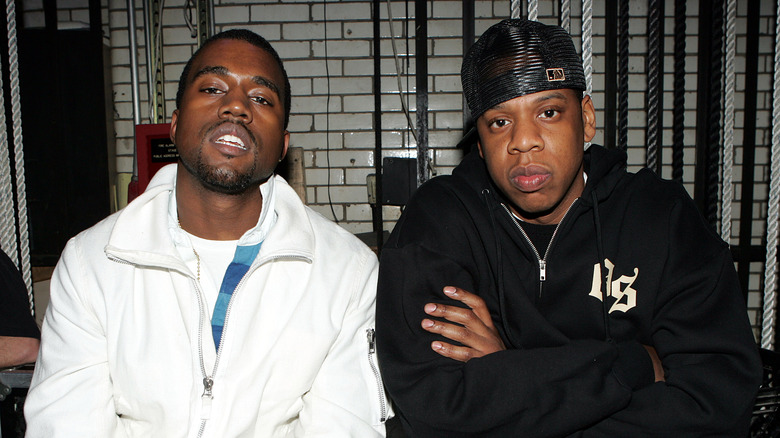 Let's go back to the 2000s. Around the turn of the millennium, Kanye was a young producer, while Jay-Z was one of the most popular rappers in the world. In 2000, Ye began producing music for artists on Roc-A-Fella Records, the label co-founded by Jay-Z, and he had a big impact on the success of his 2001 album "The Blueprint" (via BBC). Despite growing in popularity as a producer, West wanted to be a rapper himself and released his critically-acclaimed debut album "The College Dropout" on Roc-A-Fella in 2004 (via NME). 
On his third album, "Graduation," released in 2007, West included the track "Big Brother," about his relationship with Jay-Z. While the song was complimentary at first, with West talking about his mentor and collaborator in a positive light, he then went on to talk about their "sibling rivalry" and commented on Jay-Z imitating him by putting out a song with Coldplay. However, it was taken well by Jay-Z, who described it as a "fair portrayal from a little brother's perspective" (via High Snobiety). 
Of course, we can't forget about that incident at the 2009 MTV Music Video Awards either, when West crashed the stage and interrupted Taylor Swift's victory speech, arguing that his friend — and wife of Jay-Z — Beyoncé should have won the award instead, during and after which the singer was visibly embarrassed (via Billboard). 
Jay-Z and Beyoncé didn't attend Kanye and Kim's wedding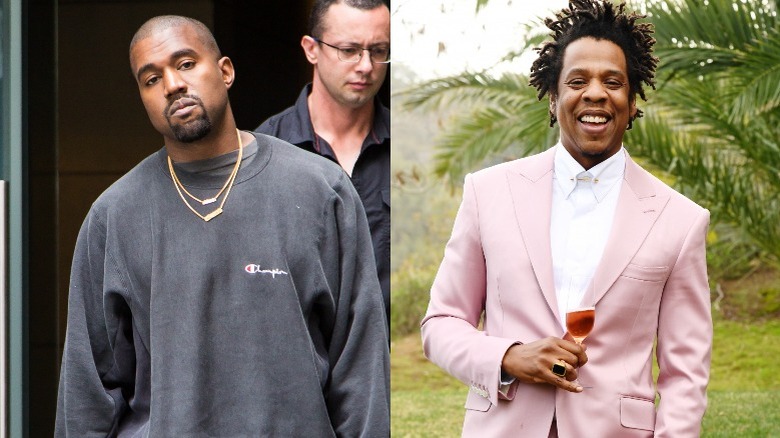 Fast-forward to 2010, and Jay-Z contributed to Kanye West's fifth album "My Beautiful Dark Twisted Fantasy," while less than a year later Yeezy released the album "Watch the Throne" alongside Jay-Z, to a whole load of adulation and success (via AllMusic). At the time, it felt like the sky was the limit for the pair, but it wasn't to last.
2014 was when rumors of a feud began, with Jay-Z and Beyoncé did not attend Kanye's wedding to Kim Kardashian, and on tour in 2016, Ye spoke out after his wife was robbed at gunpoint in Paris: "Don't call me after the robbery and say 'how you feelin'?' You wanna know how I'm feelin'? Come by the house. Bring the kids by the house. Like we're brothers. Let's sit down … I can't take this s**t bro. Our kids have never even played together" (via NME).
At another concert not long after, he pleaded for Jay-Z to "Call me, bruh!" and soon after was hospitalized with exhaustion, canceling the remainder of his tour dates (via High Snobiety). Around the same time, a source told Page Six that Jay-Z "can't stand" Kanye: "He looks at him as this crazy, eccentric motherf*****" (via Page Six). A year later, Jay-Z's song "Kill Jay-Z" featured lyrics about his former protégé: "You ain't a saint/This ain't KumbaYe/But you got hurt because you did cool by Ye," (via Good Housekeeping).
Jay-Z appears on Kanye's new album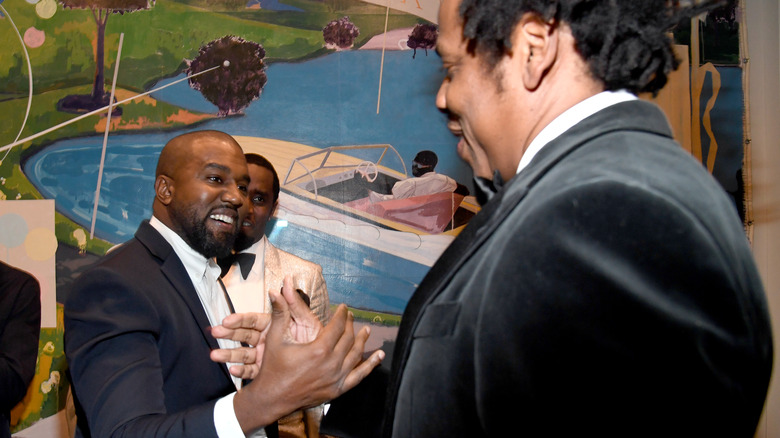 A month after Jay-Z released "Kill Jay-Z," Kanye West left streaming service Tidal, owned largely by Jay-Z. It looked as if relations between the two were at their lowest, but in 2018 there were signs that they could be thawing. On David Letterman's "My Next Guest Needs No Introduction," Jay described Ye as "my brother," referring to the two as "beyond friends … my little brother is Kanye. And like your little brother, things happen sometimes" (via High Snobiety).
Kanye then admitted that the feud began when Jay-Z and Beyoncé didn't attend his wedding, but in September posted a picture of the couple on his Instagram, calling them family, while Bey also showed herself wearing Yeezy Mules, indicating that perhaps the feud was over. Come December 2019, Jay-Z and Kanye reunited at Diddy's 50th birthday party and appeared in good spirits together.
Kanye has had an eventful 2021, with his wife Kim Kardashian filing for divorce in February, but the summer has seen new music. At a listening party for his album "Donda," it was revealed that Hov features on the album (via GQ) — suggesting that there's no longer any bad blood between the pair. They might not see eye to eye on everything — Kanye's foray into politics has certainly raised eyebrows (via Newsweek) — but the feud looks to be over, for now at least.
Source: Read Full Article