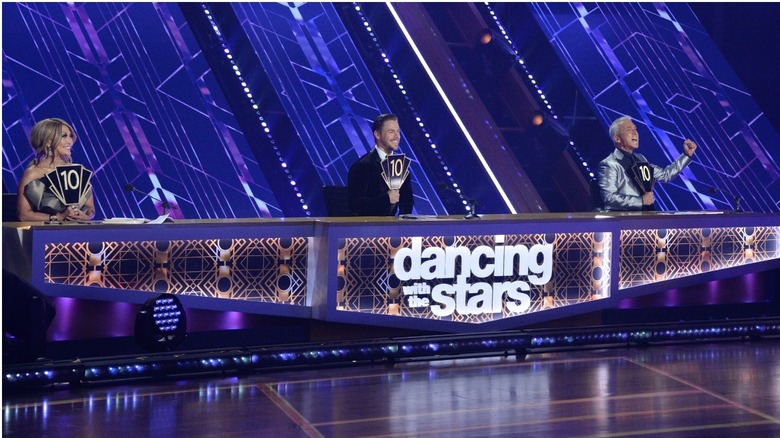 Viewers of "Dancing with the Stars" become very attached to the show's celebrity performers. The series, best known for submersing celebrities in the unfamiliar world of ballroom dancing, has been a smash for ABC since its debut in June 2005. The series turned unknown professional dancers into household names and has become the place for celebrities looking to explore their creativity, rebound from a past mistake, or even resurrect a once-dead career, as they learn complicated ballroom techniques.
Thus far, there have been 336 celebrities who have competed (via Screen Rant). These include actors, singers, comedians, musicians, entrepreneurs, athletes, reality stars, journalists, TV presenters, internet personalities, and newsmakers who have tried their best as they dedicate countless hours each week to perfecting their performances. While many celebrities try their hardest to please both the panel of judges, including Carrie Ann Inaba, Len Goodman, and Bruno Tonioli, others become destined to play a unique role in their season. Some of the eliminations are so shocking, they are remembered years later.
Who have been the most shocking eliminations in "Dancing with the Stars" history? See how many you remember.
Heather Morris, Season 24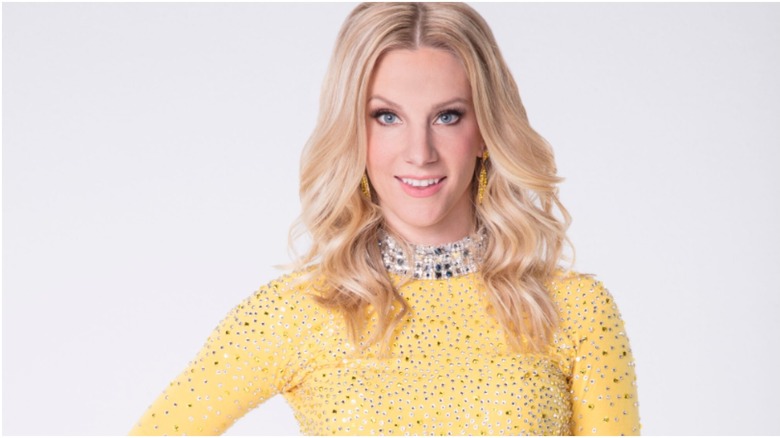 Former "Glee" alum and backup dancer for Beyoncé and Tina Turner, Heather Morris should have made it to the finals. However, she only made it through to week six of the competition. It appeared that her superior pop and hip-hop skills were a hindrance when it came to ballroom dance, where your back must remain rigid and your upper body still as you glide across the floor. Fans cheered for the blonde beauty, but didn't vote enough, resulting in her elimination (via The Washington Post). Show host Tom Bergeron said, "I have to say, in 24 seasons, that's probably the most vocally unhappy reaction we've gotten about a result." 
Producer of the series, Ashley Edens, told The Hollywood Reporter that while some fans believed Heather Morris had an unfair advantage in the competition compared to those with no dance training, that did not mean she would be qualified to win. "Does she have an advantage? Yeah. Is it unfair? No. She has never had a ballroom lesson. She's never partner danced. That is a skill in and of itself. Does she know how to count music and have rhythm? Yes. Heather is finding it challenging because it's like learning a new language. It's foreign to her. She has not ever partner danced."
Maria Menounos, Season 14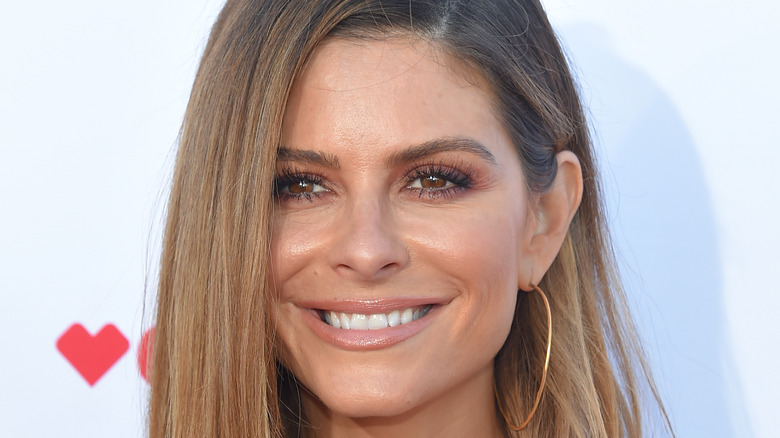 Former "E! News" host Maria Menounos was partnered with six-time mirrorball champion Derek Hough, and made it to the top of the leaderboard and the show's semifinals during Season 14. Just three points separated the top and bottom couples. Maria and Derek were at the top, followed by Katherine Jenkins, William Levy, and Donald Driver. The shock was palatable in the ballroom when it was revealed the highest-scoring couple would be sent home due to low viewer votes (via HuffPost).
"I think everyone is gonna be really good. I want to be good and proud of myself, being someone who's never taken a dance class in my life and somebody who has been terrified of this. I just want to impress myself. I really do. I just want to have fun. It's such a great excuse to have fun and learn something I've never learned before," said Maria Menounos prior to competing on the series (via Pure Dancing with the Stars). She would later say of her experience after her stunning elimination, "I wouldn't have made it this far without [Derek's] amazing talents and choreography (via Entertainment Weekly).
Milo Manheim, Season 27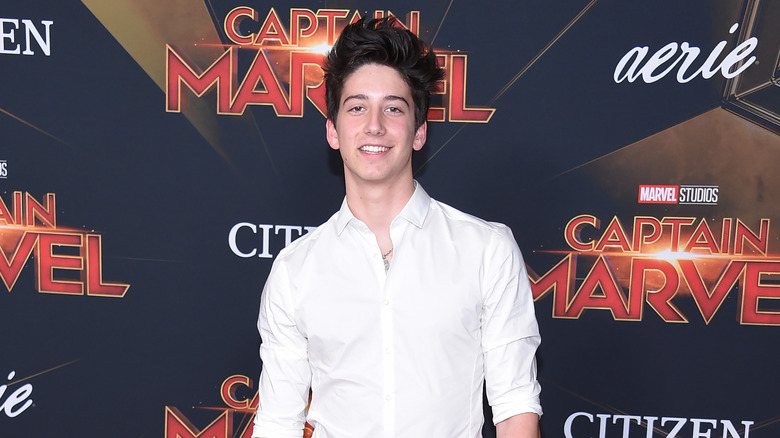 Milo Manheim was best known for his role in the Disney Channel television movie, "Zombies," before joining "Dancing with the Stars." Once he hit that dance floor alongside his partner Witney Carson, Milo became a force to be reckoned with. It appeared that whatever type of choreography Carson gave him, Manheim mastered it with finesse and showed an excellent aptitude for ballroom dance. The couple would come in second to Bobby Bones and Sharna Burgess, whose win would set an entirely new voting system in motion after that. It was rumored that fans of the country music DJ stuffed the ballot box, so to speak, casting multiple votes and allowing the awkward dancer to win the season (via Newsweek).
"I never thought I would make it this far. The fact I did, I feel like I've won already. I feel like I've grown so much as a person on this show. Being around these amazing people I feel like I learned something from each and every one of them. At the beginning I wasn't as driven as I am now. The closer I get to the end the closer I want to win it. It sounds cheesy, but it has been the greatest experience of my entire life," said Milo Manheim (via TV Insider).
Brandy, Season 11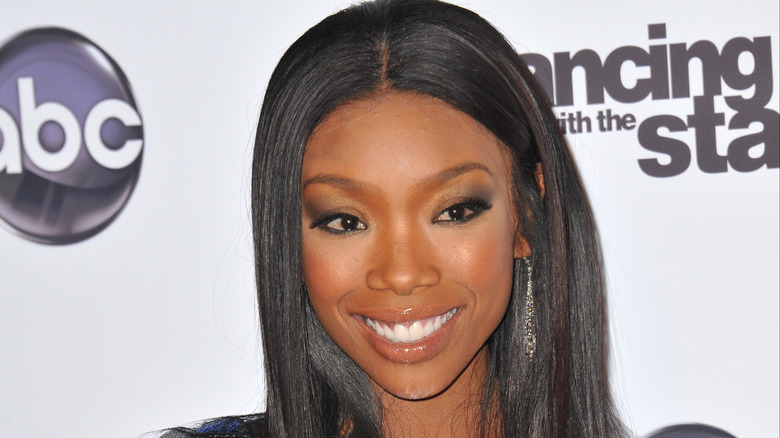 Brandy's elimination was shocking to viewers as she and professional partner Maks Chmerkovskiy regularly achieved high scores and praise from the DWTS judging panel. Their personal chemistry together was fiery and off-the-charts, and their dances were pure joy to witness. As for their scores, Brandy and Maks never received lower than a seven from the panel of judges. The duo made it to the final four alongside celebrities Jennifer Grey, Kyle Massey, and Bristol Palin. Maks and Brandy were stunned during the semifinals when the singer was sent home in favor of Palin, whose ballroom dance skills did not match those of the R&B superstar. "I don't know how I feel right now," the stunned singer said after her elimination, reported MTV News.
Palin consistently received the lowest scores from the judges that season (via People). The publication reported that speculation arose as to whether or not members of the Tea Party who threw their support behind Palin's mother Sarah were involved in some way to promote voting for her daughter. "Dancing with the Stars" producers went on record to defend the show's voting system against tampering allegations. Season 11 executive producer Conrad Green told the publication that Palin deserved to be in the finals, and the viewing audience believed it too, but fans called foul.
Sabrina Bryan, Seasons 5 and 15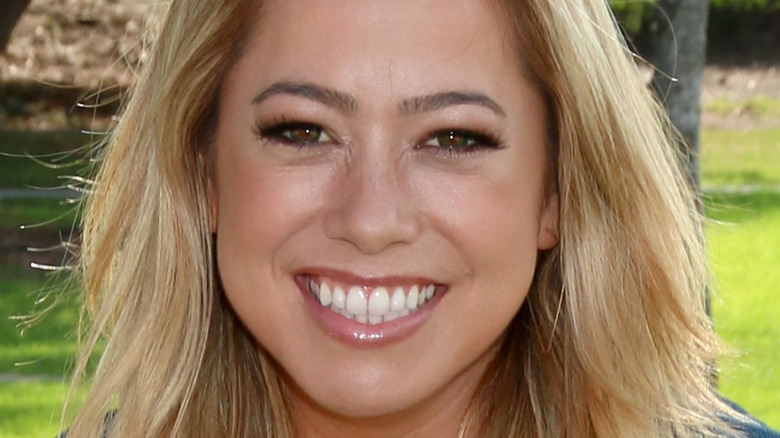 "Cheetah Girls" star Sabrina Bryan and her pro partner Mark Ballas were the clear front-runners of Season 5. Together they scored the highest week one score ever, and were also the first ever to earn a perfect score by week four. Bryan and Ballas were sent home in week six of the competition. Both the audience and judges fell hard for the dancing duo, whose skills on the ballroom floor appeared unbeatable, reported Gold Derby. Their rise to the top came to a stunning end.
To soften the sting of being eliminated so early her first time around, Sabrina Bryan was asked to return to Dancing with the Stars to perform for Season 15's all-stars edition. After the all-stars cast announcement, Ballas said that he would like to see her have another chance. She earned perfect scores with her new partner, Louis Van Amstel. But she was eliminated in week six (via The Hollywood Reporter), precisely five years to the day of her first elimination. After being told the news, Bryan would say, "It's an all-star season. You can't be shocked to go home. There are incredible people who are on this and everyone continues to get better and better every week. It is obviously not fun to go home but at the same time it's been incredible" (via Entertainment Weekly).
James Van Der Beek, Season 28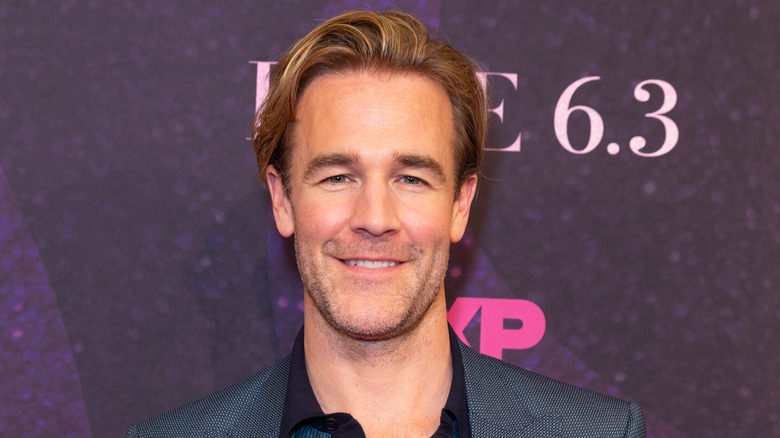 Former "Dawson's Creek" star James Van Der Beek showed a flair for ballroom technique that was unlike other competitors during his season. His work alongside pro partner Emma Slater appeared effortless, and the judges rewarded him with high scores and viewer votes allowed him to remain in the competition. James opened up about his family, including his wife Kimberly, and the show shared the joy of a pregnancy announcement during the season. During a videotaped package later in the competition, it was revealed that the actor missed some rehearsal time with his partner as his wife had suffered a miscarriage. He still attended rehearsals when he could and did the best job during his performance considering to the circumstances (via Oprah Daily).
James Van Der Beek competed for an Instant Save by the judges, who opted to push through fellow celebrity Ally Brooke to the finals. Brooke was so shocked she began to cry and asked if she could offer her spot in the finals to the actor. Many viewers were upset that Brooke was still in the running, both because they felt Van Der Beek was a better dancer, and because the judges had already saved her from elimination twice that season (via The Washington Post).
Zendaya, Season 16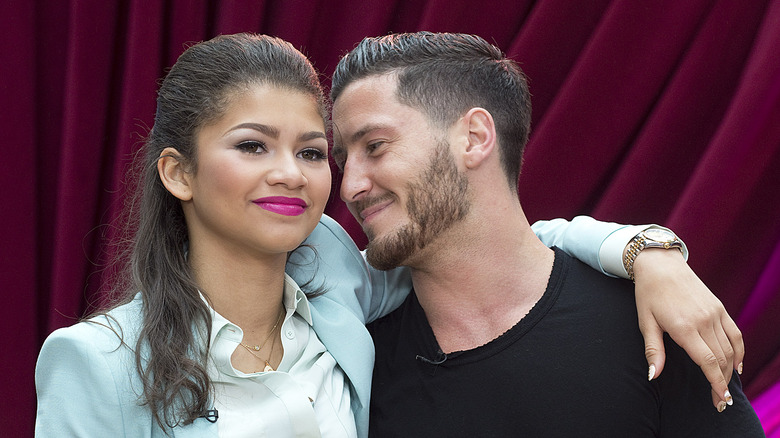 "Euphoria" star Zendaya had just come out of a hugely successful run as one of the stars of Disney Channel's "Shake It Up" when she tried to cultivate a more adult image by appearing as a contestant on the reality dance competition series. She added to her fan base by dominating the competition alongside professional partner Val Chmerkovskiy. Together, the dancing duo earned several perfect and near-perfect scores, and quickly found a place in the finals. At the time, Zendaya was just 16-years-old and the youngest "DWTS" contestant to date, ahead of Season 8 champ Shawn Johnson. In Season 20, Willow Sheilds took the title from the actress as a competitor at the age of 14 (via Screen Rant).
When it came down to the finale, Zendaya stood side-by-side along with country singer Kellie Pickler. She performed well in the freestyle, but not as well as Pickler, who got enough fan votes to push her through as the season's winner. Zendaya's partner Val admitted several years later, in 2018, that he "dropped the ball a little bit" and that the loss was his "biggest heartbreak" on the series (via Gold Derby). "I wish I could go back and have another chance at that season," he said. "My biggest heartbreak was on 'Dancing with the Stars,' not winning with Zendaya, honestly. That was a huge heartbreak for me because she was 16. I wanted this to be such a huge moment for her. She worked so hard, and I wanted her to lift that trophy and jump-start her career. And she didn't lift the trophy, and I felt heartbroken about that."
Source: Read Full Article