Get ready, Taylor Swift fans!
As we reported last month, the Shake It Off singer released her highly anticipated new single ME! — featuring Brendon Urie from Panic! at the Disco — off her upcoming seventh studio album.
In an interview with Entertainment Weekly that was released on Thursday, the 29-year-old gave more details about her new tunes.
In regards to making her upcoming LP, Joe Alwyn's girlfriend dished:
"I try not to go into making an album with any expectation…I started to write so much that I knew immediately it would probably be bigger."
In fact, listeners can expect "an emotional spectrum" of jams on TS7.
"There's a lot of a lot on this album…I'm trying to convey an emotional spectrum. I definitely don't wanna have too much of one thing…you get some joyful songs and you get the bops, as they say. really, really, really, really sad songs…not enough to where you need to worry about me."
When it comes to her connection with her fans, Swift remarked:
"It's definitely the fans that made that tonal shift in the way I was feeling…songwriters need to communicate, and part of communicating correctly is when you put out a message that is understood the way you meant it. Reputation was interesting because I'd never before had an album that wasn't fully understood until it was seen live. When it first came out everyone thought it was just going to be angry; upon listening to the whole thing they realized it's actually about love and friendship, and finding out what your priorities are."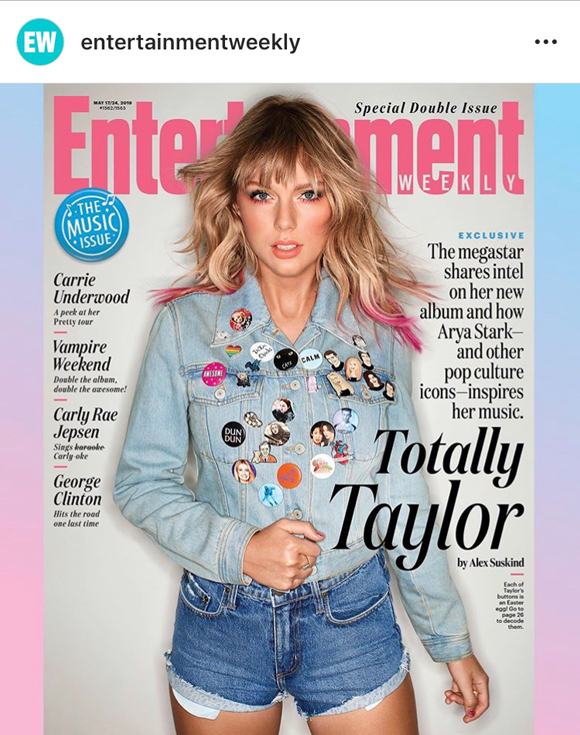 As we reported in March, Taylor promised "new music" while accepting the award for "Tour of the Year" at the 2019 iHeartRadio Music Awards.
During her speech, the starlet also gave a special shoutout to her haters who thought her Reputation World Tour would be a "flop"! She dished:
"So, I think one of the most wonderful things about the way that this whole tour turned out is that for like the entire six months leading up to the first show of this tour, every headline that I read about the tour was, 'This is going to be a massive failure. This is going to be a flop tour'… And it really did wonders for my self-esteem. It was really great to hear people saying that I was going to be playing to nearly empty stadiums.'"
Of course, the live extravaganza was anything but a flop as it set a new record for the highest-grossing U.S. tour in history.
She continued:
"I've learned a lot… One of the things I've learned is that life is really unpredictable. People can make forecasts and they can make predictions… predictions and forecasts may not come true if there is an unforeseeable factor involved, and that unforeseeable factor in this case was my fans. I honestly owe everything in my life to you. … You guys are the reason why this tour — the only reason why this tour — wasn't a massive failure, and why it ended up being the highest-selling tour in U.S. history."
We can't wait for your new album, Taylor!
Source: Read Full Article