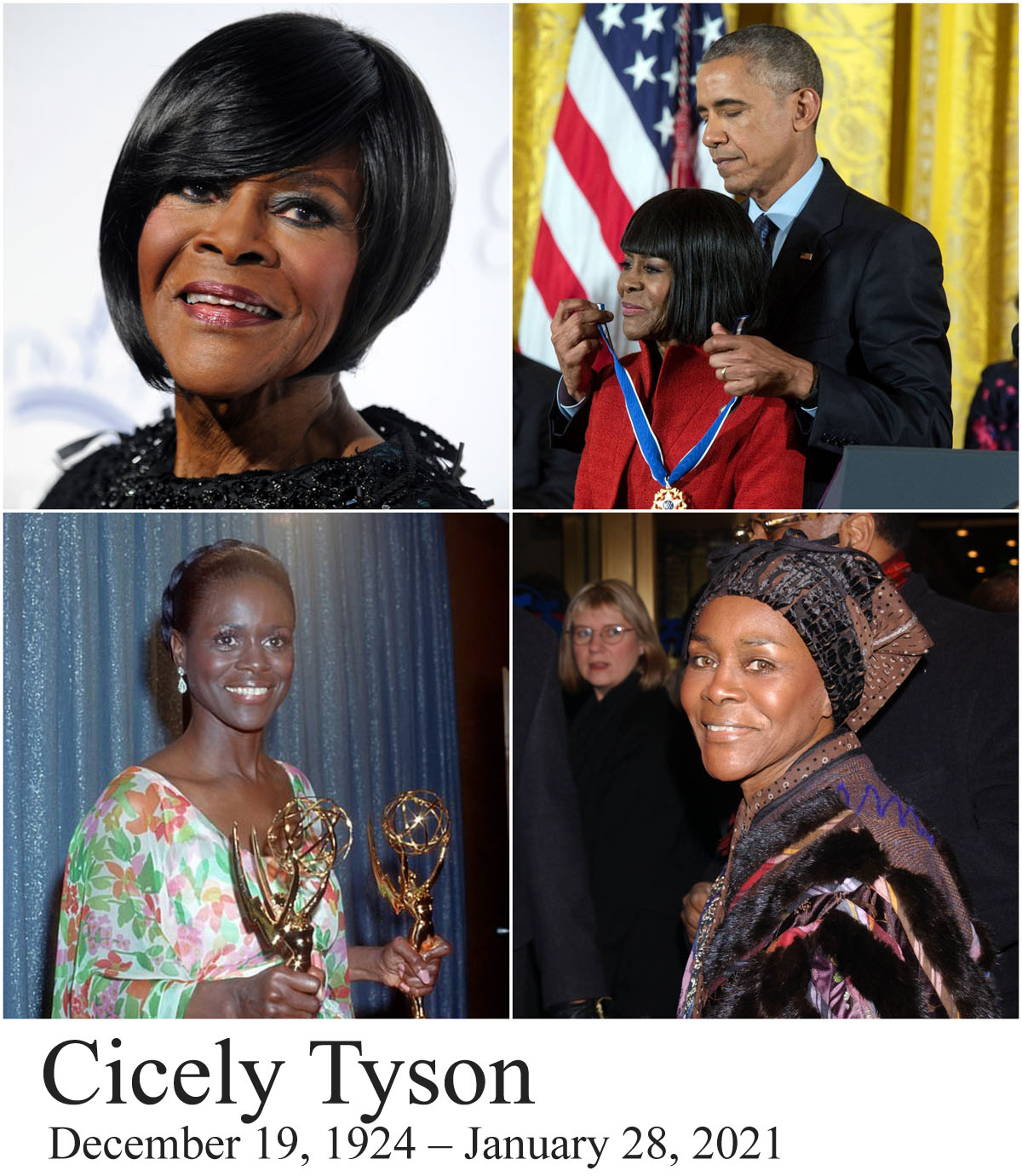 One of my greatest childhood sheros has gone to be with the ancestors. Cicely Tyson, 96, was an icon to every Black girl who grew up in the 70s and 80s. Cicely personified black excellence, beauty and grace every time she was on screen. Cicely was a pioneer and paved the road for many dark skinned black women who came behind her. Cicely was a national treasure, especially in the Black American and West Indian communities. I will always remember Cicely as Binta from the Roots Miniseries (1977) and as Harriet Tubman in A Woman Called Moses. In fact, every time I think of Harriet Tubman, Cicely Tyson is the face I see. Cicely Tyson was an Oscar nominated actress who received an honorary Oscar in 2018. Cicely also won two Emmys for her role in Miss Jane Pitmann and a Tony for The Trip to Bountiful. President Obama gave Cicely his last Medal of Freedom before leaving office. Cicely was also know for turning down roles as prostitutes, drug addicts and maids. Cicely said those sort of roles demeaned Black women and she wanted to uplift Black women with the characters she portrayed. Cicely was also married to jazz great Miles Davis in the 80s (I always forget that tidbit).
Cicely saw a recent resurgence in her career these last few years when she appeared in The Help in 2011 and alongside Viola Davis again in How to Get Away with Murder. Cicely played Ophelia Harkness, Annalise Keating's mother. Cicely's appearance in HTGAWM re-introduced her to a new younger audience and reminded those of us who knew and loved her from our childhoods of her greatness. Cicely's death was confirmed by her family via her manager Larry Thompson. Below is more on her passing and legacy via ABCNews:
Tyson's death was announced by her family, via her manager Larry Thompson, who did not immediately provide additional details.

"With heavy heart, the family of Miss Cicely Tyson announces her peaceful transition this afternoon. At this time, please allow the family their privacy," according to a statement issued through Thompson.

A one time model, Tyson began her screen career with bit parts but gained fame in the early 1970s when Black women were finally starting to get starring roles. Besides her Oscar nomination, she won two Emmys for playing the 110-year-old former slave in the 1974 television drama "The Autobiography of Miss Jane Pittman."

Tyson's memoir, "Just As I Am," was published this week.

"I'm very selective as I've been my whole career about what I do. Unfortunately, I'm not the kind of person who works only for money. It has to have some real substance for me to do it," she told The Associated Press in 2013.

Besides her Oscar nomination, she won two Emmys for playing the 110-year-old former slave in the 1974 television drama "The Autobiography of Miss Jane Pittman." A new generation of moviegoers saw her in the 2011 hit "The Help." In 2018, she was given an honorary Oscar statuette at the annual Governors Awards. "This is a culmination of all those years of haves and have nots," Tyson said.

She was one of the recipients for the 2016 Presidential Medal of Freedom, the nation's highest civilian honor. At that ceremony, President Barack Obama said: "Cicely's convictions and grace have helped for us to see the dignity of every single beautiful memory of the American family."

"Sounder," based on the William H. Hunter novel, was the film that confirmed her stardom in 1972. Tyson was cast as the Depression-era loving wife of a sharecropper (Paul Winfield) who is confined in jail for stealing a piece of meat for his family. She is forced to care for their children and attend to the crops.

The New York Times reviewer wrote: "She passes all of her easy beauty by to give us, at long last, some sense of the profound beauty of millions of black women." Tyson went on to earn an Academy Award nomination as best actress of 1972.
[From ABCNews]
A couple of days ago I had heard that she had written a memoir and I had placed it in my cart on Amazon, preparing to purchase it this weekend. I was editing a video and had just stepped away from Twitter for about an hour. When I returned, the announcement that Cicely had passed was everywhere. The shock of losing yet another great from my childhood hurt my soul. I know she was 96 and that she lived a long beautiful life but she represented so much to me. I sometimes scoff when people say representation matters. I tend to forget and take for granted how often I saw black faces in film and on television when I was growing up. Cicely and Grace Jones were the two melanated queens that I grew up seeing that reminded me of my own beauty despite what society told me. Cicely was my dark and lovely representation who had a special type of regalness that came with the women of her generation. I didn't want to emulate Cicely but she was a blueprint to the power I carry within from generations of African ancestors.
I feel no matter what I write, I will not be able to capture how much Cicely Tyson meant to me. She represented triumph over adversity, grace in the fire, majestic beauty that transcends all cultural norms and joy through forgiveness. Cicely will always be legendary and someone I looked up to. I know Cicely rests in the warm embrace of the ancestors. And what a fierce warrior to have on the other side. But I shall miss Cicely's words of wisdom that she would often drop in interviews, and her beautiful face on my screen. Cicely will be missed but may she rest in power always.
Let's remember Cicely reminding us that we are all queens:
— Strong Black Lead (@strongblacklead) January 29, 2021
Here's her interview last week with Gayle King for CBS This Morning where she talks about her book and her life:
— CBS This Morning (@CBSThisMorning) January 26, 2021
Embed from Getty Images
Embed from Getty Images
Embed from Getty Images
Photos credit: Avalon.red and Getty
Source: Read Full Article