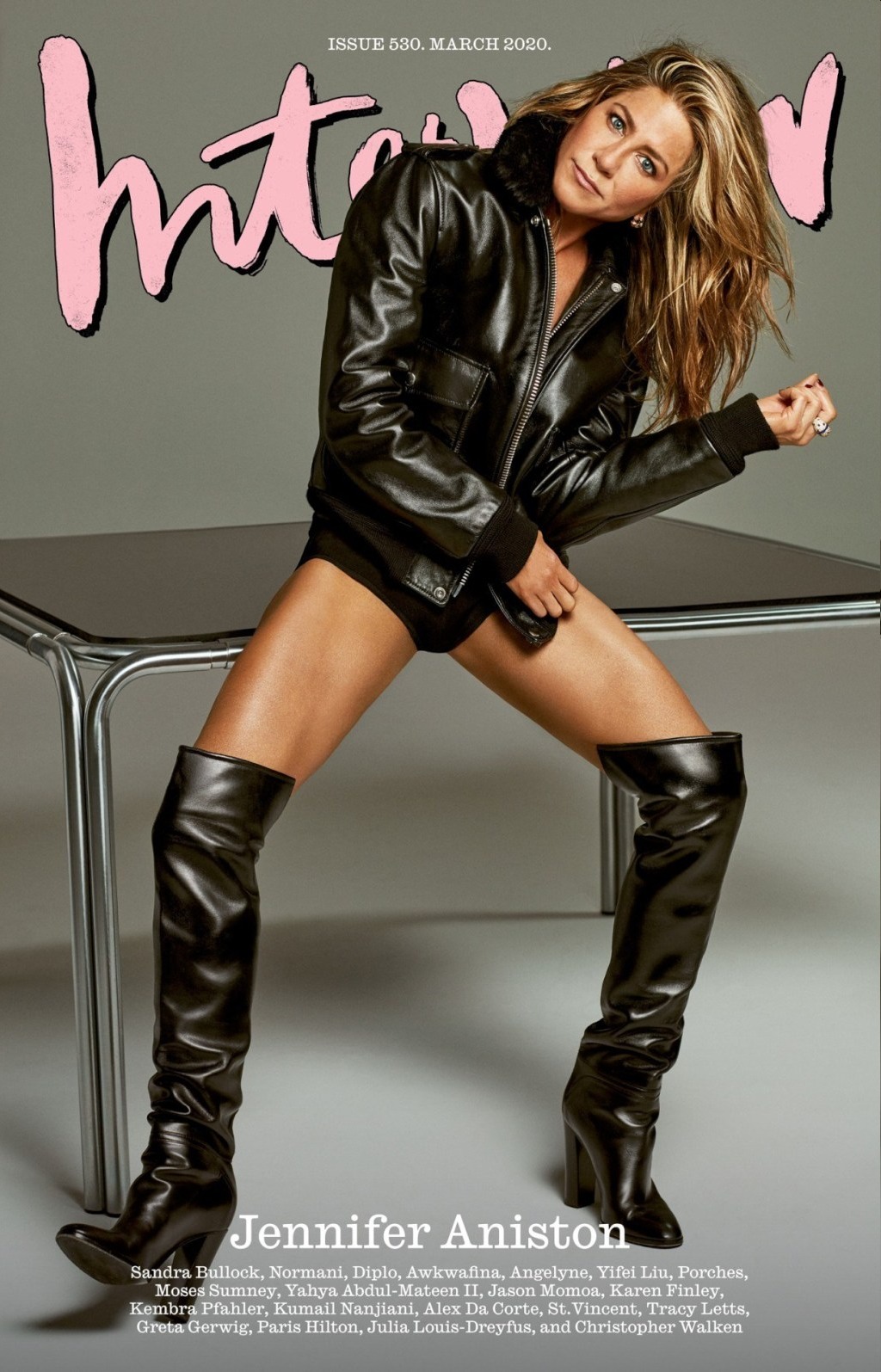 Jennifer Aniston covers the latest issue of Interview Magazine and woo, what a cover image they chose. Legs akimbo, half-balanced on a table, head tilted and touching her hair. It's halfway "classic Aniston cover" and halfway the pose of a doll thrown against a wall. Anyway, Jennifer's interview was conducted by none other than Sandra Bullock. I figured they were old friends considering they run in the same extended group of people, but I totally forgot that they dated the same dude in the '90s: Tate Donovan. Remember him? He was hot stuff back then! First he dated Sandy, then a few years later, he dated Aniston. Apparently, Tate introduced them and they quickly became friendly, which they talk about in this piece. You can read the full Interview piece here. Some highlights:
Aniston on how she creates joy & positivity: "First of all, that was the sweetest thing anyone has ever said to me. I think that it comes from growing up in a household that was destabilized and felt unsafe, watching adults being unkind to each other, and witnessing certain things about human behavior that made me think: "I don't want to do that. I don't want to be that. I don't want to experience this feeling I'm having in my body right now. I don't want anyone else that I ever come in contact with ever to feel that." So I guess I have my parents to thank. You can either be angry or be a martyr, or you can say, "You've got lemons? Let's make lemonade."

A new conversation about women supporting women: "Like you said, this conversation of women supporting women is new, but I think we have been doing it for a long time. When I landed in Los Angeles at 20 years old and I fell into those girls who are still sitting around the table today, they were on a different path. I'd never had a circle of women who got together and talked forever… But I really think it was something that saved me. This is a really tough business that we're in that is not always kind or inclusive or supportive. A lot of the time, it's the opposite. I remember going to auditions and girls would never want to share anything. Or they would talk to you during your auditions to distract you when they knew you were trying to work on your stuff.

Still creating art past 40: "We create that. Our industry has expanded its horizons in that way, and I think it's because women have stood up and said, "We're mad as hell, and we're not going to take it anymore."… Think of the generation ahead of us. So many of those women were put out to pasture when they were 40, and the fact that we get to still be working and are actually coming into our most creative adventures ever at this point in our life—we're rewriting that narrative that society sort of plastered on us. I remember the messaging to me even in my 30s was, "Don't play a mom, and if you do play a mom make sure it's to a 3-year-old kid."

What brings her down: "Turning on the television, listening to the news, reading the paper—that can make me really sad and really angry. The division that's been taking place. The complete chaos that's existing. When people show greed and bad behavior and a lack of gratitude. It's so hard to put this in an eloquent way. When you see people behaving badly and hurting other people, that makes me very angry. And abuse of animals, obviously.

Her goals for the future: "My gut reaction was to say all of the above. It's not so much what I see myself doing, but it's more like a little screenshot in my brain, where I hear the ocean, I see the ocean, I hear laughter, I see kids running, I hear ice in a glass, I smell food being cooked. That's the joyous snapshot in my head.
[From Interview]
"I hear laughter, I see kids running…" It never changes, does it? Today she's alluding to the image she has for herself with kids running around, but tomorrow she'll write another HuffPo piece about how dare we suggest that she wants kids and get out of her uterus. At this point, I'm perfectly fine with getting out of her uterus, if only she would stop baiting her fanbase with the promise of "babies, at some point!" I've already seen the headlines about "Jen talks about wanting children, just after she was seen with Brad!" Jesus, fix it.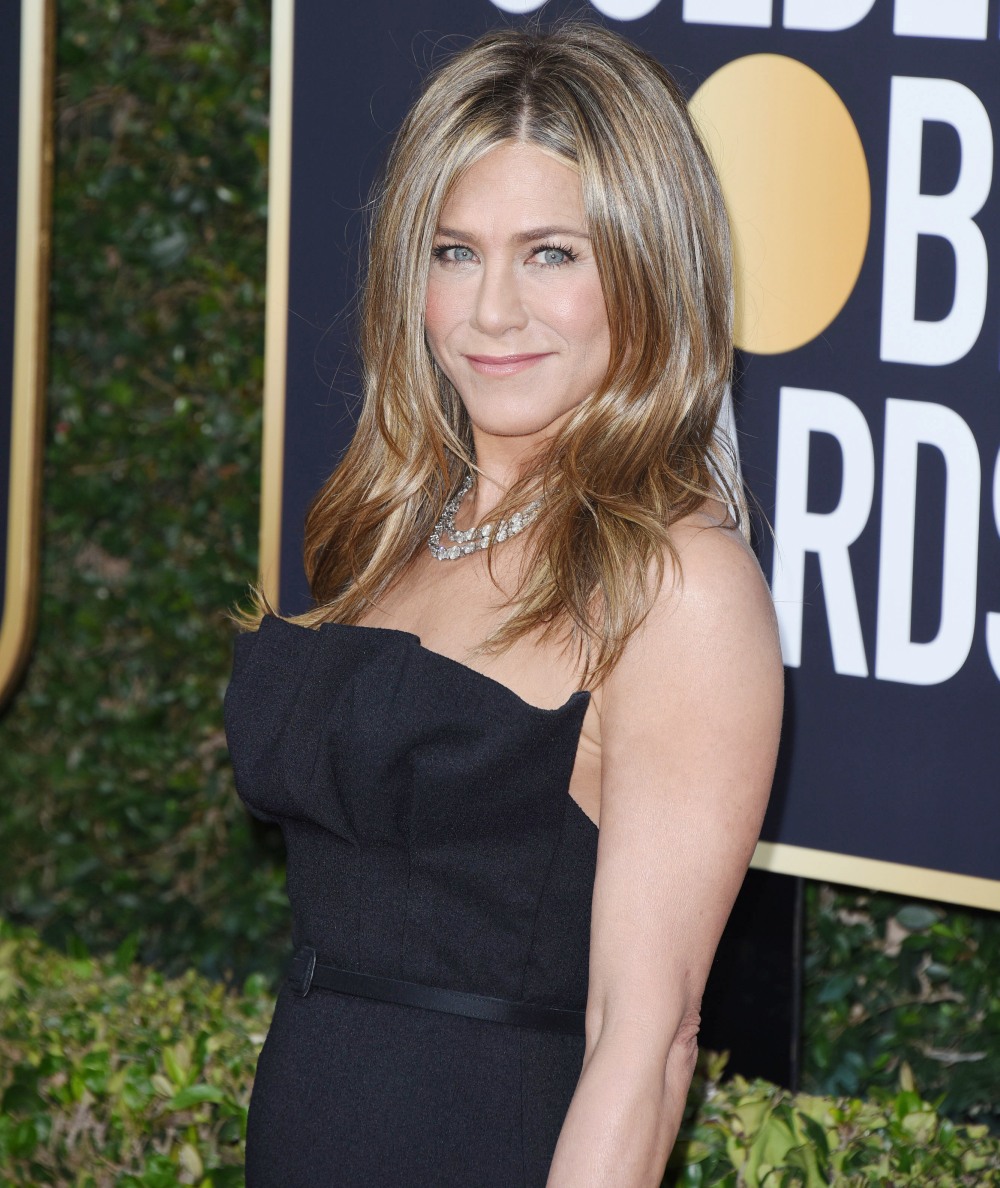 Cover courtesy of Interview, additional pics by WENN.
Source: Read Full Article