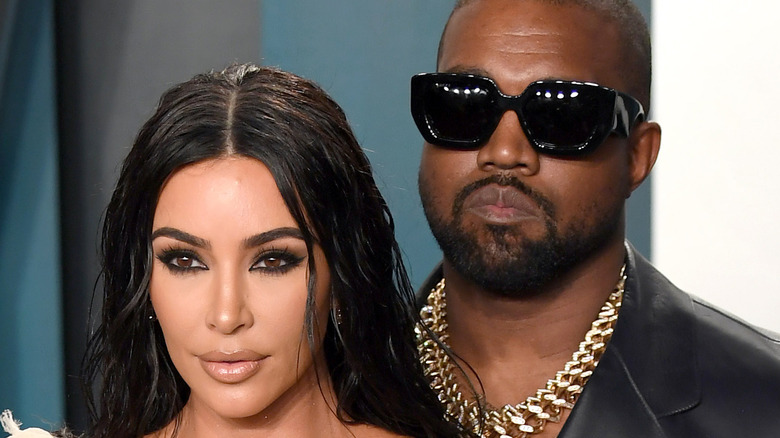 Karwai Tang/Getty Images
By Cassidy Anthony/Aug. 27, 2021 3:01 pm EDT
It all started in December 2020 when Kim Kardashian posted a photo to her Instagram on vacation in Lake Tahoe. While the focus probably should have been the gorgeous view (as well as her incredibly snatched waist), eagle-eyed fans noticed that her engagement ring was missing from her finger. Fans were definitely onto something, as about a month later, in January 2021, sources were officially reporting that Kim Kardashian and Kanye West's marriage was over. "Divorce is imminent," multiple sources told Page Six, revealing that Kardashian had even hired a divorce attorney after seven years of marriage (via USA Today).
There were allegedly many reasons behind the couple's divorce. Kardashian admitted that she realized that she and West had very little in common in the end and that she felt lonely. "I just feel like I've worked so hard in life to achieve everything that I've wanted to and I've lived up to my expectations and achieved 10 times more than I even thought was humanly possible, but I don't have a life to share that with," Kardashian explained, per Cosmopolitan.
So where do things sit between the famous ex-couple?
What's the dynamic like between Kim and Kanye now after their split?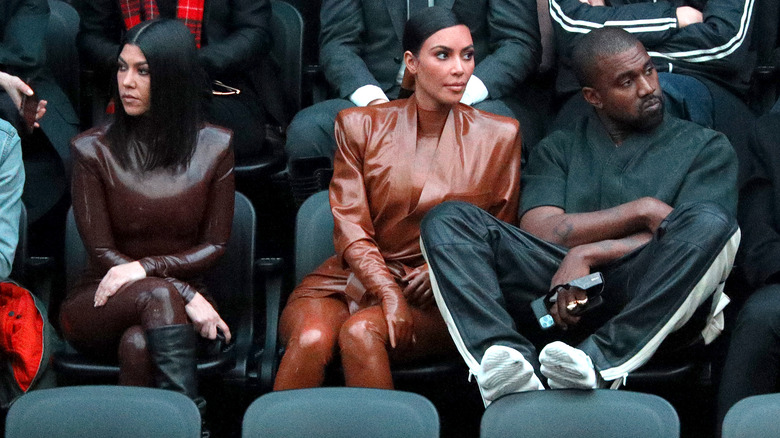 Sources seem to suggest that things between Kim Kardashian and Kanye West have been generally fine — even pleasant — in light of their divorce. According to E! News, "Kim and Kanye have no bad blood and they are very cordial. He's focusing on his world and she is focusing on her world." West even received the thumbs up from the Kardashian sisters, with a source telling E! News, "All of the sisters are aware of the situation and are very supportive. They all love Kanye like a brother but agree it's best they part ways." However, things were apparently "tense" at one point between them, but a source said that any tension or hard feelings are totally gone now, and Kardashian and West "finally feel like they are on the same page" (via Elle).
But are things becoming too close between the divorced couple? Many fans have been wondering recently if Kardashian and West have reconciled their relationship — and some speculate that they're dating again. Per Us Weekly, the two were spotted grabbing lunch together in Malibu on Friday, August 20, 2021. TMZ reported that this was the first time the two had been seen together without their children, which might suggest more of a date vibe. In addition, back in July, Kardashian was seen in San Francisco at an event celebrating the release of West's new album, "Donda."
Fans are speculating that Kim and Kanye remarried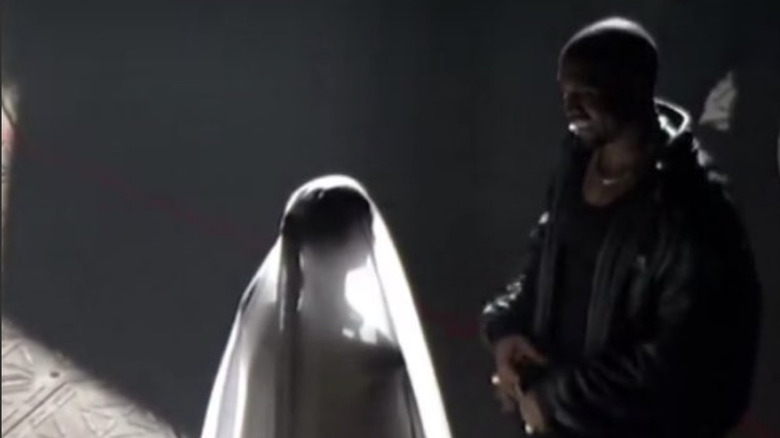 Perhaps most bizarrely, however, Kim Kardashian and Kanye West were spotted together at the third listening party for West's "Donda." But them being at the event together wasn't the weird part — the event itself was weirder. According to Cosmopolitan, at the event — which took place at Soldier Field in Chicago — West stood on a recreated version of his childhood home and front porch. He then lit himself on fire, which most likely symbolized something deep and insightful in a classic West way. Then, after the flames went out, he was joined by a woman who looked nearly identical to Kardashian — so identical, in fact, that many are speculating that it was Kardashian. The woman was wearing a wedding dress and a long veil that covered her face. Perhaps it was some sort of recreation of their wedding, as they then appeared to exchange vows. Skeptical fans are genuinely wondering if the ex-couple were actually remarrying, as it certainly looked to be that way. One Twitter user even wrote, "Did Kanye and Kim just get back together? This event is nuts lol."
But if you ask sources, there's absolutely nothing romantic happening between Kardashian and West. A source told People that Kimye are definitely dating again. "Kim and Kanye have a friendly relationship," the source said. "It's always been important to Kim to have a good relationship with Kanye. They are not getting back together though." 
Source: Read Full Article