After revealing her health issue on social media, the 'Real Housewives of Beverly Hills' star receives well-wishes from some of her famous friends, including Cassie Scerbo.
AceShowbiz –Brandi Glanville has been hospitalized. Taking to social media, "The Real Housewives of Beverly Hills" star revealed that she was admitted to the hospital over an apparent "spider bite" infection.
On Wednesday, August 4, the 48-year-old shared on Instagram a picture of herself in her hospital bed. "Hey guys yes I was admitted to the hospital yesterday and I have amazing first responders taking care of me!We are not exactly sure what we are dealing with we believe it may be an infected spider bite," she penned. "More tests to run."
Brandi has since received well-wishes from his famous pals. One in particular was Cassie Scerbo who wrote, "Hoping for quick healing!" Jennifer Gimenez replied, "What?????!!!! I text u . Let me know what I can do. I Love you so much and I'm here for you." Gretchen Rossi commented, "Oh no, sending love & healing prayers."
One day earlier, Brandi made use of Twitter to post a photo of her swollen hand. "I think I got bit by something in the night!:/I have so much to do today I'm not sure I can go to the doctor," she explained.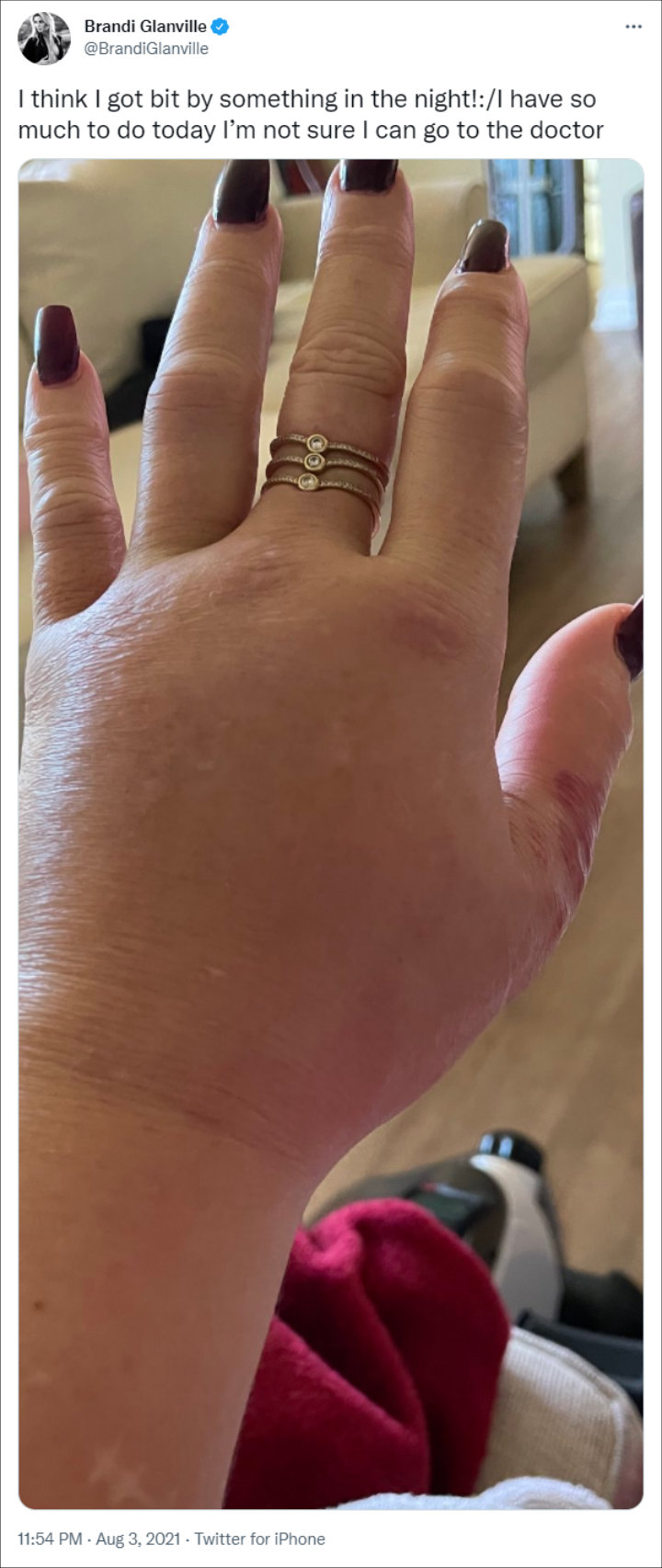 Brandi Glanville gave a closer look to her swollen hand.
Later that day, the reality TV star updated her followers that she made it to the emergency room. "My little piggy hoofer has an infected bite of some kind (not human) spending my day at ER I wanted to leave but they said I could lose a limb so I'm chilling -ON A TUESDAY!!!!" she tweeted.
The hospitalization arrived after Brandi accidentally burned her face in March. When detailing the incident, she also blasted a tabloid for calling her "unrecognizable." Sharing a picture of her burned face on Twitter, she described, "So this happened to me in December 2nd degree burns all over my face from an accident with a psoriasis light I am still healing & really didn't want to share these photos but since @DailyMail is attacking my looks her is the 411."
"Honestly it's not something I want it out there or I wanted to share at all and it was so depressing," the ex-wife of Eddie Cibrian added after a fan sent her well-wishes. "I just feel like I have to defend myself I'm still healing."
Source: Read Full Article