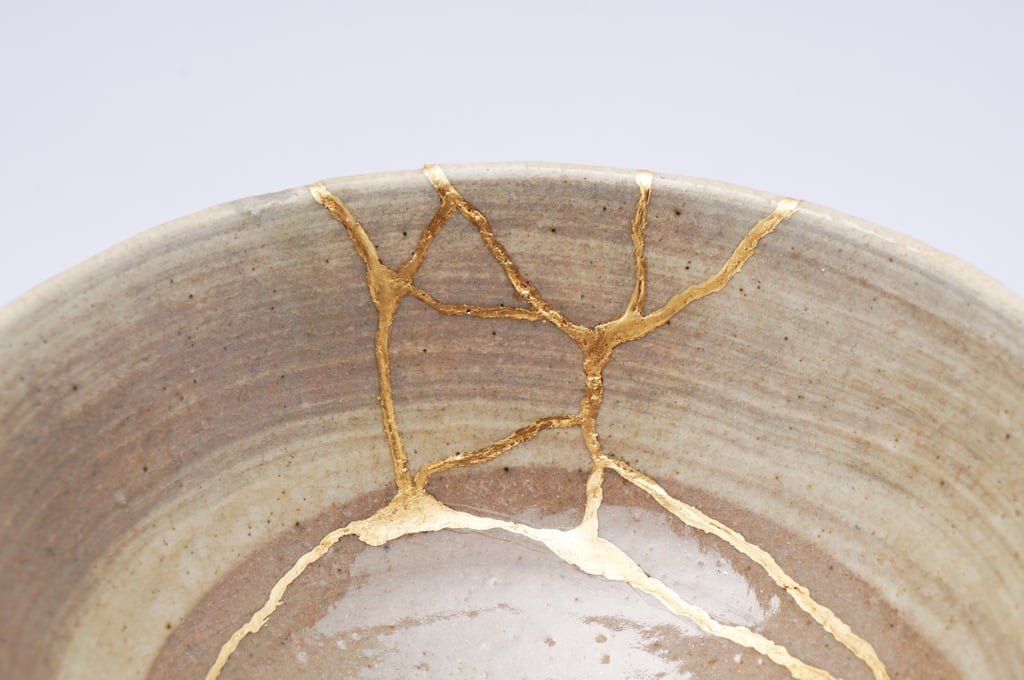 "Kintsugi" Nails Are on the Rise

Kintsugi nails originate from the Japanese pottery style of the same name.
The nail art has been seen recently on celebrities like Joey King.
A celebrity manicurist breaks down how to get the look at home.
If you're looking for fresh nail-art ideas to kick off the spring season that go beyond pastel colors, floral patterns, and bright designs, why not look to other art forms for inspiration? Exhibit A: "Kintsugi" nails.
Featured in Joey King's engagement announcement, Kintsugi nail art is actually a nod to the famed Japanese pottery style. "Kintsugi is a Japanese art that is centuries old," celebrity manicurist Mar y Sol Inzerillo says. "When you have broken pottery, you don't throw it away — instead, you mend it by dusting on gold or silver leaf."
"Kintsugi and nail art coincide because it is very easy to have an imperfection, a grown-out manicure, or a chipped nail — and they can all be easily mended with gold or silver leaf to give your manicure a whole new life," Inzerillo says. "We are all healing from the impact of the pandemic, and this is a beautiful reminder that whether it's on pottery or on your nails, you should embrace your imperfections and make something beautiful of it."
The shattered effect is stunning and makes for a great conversation starter — a win-win, in our book. We asked Inzerillo to break down everything you need to know about Kintsugi nails (including the products you might need to DIY).
What Are Kintsugi Nails?
There are actually different types of Kintsugi nails. "You can look at Kintsugi nail art from two perspectives," Inzerillo says. "One is a nail-art design with gold leaf purposely put in to mimic cracks over a marble or tile design over a solid nail, and the other is to touch up your [chipped] nails using gold leaf or a gold or silver nail-polish color."
Source: Read Full Article